RUSSIA DECIDES TO ABANDON UKRAINIAN STRATEGIC RADARS
Publication: Eurasia Daily Monitor Volume: 5 Issue: 21
By: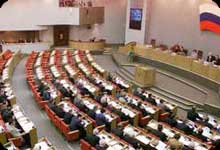 In the wake of its request to NATO for a Membership Action Plan (see EDM, January 18), Ukraine is offering its two anti-missile early warning and space monitoring radars for possible use by a European missile-defense system under Western auspices (Interfax-Ukraine, February 1, 2). Located respectively at Sevastopol in the Crimea and Mukachevo in Transcarpathia, the two Ukrainian radars have been operating for Russia since 1992, their use regulated by an intergovernmental agreement since 1997.
The two chambers of Russia's parliament passed on January 25 (Duma) and January 30 (Federation Council) legislation to terminate that agreement with Ukraine. Presenting the bill for adoption in both chambers, Deputy Defense Minister Maj.-General Nikolai Pankov declared, "This is our response to the Ukrainian leadership's measures to accelerate the pace of joining NATO." Pankov further complained that Ukraine, wishing to join NATO, had practically stopped fulfilling the terms of the 1997 agreement on the radars.
In a related, politically tinged comment, Russia's Space Forces Commander, Col.-General Vladimir Popovkin, expressed doubts about the reliability of information supplied to Russia by the Ukrainian radars. Popovkin drew a distinction between radars reliably operated by Russian military personnel in Belarus and Kazakhstan as against the Ukrainian radars, which are operated by Ukrainians under the country's National Space Agency. And in a similar vein, the Duma's Defense and Security Committee approved the termination bill with the comment, "Ukraine's foreign policy is increasingly oriented toward providing for national security through closer integration with NATO" (Interfax-Ukraine, January 25; RIA-Novosti, January 30).
Under the 1997 agreement, Russia pays $4 million per year for the two Ukrainian radars' operating expenses and $1.3 million annually in compensation for the data supplied to Russia. For its part, Ukraine is responsible for maintenance of the installations. Ukraine is spending some $3 million annually to maintain these radars although it does not need them (Defense Express [Kyiv], January 29). The agreement can be terminated 12 months after official notice to that effect has been served.
Last year, when Viktor Yanukovych headed the government, Ukraine had sought an increase in the Russian payments for the service and also proposed joint financing of a $20 million program to upgrade the two radars. A joint Russian-Ukrainian working group meets periodically to oversee the radars' functioning. The Russian side is not known to have complained in this group or other official forums about any unreliability of the data supplied to it. However, Moscow regards the two Ukrainian radars as obsolete and has made a strategic decision to invest in modern early-warning and space-monitoring systems within Russia's borders.
The Kremlin had made that decision in 2004 looking at the years ahead, but its abandonment of the Ukrainian radars undoubtedly has been precipitated by the change of government in Ukraine last December and the follow-up request for a Membership Action plan to be approved by NATO at its upcoming summit. Russia continues for the time being to operate strategic radars in Belarus (Hantsavichi), Azerbaijan (Gabala), Kazakhstan (Balkhash), and Tajikistan (Nurek). Moscow is giving up the Ukrainian installations although a replacement for them is not yet ready within Russia. That replacement is being built at Armavir in Krasnodar Territory, near Russia's Black Sea coast. Operational testing of that installation is planned for the end of 2008. Armavir should take over monitoring of areas that are currently being covered by the Sevastopol and Mukachevo radars with their 4,000 kilometer range.
On February 1, Ukrainian National Space Agency Director-General Yuriy Alexeyev made public Kyiv's offer to [unspecified] European authorities to use the two Ukrainian radars' services for the proposed European anti-missile defense system. The roles of NATO and the United States in such a system have yet to be clarified. Meanwhile, according to Alexeyev, the Ukrainian Space Agency has developed a concept for modernizing the Sevastopol and Mukachevo radars. They can continue performing military functions of be used for civilian purposes. On the civilian side, Ukraine seeks West European assistance for upgrading the National Center for Management and Testing of Space Equipment in Yevpatoriya, Crimea.
Ukraine and Russia continue their cooperation on other space and missile programs. On January 25 — the same day it passed legislation to terminate the radar agreement — Russia's Duma ratified an intergovernmental agreement with Ukraine to prolong the operation of Russia's RS-20 intercontinental ballistic missiles (NATO classification Satan). Ukraine's Pivdenmash plant is the producer of that type of missile.
(Interfax-Ukraine, UNIAN, RIA-Novosti, January 25, 30, February 1-2)