Russia Distorts News of Turkish Investment in Crimea
Publication: Eurasia Daily Monitor Volume: 12 Issue: 149
By: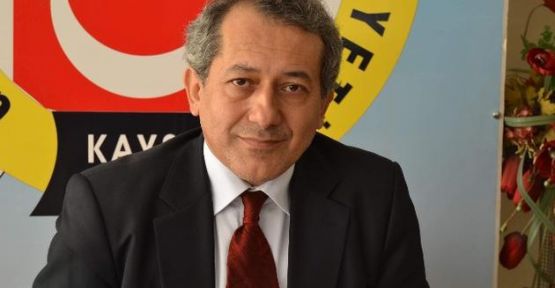 In early July 2015, news emerged that a group of Turkish businessmen had come to Crimea to discuss capital investment on the annexed peninsula. According to Russian and Turkish press covering this visit, the Turkish businessmen expressed their hope to invest a total of $12.5 billion in Crimea. They said that their investment would primarily involve tourism-related ventures but would also extend to the health sector and the establishment of textile factories. To further elaborate, the vice president of the Kayseri Organized Industrial Zone (KOIZ), Suleyman Sarptash, a member of the delegation, indicated that the first stage of investment would amount to $1 billion (Sputnik, July 7).
In the past, Turkey has repeatedly defended the principle of Ukraine's territorial integrity. Furthermore, Ankara has never recognized Russia's annexation of Crimea (Euronews Turkey, March 20). Therefore, if it goes forward, the Turkish businessmen's promised investment in Russian-occupied Crimea will likely put serious stress on relations between Ankara and Kyiv.
The aforementioned story of purported Turkish business interests in Crimea sounds clear enough, but when examined in more detail, it turns into a clear illustration of how Russian propaganda distorts the facts through the media. To see why and how, it is important to first remember that following the annexation of Crimea last year, Russian Prime Minister Dmitry Medvedev declared, in August 2014, that the government would allocate 700 billion rubles ($19 billion dollars) to economically develop this region (TASS, August 7, 2014). Furthermore, Russia proclaimed that $12.5 billion dollars of the pledged $19 billion would be offered to businesses in the form of loans. Finally, Moscow announced that it would declare the Crimea region a ten-year free economic zone, in an effort to attract companies to do business there.
KOIZ Vice President Sarptash was attracted by the prospects of these Russian loans for Turkish businesses. And reportedly, he coordinated his efforts to secure them with Ilter Sagırsoy, the regional chairman (to Anatolia) of the Russian National Committee for Black Sea Economic Cooperation (RNC BSEC). The RNC BSEC was established by the Russian government in 1995 to coordinate Russian business and public sector activities related to Russia's participation in BSEC—a multilateral grouping of countries in the wider Black Sea region seeking ways to cooperate economically.
The close relationship that developed between Turkish businessmen and the Kremlin evidently began soon after Russian President Vladimir Putin's December 1–2, 2014, trip to Turkey. Putin's Ankara trip was followed shortly thereafter by the head of the RNC BSEC, Victor Arkhipov's, visit to the central Turkish city of Kayseri, where he explicitly spoke of the importance of establishing an import-export connection between Moscow and Kayseri (Haber, January 9). Two months later, Arkhipov—together with Turkey's representative to BSEC—announced opportunities in Crimea to businessmen from Kayseri. Moreover, a Crimean-Turkish business association was established, and negotiations were started regarding Turkish investments in the annexed peninsula (TPP-İnform, March 29). For this purpose, the RNC BSEC's representative to Anatolia, Ilter Sagırsoy, met with the Kayseri Organized Industry Zone's (OIZ) president, Tahir Nursachan. During their meeting, Sagırsoy reportedly noted that Turkey was given priority to vie for the $12.5 billion that the Russian government was offering up as loans to encourage outside investment in Crimea (Hurriyet Daily News, May 27)
Soon thereafter, the Crimean-Turkish Businessmen Council (CTBC) was quickly established in Simferopol, with the pledged support of the Crimean Council of Ministers. The Crimean side of the CTBC organization chose as its co-chairman Rusbek Bisultanov—a Russian businessman with a history of business and energy sector dealings in both Turkey and Ukraine (Bloomberg, accessed August 3; Sec.gov, March 17, 2006). Whereas the Turkish side's co-chairman became Sagırsoy—who, as mentioned above, simultaneously works for the Russian National Committee for BSEC. Rustem Kamalov, who also serves as advisor to the Crimean prime minister, was assigned to serve as general director of the CTBC (Milliyet.com.tr, Hurriyet Daily News, June 3). At the CTBC's founding meeting, Sagırsoy stated that the Council was preparing important projects that will contribute to the Crimean economy. Mehmet Sonmez, the vice chairman of the CTBC and a member of its executive board, said that this organization will help improve and strengthen the historical bonds between the two countries (i.e. Russia and Turkey) through investments. In addition, a member of the CTBC's executive board, Mehmet Chigdem, noted that the Council would attempt to turn Crimea into a medical industry leader through investments in the health sector (Hurriyet Daily News, June 3).
Thus, after enticing Turkish businesses with promises of Russian government loans—which had been set aside in advance for developing the Crimean economy—Moscow has actively begun a media campaign to publicize investments from Turkey to that region. The purpose of Russia's policy is, first and foremost, to legitimize the annexation of the Crimean peninsula. In this way, Russia seeks to deceive global public opinion by providing falsified news. Some regional businessmen have clearly already been deceived by Russia and are acting in accordance with financially-driven gains. But from a macroeconomic standpoint, the occupying Russian administration in Crimea has clearly not succeeded in attracting any real foreign investment to the annexed region. The news of Turkish investments does not reflect the reality; it simply shows that some businessmen are willing to use loans allocated from the Russian Federation's budget for their investments in Crimea.