Kyrgyzstan's Relations With the US Suffer Amid Moscow-Bishkek Rapprochement
Publication: Eurasia Daily Monitor Volume: 12 Issue: 149
By: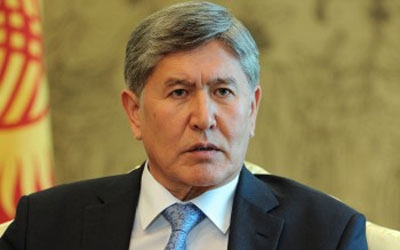 On July 21, the prime minister of Kyrgyzstan, Temir Sariyev, issued a decree abrogating the Kyrgyz Republic's bilateral aid and assistance agreement with the United States, which was initially signed in May 1993, in Washington, DC. The key element of this accord is the tax-free provision of US financial and technical assistance to Kyrgyzstan. The same preferential fiscal regime applies to US governmental and non-governmental organizations (NGO) as well as their locally stationed personnel, thus ensuring the provision of such assistance on behalf of the Department of State and other US government agencies. The 1993 treaty's abrogation will take effect on August 20, after which, Kyrgyzstan's Ministry of Foreign Affairs will officially notify the US government. Visiting Bishkek in April 2014, US Assistant Secretary of State for South and Central Asian Affairs Nisha Biswal said that the agreement in question had enabled $2 billion worth of bilateral aid to Kyrgyzstan between 1993 and 2013 (Fergananews.com, July 21, 2015; For.kg, April 4, 2014; State.gov, January 1, 2013).
Kyrgyzstan's decision to put an end to more than 20 years of US development assistance was prompted by the presentation, on July 16, of the US State Department's 2014 Human Rights Defender Award to Azimjon Askarov. This Kyrgyzstani citizen of Uzbek origin was arrested, in June 2010, in Jalalabad province, during the infamous ethnic purges in southern Kyrgyzstan. The deadly unrest had erupted in the country's south in the wake of a popular uprising in Bishkek that had ousted former president Kurmanbek Bakiyev from power. Askarov had been collecting evidence of police violence and government-sponsored pogroms, including several videotapes that were subsequently seized by the authorities. He was sentenced to life in prison only a few months later, in September 2010, and his judgment was upheld in November of that year by a district court, and in December 2011 by the Supreme Court of Kyrgyzstan (Lenta.ru, July 15, 2015; Vb.kg, December 28, 2011; Kloop.kg, September 15, 2010).
In a two-page statement on July 15, Kyrgyzstan's Ministry of Foreign Affairs said that Azimjon Askarov had been found guilty of "inciting interethnic strife, organizing mass unrest and complicity in the murder of a law enforcement officer." Therefore, the statement reads, his characterization as a human rights defender looks like "a premeditated action [by Washington] aimed at disrupting interethnic peace and concord in our country." The foreign ministry statement further adds that the US government's award to Askarov "may lead to new clashes and thus destroy the fragile peace into whose restoring and upholding we have invested so much effort ever since." Speaking at an informal meeting with journalists in late July, in the resort town of Cholpon-Ata, on Lake Issyk-Kul, the Kyrgyz Republic's President Almazbek Atambayev himself addressed the issue. He called the award "a provocation and an intrigue" with no other objective than to "pit our people one against another and stoke the fire of mutual hatred" (Gezitter.org, August 3; Mfa.gov.kg, July 15).
US-Kyrgyzstani relations started to lose momentum a short while after the election of Atambayev to the presidency in December 2011. When still in power, Bakiyev had unsuccessfully challenged Washington's basing rights at the Manas airbase near Bishkek in 2006 and again in 2009—only to later transform it into a transit center in exchange for higher leasing fees. But his successor, Atambayev, made good on his promise to close the facility. In June 2013, Kyrgyzstan's parliament approved a law ordering the evacuation of the airbase by mid-July 2014. One year later, the last US soldier left Manas for Romania. All in all, since its creation, in late 2001, in support of the international campaign against the Taliban in neighboring Afghanistan, the Manas facility had been visited by 5.3 million uniformed men and women from 26 countries. More than 135,000 military planes had landed there for refueling in the course of over 33,000 scheduled flyovers (RIA Novosti, July 11, 2014; Golos-ameriki.ru, June 20, 2013).
Bilateral ties between Washington and Bishkek have further slackened since Atambayev announced, in early 2013, his intention to see Kyrgyzstan join the Russia-led Eurasian Economic Union (EEU). The accession treaty was finally signed last December in Moscow, followed by a series of protocols in May 2015. For the government in Bishkek, EEU membership is, first of all, a means to shore up its finances and to ease dependence on natural gas imports from Uzbekistan, with which relations have been tense since both countries gained independence in 1991. In exchange, Russia will continue to keep its own airbase at Kant, near Bishkek, intact and, according to some recent media reports, is already mulling over the establishment of a second similar base in Osh, close to the border between Uzbekistan and Kyrgyzstan, by 2017. Neither the Kyrgyzstani nor the Russian authorities have confirmed such rumors so far, but both have repeatedly expressed their desire to expand military cooperation (Radio Azattyk, August 6; Eurasiancommision.ru, May 8; Mir24.tv, December 23, 2014).
With the forthcoming parliamentary elections in Kyrgyzstan set for October 4, the Atambayev administration is likely make a strong bet on Russia in order to reap the expected benefits of closer economic cooperation with Moscow, not least because of the latter's generous concessions. Yet, that means that the Kremlin's influence on Kyrgyzstan's domestic politics will spread further. And given the ongoing confrontation between Russia and the West, the consequences of this could be truly detrimental to Bishkek's relationship with Washington.
Following the February 2015 arrival of Richard Miles to Bishkek to assume the position of chargé d'affaires ad interim at the US embassy, some Russian media openly accused him of being "the key American ideologue of color revolutions." The Russian press previously treated in the same fashion the former US ambassador to Moscow, Michael McFaul, who had to definitively leave the country at the end of the Winter Olympics in Sochi in February 2014, after two years of constant character assassination-styled attacks for his public remarks and earlier scholarly writings (Vz.ru, June 25; News-asia.ru, February 27). So far, therefore, it does not appear that diplomatic relations between Kyrgyzstan and the United States will improve any time soon.