Russia Effectively Supports North Korea in Its Standoff With the US
Publication: Eurasia Daily Monitor Volume: 14 Issue: 107
By: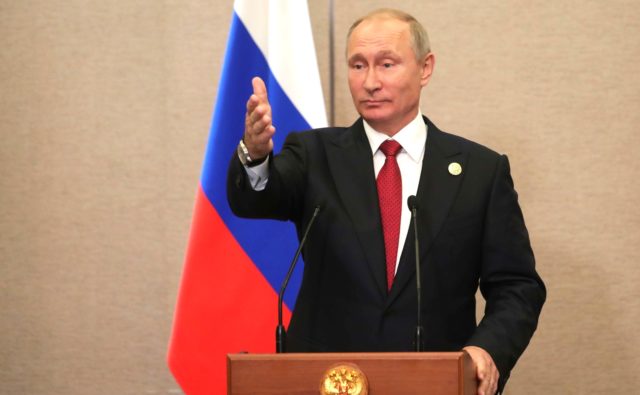 Speaking to journalists after the conclusion of the latest leadership summit of the so-called BRICS countries (Brazil, Russia, India, China and South Africa), held in Xiamen, China, President Vladimir Putin threatened to continue the tit-for-tat cycle of diplomatic expulsions and diplomatic property takeovers with the United States. Earlier this summer, Moscow ordered the US to recall its diplomats from Russia to match the number of Russian diplomats accredited in the US (455 persons) by September 1. And last month (August), Putin announced that some 755 US "diplomats" must leave in order for both countries to have parity in the number of personnel (see EDM, August 3, September 5). The US embassy fired hundreds of Russian employees, while mostly keeping its diplomatic staff intact; in retaliation, the US government demanded the closure of the Russian consulate in San Francisco and the evacuation of two other diplomatic buildings in Washington and New York. Putin told journalists in Xiamen, "The Americans had the right to reduce the number of our diplomatic institutions, but did it in an insulting manner." He promised to consider a further expulsion of 155 US diplomats from Russia "because 155 Russians are accredited with the [United Nations] in New York" and should not be counted in the overall balance of diplomatic personnel in both countries. Putin also called the takeover of the San Francisco consulate and other Russian diplomatic property a violation of Moscow's property rights, and he ordered the foreign ministry to litigate the case in US court (Kremlin.ru, September 5).
Putin also made a potentially ominous threat while speaking to journalists in Xiamen, warning of grave consequences if the United States decides to supply the Ukrainian military with defensive lethal weapons (anti-tank and anti-aircraft)—a move supported by Congress, the State Department and the Pentagon. According to Putin, the delivery of US weapons to Ukraine may aggravate the fighting and bloodshed in Donbas but will not change the military balance. Russia's head of state also noted "the self-proclaimed republics" [the Moscow-backed "People's Republics" of Donetsk and Luhansk—DPR, LPR] have lots of weapons. "If American weapons enter the conflict zone," continued Putin, "the self-proclaimed republics may send the weapons they have to other zones of conflict that are sensitive to those who create problems for them" (Kremlin.ru, September 5).
This has been interpreted as a threat that the Russia-backed forces in Donbas could try to expand the conflict zone further into Ukraine (Reuters, September 5). But that was not what Putin actually supposed: It would seem the Kremlin is threatening that DPR and LPR may, in retaliation, export arms to, say, the Taliban in Afghanistan, or to North Korea, or any "other zones of conflict" worldwide, where they may hurt the US and its allies. Washington has accused Moscow of supplying the Taliban with weapons, but the Russian government has adamantly denied doing so, while acknowledging to have been in contact with the militant group (Militarynews.ru, August 22). Russia has officially demanded the US withdraw all its forces from Afghanistan, assuming a continued US presence will only make things worse. In the framework of the zero-sum logic of the Cold War, an Afghanistan controlled by the Taliban (at present in conflict with the local chapter of the Islamic State) would be more in Russia's interest than a continued US military presence in that country. If the US and its allies are losing the war anyway, and if the pro-Western government in Kabul is doomed, it would seem reasonable to support the Taliban in the hopes of forming a tentative alliance with those forces against both the Islamic State and the United States at the same time. According to such thinking, then, it would also make sense to use the Donbas "self-proclaimed republics" as a cover to supply weapons to militant organizations and regimes and to bypass UN sanctions. Indeed, during the Cold War, Moscow used Cuba and other proxies to supply terrorist organizations and radical regimes around the world.
While speaking to journalists following the BRICS summit, Putin condemned North Korean "provocations," but at the same time he rejected the imposition of additional sanctions on Pyongyang. Rather, the Russian leader again (see EDM, May 7, 2014; March 28, 2017) expressed understanding of North Korean's push to develop weapons of mass destruction (WMD) and intercontinental ballistic missiles (ICBM). Putin recalled the plight of the Iraqi dictator Saddam Hussein, who was captured and eventually hanged, his male family members killed in action in Mosul, "while Iraq was devastated," because Saddam destroyed his missiles and WMDs. Putin also recalled the destruction of Libyan strongman Muammar Qaddafi: "[W]e remember what happened, as do the North Koreans, who will not abandon their ballistic missiles and nukes under any sanctions" (Kremlin.ru, September 5).
Days later, while attending an economic forum in Vladivostok, Putin accused the US and its allies of provoking Pyongyang into developing WMDs by pressuring the regime. He insisted that attempting to coerce North Korea into giving up its nuclear weapons and ballistic missiles will not work. Putin was adamant "there is no military solution"; instead, he suggested, North Korea must be appeased by prolonged patient negotiation and investment. Economic development will push North Korea to become more fully integrated into the regional economy, Putin argued, adding that Russia is ready to take part in such projects. Apparently, the Russian president wants Pyongyang to be allowed to retain its nuclear warheads and ballistic missiles while sanctions are removed: "It is their only security guarantee. It is impossible to scare the North Koreans, it is only possible to cooperate in ways they understand" (Kremlin.ru, September 7).
Putin seems to be, in effect, rooting for Pyongyang by advocating a solution of the Korean nuclear crisis on their terms. Seemingly still fixated on the plight of Saddam and Qaddafi, Putin is apparently afraid the US and the West may be conspiring to destroy him personally, right after removing North Korean leader Kim Jong Un. Putin's emotional self-identification with Kim, the dead dictators of Iraq and Libya, and possibly Bashar al-Assad of Syria appears to be driving Russian foreign and domestic decision-making. Putin's formula for solving the Korean nuclear problem by appeasement, investment, cooperation and removal of sanctions with little if any preconditions is exactly how Moscow wants itself to be treated by the West. In the Kremlin's view, the West must accept the annexation of Crimea, Moscow's domination of Ukraine, and Russian military build-up, while providing investment, technology and cooperation. If Putin indeed self-identifies with Kim, securing Russian cooperation on North Korea will be an uphill battle.