Russia, NATO Continue to Hold Countervailing Military Exercises in and Around Ukraine
Publication: Eurasia Daily Monitor Volume: 11 Issue: 162
By: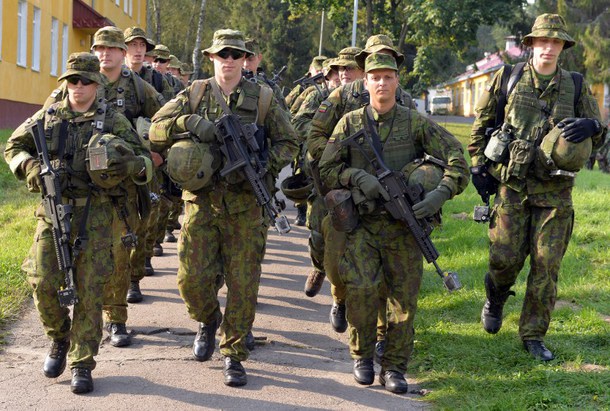 In the wake of worsening Russian-Western relations over Ukraine, the North Atlantic Treaty Organization (NATO) is holding Rapid Trident military exercises, on September 16–26, in Ukraine near Lviv. According to European Command (EUCOM) spokesman Gregory Hicks, the drills will bring together about 1,300 troops from 15 countries, including Ukraine, NATO members Bulgaria, Canada, Germany, the United Kingdom, Latvia, Lithuania, Norway, Poland, Romania, Spain and the United States, along with NATO Partnership for Peace (PfP) affiliates Azerbaijan, Georgia, Moldova. This will be the first multinational exercise held on Ukrainian soil since Russia's annexation of Ukraine's Crimean Peninsula in March of this year (eucom.mil, accessed September 16). In response, Russia has announced a heightened series of military exercises that will take place on its own soil, and with several of its close international partners.
The annual Rapid Trident exercises have been held in Ukraine since 2006, in the framework of the NATO's Partnership for Peace program. In 2013, more than 1,300 soldiers from 16 countries took part in that year's exercise. The list of participating countries included Ukraine, the US, Romania, Canada, Bulgaria, Sweden, Georgia, Azerbaijan, Moldova, Serbia, Poland, Norway, the UK, Armenia, Denmark and Germany. Rapid Trident 2014 will be directed by the US chairman of the Joint Chiefs of Staff. This "Situational and Field Training Exercise […] comes at the explicit request of the Ukrainian government and military" (eur.army.mil, accessed September 16).
Now underway at the International Peace Keeping and Security Center (IPSC) in Yavoriv near Ukraine's border with Poland, Rapid Trident 2014 was initially scheduled for July, but was delayed by the Russia-backed separatists' activities in eastern Ukraine. Ostensibly focused on integrating peacekeeping forces, Rapid Trident will include command post drills and practice patrolling and dealing with improvised explosive devices (IED). The Ukrainian military's liaison officer for the exercise, Colonel Oleksandr Sivak, noted that Rapid Trident provides "the largest military cooperation between Ukraine and its partners this year." Sivak emphasized the opportunity for the Ukrainian military to learn to interact with foreign militaries, adding, "The training exercise includes representatives of 15 countries with about 1,200 soldiers and about 140 pieces of equipment" (zn.ua, September 15). "The value of the exercise is that it will include the characteristic features of 'hybrid war,' which is underway in the east of our country, which will allow our military to share their experiences," the Ukrainian colonel further noted (Radio Svoboda, September 15).
The Ukrainian government sees the Rapid Trident exercise as a sign of the commitment of NATO states to support PfP member Ukraine while stopping short of direct military intervention by the North Atlantic Alliance in Ukraine's eastern conflict (Golos Ukraini. Gazeta Verkhovnoi Radi Ukraini, September 5).
Inevitably, NATO's operations in Europe's East and pledges to bolster the defense of its eastern members (made explicit during the Wales summit on September 4–5— nato.int, September 5) have continued to trigger a negative response from Russia. A Kremlin security adviser said on September 2 that Russia will update its military doctrine later this year in response to the Ukraine crisis and the subsequent deterioration in its relations with NATO (RIA Novosti, September 2). And reacting to NATO's increased military exercises on Russia's periphery, including the upcoming Rapid Trident 2014, Russia's Ministry of Defense said, on September 3, that the country's strategic rocket forces will conduct a major exercise later this month in Altai in south-central Russia. The operation will involve more than 4,000 soldiers along with 400 technical units and air power (RIA Novosti, September 3). On September 9, Russian Federation Security Council Deputy Secretary Mikhail Popov claimed, "I have no doubt that the expansion of NATO and steps to move military infrastructure of NATO member countries closer to the borders of Russia will remain one of the external military threats to the Russian Federation," adding that the Ukrainian situation is the next stage in the Western policy of "color revolutions" (Pravda, September 9).
As a counterweight to NATO's increased military presence along its frontiers, Russia is also quickening the tempo of its own multinational exercises. On July 14, the Serbian Ministry of Defense announced that Serbian Army Ground Forces and Russian airborne troops of the 106th Airborne Division will hold a military exercise in Serbia in the fall, the first exercise between the two armies on that level (Politika, July 14). And on August 24–29, Russia, as a member of the Shanghai Cooperation Organization (SCO), sent 900 troops to participate in the SCO's Peace Mission 2014 anti-terrorist exercise at Zhurihe in China's Inner Mongolia autonomous region (China Daily, August 19). Across the border, on August 15, Russia and Mongolia launched their joint Selenga 2014 military exercise (Interfax-AVN, August 15). Whereas, in the South Caucasus, on September 3–7, Russian and Armenian troops held a joint military exercise at Armenia's Alagyaz training complex in the western Aragatsotn region (Regnum, September 3).
Given the ongoing deterioration in Russian-Western relations, both sides are likely to increase their competing military exercises for the foreseeable future. But it remains to be seen whether these shows of strength eventually induce either of the two sides to back down.