Russia Postpones Future Aircraft Carrier Program
Publication: Eurasia Daily Monitor Volume: 15 Issue: 69
By: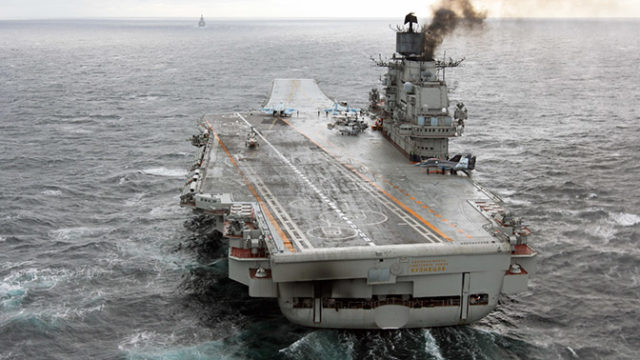 This past April, Russian media announced that the Admiral Kuznetsov, the country's only aircraft carrier, will be out of service, undergoing repairs and modernization, until 2021. The Ministry of Defense signed a contract worth approximately $1 billion with the state-owned United Shipbuilding Corporation for rather limited upgrades to the carrier, which will be performed at the 35th Ship Repair Plant, in Murmansk, a subsidiary facility of the Severodvinsk-based Zvezdochka Ship Repair Center (Kommersant, April 23).
According to Kommersant's sources, the budget for repair of the Admiral Kuznetsov, which joined Russian Northern Fleet in 1991, is "especially modest." The Kuznetsov's most serious and best-known problem is its faulty power plant. In 2010, the Russian Navy requested to replace the vessel's eight troublesome turbo-pressurized boilers with gas turbines, or even nuclear propulsion (Sputnik News, April 6, 2010). But instead of undergoing deep modernization, the ship has since continued to participate in deployments in the Mediterranean, especially during Russia's campaign in Syria (see EDM, October 27, 2016). Problems with the Kuznetsov's power plant are even more significant now than back in 2010. Yet, the current repair contract makes no mention of replacing the boilers with a more modern propulsion system. The problem for Russia is that it cannot domestically build the needed gas turbines, which it would need to purchase either from Ukraine or the United States. And neither Kyiv nor Washington is willing to authorize such a sale amidst heightened Western-Russian tensions and Russia's ongoing aggression against Ukraine.
Moreover, despite long discussions, since 2010, of deploying more advanced assault missiles onboard the Kuznetsov, it looks like the old P-700 Granit (SS-N-19 Shipwreck) anti-ship cruise missiles will not be replaced with new 3M-54 Kalibrs (SS-N-27 Sizzler). Nor will the Granit launchers be dismantled in order to expand the carrier's hangar area for storing additional fixed-wing aircraft, as was originally conceived eight years ago. These project changes could prolong the repair period and increase costs (Sputnik News, April 6, 2010).
The Kuznetsov may, however, undergo deep modernization of its onboard electronic systems. These have not been upgraded since the ship was commissioned to the Navy in 1991, so they are completely outdated today. New air-defense systems may replace the obsolete 3K95 Kinzhal (SA-N-9 Gauntlet) missiles as well (Sputnik News, April 6, 2010).
In essence, the current repairs almost certainly will do nothing to change the Admiral Kuznetsov's overall combat capabilities, but they may prolong its life for another five to ten years (so until 2025–2030). This reality thus raises a couple important questions: Do the Russian Navy and the defense industry have a viable concept for the country's next-generation aircraft carrier? And if they do, is it possible for Russia to build a new carrier under pressure from Western sanctions, without access to Ukrainian or US gas turbines, and with a limited budget for shipbuilding projects? Analysis of the state program for the Russian Navy until 2020 showed that only 47 percent of the planned money was invested in new ship construction (Cast.ru, January 2018). As a result, the majority of the programs for new Russian Navy vessels failed to be achieved. And the state program to 2020 has been shifted back to 2027—but with the same money and same problems unaddressed (see EDM, April 18).
Discussions and rumors of a "future Russian aircraft carrier" began at least as early as 2007, when Admiral Vladimir Masorin, the commander-in-chief of the Russian Navy, told to the media that the country's next aircraft carrier will have nuclear propulsion, a displacement about 50,000 tons, and carry some 30 fixed- and rotary-wing aircraft (Graniru.org, June 23, 2007).
In 2013, Russia introduced experts to an even more ambitious concept, the Shtorm "supercarrier," with a displacement about 100,000 tons and 90 fixed- and rotary-wing aircraft, designed for the Russian Navy by the Krylov State Research Center (Todaysmilitary.ru, July 4, 2015). In 2015, the Shtorm was unveiled to the general public (TASS, June 1, 2015). Nevskoye Design Bureau head, Sergei Vlasov, told the TASS news agency that the promising aircraft carrier might cost up to $5.63 billion, and development would take about ten years.
However, the Shtorm project was canceled pretty much before it began; and in 2017, the Russian media announced a new "light carrier" project by the Krylov State Research Center (Tvzvezda.ru, July 14, 2017). Although no details have yet been officially released regarding the light carrier's technical specifications, the Russian media has already published some data. Reportedly, the new Russian carrier will be powered by gas turbines, have a displacement of about 70 tons (Novosti VPK, April 26), and carry onboard new fifth-generation Su-57 fighters (Vzglyad, February 25). According to media coverage, construction of these new ships will not begin before 2025 (RIA Novosti, August 24, 2017).
Several important conclusions can be drawn regarding the next generation of aircraft carriers for the Russian Navy:
First, there is apparently no final or even preliminary concept at this time. It seems the Russian Navy and the defense industry are trying to design several versions and potential approaches to a new carrier in order to be ready for whatever political decision the Kremlin ultimately makes in 2025.
Second, the Admiral Kuznetsov will remain in service until at least 2030 or longer because, even in the most optimistic scenario, construction of a new carrier will not begin until, at earliest, 2025, and building the new ship will take a decade or longer.
Third, a key challenge for any new domestic aircraft carrier project will be the Russian defense industry's ability to find homegrown solutions for procuring gas turbines and other technical components despite ongoing Western sanctions and Russia's continued conflict with Ukraine.
Finally, financial issues could be crucial for any new carrier project. Prospects for the Russian economy are far from clear over the next ten years because of technological stagnation and the systemic crisis of Vladimir Putin's "oligarchic state" economic model (see EDM, October 10, 2017; Jamestown.org, September 13, 2016). The Kremlin's geopolitical aggression—which characterizes Russia's foreign policy strategy at present and likely for at least the next ten years (see Jamestown.org, June 27, 2016)—will only multiply Russia's economic problems, thus hampering ambitious projects such as next-generation aircraft carriers.