Russia Prepares to Re-Enter Afghanistan
Publication: Eurasia Daily Monitor Volume: 8 Issue: 17
By: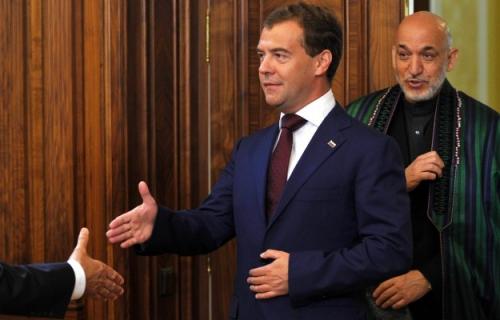 Russian President, Dmitry Medvedev, and Prime Minister, Vladimir Putin, received the Afghan President, Hamid Karzai, on January 21-23 for an official visit. It was the first Russian-Afghan presidential-level meeting since a freshly installed Karzai had met the then President Putin in 2002. Russia is now preparing to re-enter Afghanistan, on such terrain as has been cleared and stabilized by US and NATO efforts. Moscow skillfully uses mainly soft-power instruments, with a careful dosage of hard-power tools in the mix.
Karzai, for his part, is looking towards the US-led coalition's putative "drawdown" and withdrawal timelines. With deficient confidence between Washington and the Kabul presidential palace, and his domestic political base further shrinking after the recent parliamentary elections, Karzai is clearly seeking to diversify his external options.
The visit propagated a strikingly positive image of the Soviet Union's role in Afghanistan. Hardly a mention of the Soviet invasion and brutalization of Afghanistan's population could be found in the three leaders' statements. Instead, they praised Soviet construction projects and portrayed them as a starting point for Russia's planned re-entry into Afghanistan.
Thus, Medvedev drew a straight line of continuity from the Soviet period: "We want Russia to develop a multifaceted presence in Afghanistan, considering the historical ties between Russia, as the Soviet Union at that time, and Afghanistan, which were particularly strong in the economic sphere then" (Interfax, January 21).
One living link to that period, Yevgeny Primakov, currently President of Russia's Chamber of Commerce, hosted Karzai for a meeting on private-sector relations. Primakov announced the creation of a business center in Moscow for Afghan businessmen residing in Russia (RIA Novosti, January 21).
Medvedev referred to "Afghanistan our close neighbor," which only makes sense if all of Central Asia is regarded in neo-Soviet fashion as Russia's "near abroad." Karzai concurred: "We are practically neighbors with Russia" (RIA Novosti, National Afghanistan Television, January 21). Describing a great power and a small failing one as "neighbors," despite their geographical distance, implies a title to exercise influence by the former and acceptance of such influence by the latter.
Karzai hinted at the multipolarity in his foreign policy. The US, NATO and Russia "each has its own importance to Afghanistan," Karzai stated in his address at the Russian Diplomatic Academy (ITAR-TASS, National Afghanistan Television, January 21).
Russia's leaders and Karzai praised the Salang Pass Highway as epitomizing Moscow's contribution to Afghan civilian development, although this was the main Soviet military route into Afghanistan during that decade-old war. The Salang highway will retain its dual-purpose character for Russia under any circumstances in the future. Medvedev promised Russian assistance to upgrading the Salang highway (ITAR-TASS, Hewad [Kabul], January 22).
Medvedev and Putin also listed a hydropower plant in Naghlo, a thermal power plant in Mazar-i-Sharif, and a nitrate fertilizer plant, on a short list of Russian projects for Afghanistan. All are located in the northern areas of the country. Furthermore, Putin outlined a project for electricity transmission lines to connect northern Afghanistan with Tajikistan, Kyrgyzstan, and Turkmenistan. The Russian electricity transmission monopoly Inter-RAO would build and operate the resulting integrated system (Interfax, January 21).
Karzai cited the recent US reports about vast deposits of rare metals and other mineral resources in Afghanistan, hypothetically valued at trillions of dollars. The Afghan president called on Russian companies to invest in developing these resources in Afghanistan (Hewad [Kabul], January 22).
The Russian government proposes to add slots for Afghan students and cadets on scholarships in Russian civilian and military schools, and rebuild the Kabul Polytechnic. Most of the Russian-suggested projects have political visibility and political ramifications, unlike the village-level development projects funded by Western donors in Afghanistan.
Russia is also making a cautious entry as a security provider in Afghanistan. According to the Afghan Internal Affairs Ministry, the Russian counterpart institution expressed its readiness to train and equip the Afghan police. Moscow has already supplied 20,000 Kalashnikov rifles for police units in Afghanistan (Tolo TV [Kabul], January 23). Moscow is currently negotiating to deliver Russian-made helicopters for the nascent Afghan army, with NATO paying Russian factories to produce these helicopters (Interfax, January 22). Along with the arms and equipment, Russian military specialists and trainers will also be sent to Afghanistan. Moscow will proceed cautiously and incrementally, avoiding casualties, and ruling out any deployment of troops. According to Medvedev, "Russia is prepared to provide fully-fledged assistance for Afghanistan to provide for its security and ensure its independence after 2014" (Interfax, January 22).
Medvedev graciously demurred from criticizing the US and NATO performance in Afghanistan. "The time for assessing any strategic mistakes has not yet come," he constructively stated.
Russia does not seek to replace Western forces in Afghanistan, certainly not before their hypothetical withdrawal by 2014. On the contrary, Moscow would prefer these forces to stay in Afghanistan, neither losing nor winning, tying Western resources there while untying Russia's hands elsewhere.
Any Russian economic or security-providing role would almost certainly be confined to Afghanistan's northern areas, and use manipulative tribal politics there. Inevitably, Russia's re-entry into Afghanistan would strengthen the potential for an informal partition of the country along north-south lines.