Russia Scores Symbolic Victory in Moldova's Presidential Election
Publication: Eurasia Daily Monitor Volume: 13 Issue: 182
By: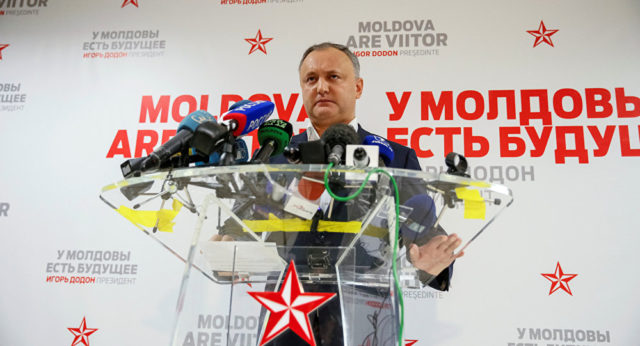 On November 13, Moldova held run offs for its first direct presidential election in 20 years. The change resulted from a controversial Constitutional Court decision earlier this year (see EDM, March 8), which was seen as an attempt by the ruling establishment to defuse the protest movement against government corruption. The move can be considered successful as the presidential campaign has overtaken the public agenda. Moreover, despite integrity being a major theme of the campaign, the candidate associated with the ruling establishment—and, in fact, supported by the media empire owned by Moldova's gray eminence Vlad Plahotniuc—won the race. Igor Dodon (aged 41) was elected president with 52.3 percent of the vote. His opponent, Maia Sandu (aged 44), fell 70,000 votes short (Cec.md, November 14). Allegations of voter fraud abound: several polling stations abroad ran out of ballots, the Central Election Commission (CEC) misreported the results, and a concerted effort was uncovered to bribe and bus in Transnistrian residents into Moldova proper to vote for Dodon (Agora.md, ProTV.md, Ziarul de Garda, November 14). Several hundred protesters gathered to demand a revote and the resignation of CEC members (Agora.md, November 14). However, these cases are unlikely to carry much weight with the pro-government Constitutional Court, which is expected to validate the results in the upcoming days.
The presidential campaign was brief but divisive and, perhaps, the dirtiest in Moldovan political history. Former minister of economy (2006–2009) during Communist Party rule, Igor Dodon, now chairman of the Party of Socialists, went to great lengths to smear his opponent, Maia Sandu, a Harvard-educated former World Bank economist and the current chairwoman of the Action and Solidarity Party. Sandu ran on an anti-corruption platform, but Dodon attacked her integrity by associating her with an infamous recent billion dollar scandal—the bailout of three Moldovan banks by the government with funds from National Bank reserves. At that time, Sandu served as the education minister in Vlad Filat's cabinet. Filat was convicted to nine years in prison. No evidence exists to suggest that Sandu participated in or benefited in any way from the bank scandal. In fact, Sandu is on record questioning the government's plans vis-à-vis the bailout (Independent.md, September 9). Nevertheless, Dodon had a significant advantage in publicizing his narrative by benefitting from larger traditional media access as well as stronger door-to-door efforts. Sandu's lack of resources and weak grassroots organization forced her to rely predominantly on social media—first and foremost, Facebook. In light of the above, Sandu's 47.7 percent of the vote is actually a remarkable achievement.
Geopolitical concerns played second fiddle in the campaign, partially because neither candidate had strong foreign affairs experience, but even more so because both candidates made the strategic calculation to downplay foreign policy in their platforms. Dodon has clearly learnt his lesson that a Moldovan politician cannot win a direct election by overemphasizing his or her ties with Russia. After all, Dodon himself and his fellow party colleague lost the last two races for Chisinau mayor largely because the contests had turned into referendums on foreign policy and the direction of the country, despite the mayor having no authority over international matters.
This time around, Dodon was much more cautions with his pro-Russian agenda. In fact, during the presidential debates and throughout the last few weeks of the campaigning, he veered toward the center by no longer insisting on the repeal of Moldova's Association Agreement with the European Union. Moreover, he came out in support of the visa free regime with the EU (Europalibera.org, November 8). Still, Dodon toed the Russian line by openly acknowledging the illegally annexed Crimea as Russian territory, leading some Ukrainian politicians to call for him to be declared persona non grata and even introduce an economic blockade on Moldova, should Dodon maintain his stance once elected (Pravda.ua, November 4). Russian backing was also manifest in Dodon's highly publicized blessing by Patriarch Krill, the head of the Russian Orthodox Church (Actualitati.md, September 22). Furthermore, the head of Moldovan Orthodox Church, Metropolitan Vladimir, publicly endorsed Dodon, followed by other prominent clergy who questioned Maia Sandu's faith and sexual orientation, in light of her being single and childless (Ziarul de Garda, November 4).
Still, Dodon's win would have been impossible without the backing of Moldova's gray eminence, oligarch Vlad Plahotniuc. Despite throwing his toxic public endorsement behind Sandu, Plahotniuc actually ended up working tirelessly through his media conglomerate to advance Dodon's candidacy (Ziarul de Garda, November 6). Thus, Plahotniuc bought himself some time until the 2018 parliamentary election, which is when the future of the country and Plahotniuc's own fate will be decided. Should a Dodon-Plahotniuc coalition emerge after the 2018 elections, Moldova will re-enter the gray zone of trying to balance between EU and Russia, since actual integration with the Eurasian Economic Union (EEU) is currently not feasible for economic, political and geographic reasons. However, Moscow does not need Moldova in the EEU per se, as long as it can successfully preclude the country from joining the European Union and, even more so, the North Atlantic Treaty Organization (NATO). That is why Russia was quick to celebrate Dodon's victory. The head of the Foreign Relations Committee in the State Duma, Alexei Pushkov, applauded "the downfall of the pro-Western liberals in Moldova," adding that "association with the EU offered Moldova nothing and will give nothing to Ukraine" (Agora.md, November 14).
Nonetheless, the Russian victory is largely symbolic as the new president has no constitutional powers to influence the country's course in the short run. And Dodon's elections could, potentially, backfire by galvanizing the pro-Western base ahead of the 2018 election, thus again setting Moldova on a European integration path. Certainly, the upcoming two years will be prone to increased political instability. It will take foresight, wisdom and patience to navigate these turbulent waters. It remains to be seen if the new wave of pro-Western Moldovan politicians is up to the task.