Saakashvili's Resignation: Start of Ukrainian Parliamentary Election Campaign?
Publication: Eurasia Daily Monitor Volume: 13 Issue: 182
By: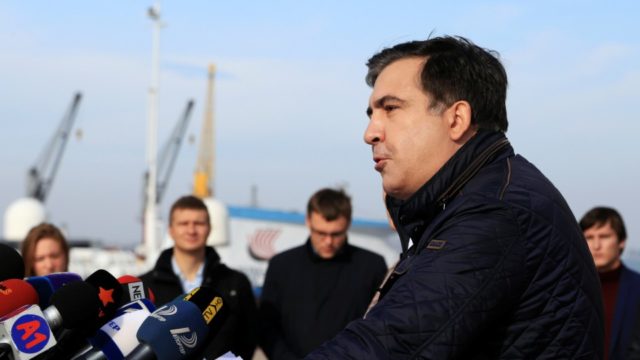 The sudden resignation of the governor of Odesa region, Georgia's former president Mikheil Saakashvili, roiled the Ukrainian media landscape last week (November 7). Saakashvili was appointed to head the coastal Black Sea province, in May 2015, by Ukrainian President Petro Poroshenko, a long-time personal friend. He attributed his resignation to continual sabotage of his regional reform efforts by the central government, including by the president's "corrupt inner circle" (YouTube, November 7).
The presidential administration responded the same day following Saakashvili's announcement, claiming that his departure from the governor's post was in fact planned as early as last summer. At that point, however, Poroshenko and Saakashvili allegedly both agreed to postpone the decision, so as to enable the latter to fulfill his goals for the region. Among these unfinished projects were the construction of the Odesa-Reni motorway, the streamlining of port customs procedures (the so-called "Single Window System"), and others. But none of these were accomplished, a source in the Porosehnko administration said, adding, "Saakashvili just pre-empted [his sacking] to produce the impression of a voluntary resignation" (Hromadske.ua, November 7).
During his tenure as governor, Saakashvili succeeded in fulfilling only 14 of his 34 policy promises. Another 14 can be considered "in progress." And he undeniably failed to accomplish six of his declared promises, including holding an open competition for the head of the Regional Customs service as well as instituting an electronic customs regime at Odesa's newest airport terminal (Slovo i Dilo, November 7).
Many local politicians and political experts agree that the Odesa governor's discharge was long expected. Ukrainian parliamentarian Anton Gerashchenko—a close ally of one of Saakashvili's main political opponents in Kyiv, Interior Minister Arsen Avakov—wrote on his Facebook page that it would have been impossible to repeat the success of Georgian reforms in Ukraine. In his opinion, back in 2003, in Georgia, Saakashvili was part of a unique team of several democrats and reformers, which also included Kakha Bendukidze, Nino Burjanadze and Zurab Zhvania. "[Within that team,] Mikheil Saakashvili played the role of the destroyer of the old corrupt system, but there were also those who were building a new Georgia." Gerashchenko claimed that Saakashvili's arrogance and domineering character broke up this successful team in 2007, while its positive achievements were undermined by accusations of human right violations by the government (Facebook.com/anton.gerashchenko.7, November 7).
"Petro Poroshenko, who has known Mikheil Saakashvili since his university years in Kyiv, invited him to Ukraine. On the one hand, he wanted to utilize Saakashvili's popularity and experience to imitate reforms, while, on the other hand, he has used Saakashvili as a ram to divide his political enemies," Gerashchenko maintained. So, Saakashvili was, in his opinion, instrumental in pushing Ukrainian oligarch Igor Kolomoisky's team from Odesa and in ousting the then–prime minister, Arseniy Yatsenyuk. According to Gerashchenko, Saakashvili was promised the premiership following Yatsenyuk's resignation, but President Poroshenko ultimately preferred to see his old client, Volodymyr Groysman, head the national government (Facebook.com/anton.gerashchenko.7, November 7).
Having appointed Groysman, the president took full control of the Cabinet's activity, just as he had earlier done with the country's National Bank and foreign ministry, wrote the influential Ukrainian blogger who goes by the name "Anti-Colorados." This, in his opinion, meant the preservation of Saakashvili and his Ukrainian team and, at the same time, Poroshenko's refusal to carry out radical reforms. "Saakashvili just could not implement his projects, as their scale was much larger than that of the [Odesa] region and [his reform goals] dealt with issues that could be addressed only in Kyiv. So Mikheil's proper place should have been that of prime minster, with a free hand to effect reforms. But Poroshenko preferred Byzantine politics, having surrounded himself with his own cronies and clientele [sic]. And this is the fundamental mistake, which will one day count against the President," he wrote. A man of Saakashvili's political stature was just too big to run a region, according to Anti-Colorados. Having, however, accepted the president's proposal, Saakashvili was supposed to understand the implied difficulties and be prepared to respond to challenges in the long run. But it proved impossible to transform a single region into an oasis in the middle of a corrupt desert. Still, Anti-Colorados believes the Odesa governor should have continued his efforts, no matter the problems and resistance he faced (Novaukraina.org, November 8).
Meanwhile, Igor Tyshkevich, an analyst with the Ukrainian Institute for the Future, thinks that Saakashvili's resignation was neither unreasoned nor spontaneous. Instead, it was well thought out and marked the beginning of a new and intricate political game. "Saakashvili has found himself in dire straits," Tyshkevich wrote, adding, "his further presence in Odesa would not only take him nowhere, but threaten his political prospects. The post of regional governor is obviously not the best launching pad for a political struggle" (Hvylya.net, November 7).
However, Tyshkevich has argued, it is not only the former Odesa governor, but also the Ukrainian president, who has reached a stalemate. Poroshenko's personal and party approval ratings have been slumping against the gloomy prospects of a pre-term parliamentary election. Yulia Tymoshenko's Batkivshchyna, Oleg Lyashko's Radical Party and Yuriy Boyko's Opposition Bloc seem eager to exploit the popular discontent with soaring utility bills and shrinking living standards. All are ready to call for early elections next year. And in those circumstances, they could be expected to ride the wave of anger and significantly expand their presence in a new legislature. President Poroshenko, on the other hand, is looking to avoid or at least delay a popular vote, so as to try to counteract his opponents' gains. Saakashvili, meanwhile, still enjoys soaring popularity and his rhetorical talents are undisputable. In early elections, he would presumably be able to seriously challenge the Ukrainian political populists for votes. "The former Georgian president is no worse at sensing the popular mood than Tymoshenko and can teach her a thing or two about preaching populism," Tyshkevich argued. This, in the analyst's opinion, is apparently in the president's interest and hints at a possible secret agreement between Poroshenko and Saakashvili (Hvylya.net, November 7).
On November 11, Saakashvili announced he would be launching a new political party, "New Force," and called for early elections (Tabula.ge, November 11). His main problem at the moment is a lack of personnel and infrastructure for building his own political project. Still, a close alliance with the president could certainly speed up the process of party building. And the quicker he can build his party, the sooner one can expect the next parliamentary elections.