Russia's Military Paper Tiger
Publication: Eurasia Daily Monitor Volume: 13 Issue: 183
By: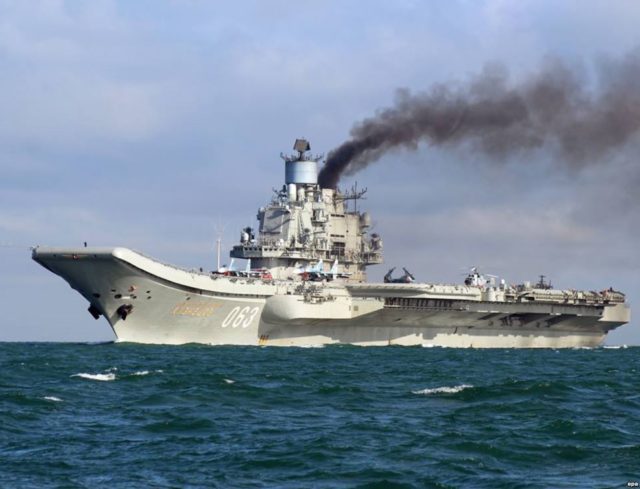 The reputation of Russia's Armed Forces was boosted by its involvement in Ukraine and its out-of-area intervention in Syria, on the back of the publicity generated by ongoing long-term military modernization (see EDM, November 8). Overlapping the presidential election in the United States, Russia's high-profile additional naval deployment to the Mediterranean Sea, spearheaded by its only but aging aircraft carrier, Admiral Kuznetsov, promised to further strengthen options to support the Damascus regime using high-precision strikes and more air sorties against Aleppo (TASS, November 12).
The impression of Russia's military as high-tech-centric was furthered by recent reports of the introduction of a new military internet to permit classified and secure transmissions in peacetime and during combat operations (Izvestia, October 19, November 10; Voyenno Promyshlennyy Kuryer, November 7). However, embarrassing technical glitches with modern military assets and the defense ministry's hesitancy over procuring the latest tank design appear to signal enduring difficulties in the effort to transform the Armed Forces.
President Vladimir Putin used a defense industry visit to Yaroslavl to confirm widely anticipated reductions in defense budget spending over the next three years while, at the same time, maintaining commitment to fostering a high-tech military. According to Putin, this thrifty strategy will enable the state to focus on introducing into the military components such as "informatization," "intelligence" in its broadest sense (human and technical), communication systems, as well as high-precision and high-tech weaponry. However, in the context of declining defense spending or optimizing existing plans, it is less likely the military will soon see the introduction of advanced systems such as the S-500 air defense system, or large numbers of the widely discussed Armata T-14 tank (Kommersant, November 14).
According to the Defense Minister Sergei Shoigu, by the end of 2018, the total number of contract servicemen (kontraktniki) will reach the desired 425,000. By October 1, the numbers of kontraktniki, warrant officers and sergeants accounted for 85.3 percent of the set targets, which are scheduled to rise to 100 percent in 2018. This means that, by 2018, the Armed Forces will have 220,000 officers, 50,000 warrant officers, 425,000 kontraktniki and "around 300,000 conscripts." These targets appear within reach, even bearing in mind that those figures were set before the collapse in the global oil market. Therefore, Shoigu is also setting a high priority on changes to defense laws designed to strengthen territorial defense. These changes envisage placing responsibility for mobilization on local governors and subordinating all security agencies and personnel to each military district (MD) and joint strategic command (Obedinonnye Strategicheskoe Komandovanie—OSK) in wartime. Previously it was thought that the MD would switch to an OSK in wartime, but Shoigu stated that both will function simultaneously (Novosti VPK, November 11). If, however, the drive to adopt high-tech systems and markedly increase contract personnel numbers is working well, it is rather odd to find the defense ministry subscribing to a "mobilization" insurance policy—especially considering the unlikely scenarios in which Russia's hypothetical adversaries would simply sit and wait for such mobilization to occur.
In this rapidly modernizing military, with its highly ambitious plans and targets, it is worth recalling that the advanced Armata T-14 tank has still not entered the Ground Forces despite its appearance on Red Square the past two years, during the annual Victory Day Parade. Russian plans include procuring 2,200 T-14s. But in the current economic climate, with military belt tightening being inevitable, it is difficult to foresee when this platform might be purchased in significant numbers. Indeed, the defense ministry has recently opted to reboot the old T-80, in what seems to be a cost-cutting exercise. The updated T-80BV will use less kerosene and feature increased accuracy in target acquisition. These older platforms are reportedly in plentiful supply, with up to 3,000 in military warehouses, making the cost-effective option of modernizing them alluring for the defense ministry. Moreover, with its updated characteristics, including better fuel economy, the T-80BV may compete with the T-90. Even so, these are still Soviet-designed tanks, and their prioritization, if it comes at the expense of the more costly Russian-designed modern T-14, suggests continued reliance on tried-and-tested systems (Izvestia, November 14).
Following the arrival of the Admiral Kuznetsov to the Eastern Mediterranean, a routine test flight by a small number of fighter jets resulted in a navy MiG-29 ditching into sea a few kilometers from the aircraft carrier. On November 14, the Russian defense ministry confirmed that a routine training flight involving three MiG-29s had resulted in the loss of one with the pilot safely ejecting. The cause of the accident was described as due to a "technical fault." The loss of the fighter jet suggests that all is not well in the Russian military aviation industry or its capacity to successfully produce advanced air assets. The MiG-29s in question were the latest generation MiG-29Ks and MiG-29KUBs. The training flights in question were conducted by two of each of these types, with the consequent loss of one MiG-29K (Life.ru, November 14).
The fourth-generation MiG-29K fighter—as well as its training variant, the MiG-29KUB—is also being exported to India. In 2004, India signed a $730 million deal with Russian Aircraft Corporation MiG (formerly Mikoyan) to purchase 16 carrier-based fighters (12 MiG-29Ks and 4 MiG-29KUBs), which were delivered in 2011. In 2010, India signed another contract for $1.2 billion to deliver 29 MiG-29Ks by the end of 2016. In August 2016, India's Air Force reported experiencing numerous problems with the MiG-29K, including its electronic control system, complaining that the platform is "riddled with problems." Likely, the Russian defense ministry sent a small number of these to the Syrian theater for further testing and pilot training. The Russian defense industry has responded to the complaints from India by criticizing their specialists in handling repair and maintenance (Life.ru, November 14).
In June 2011, a test flight of the MiG-29KUB in Astrakhan region resulted in a crash, killing both its crew members. The cause of the sudden catastrophe was again said to be "equipment failure," most likely to do with the mechanism used in the folding of its wings. Then, on December 4, 2014, another MiG-29KUB crashed during a training flight, with both pilots ejecting and hospitalized in serious condition. Again, the cause of the accident was given as equipment failure (TASS, RBK, November 14).
Russia's continued reliance on upgrading older existing platforms may yield cost-cutting benefits. But this, combined with manpower and training issues, offers a less rose-tinted insight into the current condition of Russia's Armed Forces.