Russia Seeks to Exploit Escalating Troubles in the Middle East
Publication: Eurasia Daily Monitor Volume: 16 Issue: 69
By: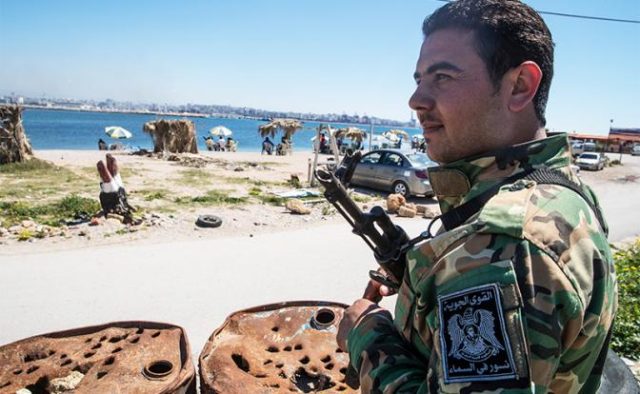 Russia tries to maintain a finger in every conflict in the Middle East, and President Vladimir Putin seeks to cultivate connections with various parties in multiple quarrels. Presently, however, the Kremlin's access is being curtailed: Moscow, for instance, cannot find an entry point into the exploding crisis in Gaza. Furthermore, Putin clearly disapproves of the removal of President Abdelaziz Bouteflika in Algeria under pressure from street protests; similarly, the Russian head of state opposes the ousting of his Sudanese counterpart, Omar al-Bashir, by military coup. But Moscow has been unable to employ any useful assets to make a difference in either crisis. The war in Yemen is also beyond Russia's reach. And in Libya, the pretenses of Russian diplomacy engaging in mediation are far from convincing (Kommersant, May 7). At the moment, the most consequential crisis is developing around Iran, and Russia seeks to grasp every opportunity to boost its role, necessitating simultaneously moves in opposite directions.
Perhaps the most important breakthrough for the Kremlin has been the resumption of high-level conversations with the United States after Putin's phone call with President Donald Trump on May 3 (Newsru.com, May 6). Putin was eager to provide reassurances of non-interference in the deadlocked crisis in Venezuela but remained ambivalent regarding Iran (Interfax, May 3). The follow-up meeting between US Secretary of State Michael Pompeo and Russian Foreign Minister Sergei Lavrov was described by both as "good"; but it remains unclear whether and how Russia's hypothetical readiness to wash its hands of the Nicolás Maduro regime will be rewarded (Republic.ru, May 7). Pompeo is scheduled to visit Sochi on May 14 (State.gov, May 13). However, the slim chance for a deal on Iran may slip away before additional talks take place (RIA Novosti, May 8).
Iranian Foreign Minister Mohammad Javad Zarif visited Moscow last week (May 8), in order to explain Tehran's partial withdrawal from the Joint Comprehensive Plan of Action (JCPOA), approved in July 2015 (Kommersant, May 8). Lavrov expressed understanding of the Iranian position and put the blame for unravelling the nuclear deal squarely on Washington (RBC, May 9). Russian companies have few worries about US sanctions for doing business with Iran, and this cooperation matters much more for the struggling Iranian economy. The European Union, meanwhile, is desperately trying to preserve what is left of the JCPOA, but neither France nor Germany is attempting to coordinate resistance with Russia to US sanctions (Russiancouncil.ru, May 8).
Despite supporting Iran, Russia continues to cultivate ties with Saudi Arabia, which keeps promising to make significant investments in the Russian industry (RIA Novosti, April 30). The agreement on cuts in oil production between Russia and the Organization of the Petroleum Exporting Companies (OPEC) is not working well. As a result, Moscow's worries about a possible military escalation in the Gulf are mixed with hopes for a sharp spike in oil prices (Nezavisimaya gazeta, May 6). Russian oil exports to Europe have been badly affected by the severe pollution of the Urals brand in the east-west Druzhba pipeline, so an interruption in global supply could actually be very helpful to Moscow (Forbes.ru, May 2).
Such mercantilist considerations underpin many Russian diplomatic maneuvers in the Middle East and are increasingly reshaping the main instrument of this policy: the military intervention in Syria. Yet, according to public opinion polls, this sustained power projection is growing unpopular. Only 41 percent of respondents in a recent survey expressed support for the Kremlin's Syria policy and 55 percent want the intervention to end (Levada.ru, May 6). The costs of Russia's protracted engagement are not publicized, and the authorities are even trying to cut the bonuses for sailors who performed patrols in the eastern Mediterranean (Novaya Gazeta, April 24). Casualties are carefully covered up, and the propaganda campaign is increasingly focused on humanitarian issues such as the return of refugees, which Moscow encourages but refuses to pay for, expecting contributions from Saudi Arabia (Nezavisimaya Gazeta, April 24).
One long-planned "victory" that is expected to reenergize public support for the intervention in Syria is the offensive on the rebel-held Idlib province. Moscow justifies the offensive through fabricated reports about the shelling of the Russian Khmeimim airbase by militants from Idlib, while clarifying that these attacks were effectively repelled (Interfax, May 8). The main obstacle for the offensive is not the massive new outflow of refugees but rather objections from Turkey, which seeks to consolidate control over a wide "security zone" in northern Syria (Riafan, April 27). Putin discussed this deadlock with Turkish President Recep Tayyip Erdoğan in Moscow last month (April 8), and he now has reason to believe that Turkey's leader will be preoccupied managing new elections in Istanbul after the cancelation of the opposition's victory on March 31 (Nezavisimaya Gazeta, May 7).
An offensive on Idlib would require a mobilization of Iranian-trained units of Bashar al-Assad's military and pro-Iranian militias. Yet, such an expansion of Iran's role in the conflict is certain to trigger counter-measures from Israel. Moscow is quite concerned about the consequences of the planned Iranian buildup in Latakia, which is close to Khmeimim's defensive perimeter (Svobodnaya Pressa, April 14). Putin has renewed his special relationship with Israeli Prime Minister Benjamin Netanyahu, which was damaged after the destruction of a Russian Il-20M surveillance aircraft by Syrian "friendly fire" (allegedly targeting Israeli jets) last November. But Putin cannot offer any meaningful support in de-escalating the hostilities in Gaza (New Times, May 6). Russian top brass may even presume that after the massive missile attacks from Gaza, Israel will think twice before striking the S-300 surface-to-air missiles in Syria operated by Russian "advisors" (Nezavisimaya Gazeta, May 5).
Russian policy in the Middle East is usually more effective in conflict environments than in peace-building, but presently the interplay of various crises has intensified beyond Moscow's capacity to manipulate them. Putin wants to have a meaningful conversation with the US about Syria and Iran, but even more he wants to undermine Washington's influence in the region. Trump's desire to withdraw US troops from Syria appears to create an opening for Russia, but the latter's staying power there is far from certain. Sustainability of Russia's Syrian intervention depends upon maintaining an alliance with Iran, and this entanglement now involves a high risk of direct exposure to the conflict. Cutting the Idlib knot while other stakeholders are otherwise occupied may look like a smart, proactive move, but it could trigger an escalation detrimental to Russian interests.