Russia Signals Support for Moldovan Presidential Candidate Lupu
Publication: Eurasia Daily Monitor Volume: 6 Issue: 219
By: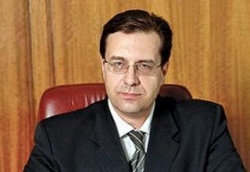 On November 21-22 in St. Petersburg, the Moldovan governing alliance's candidate for head of state, Marian Lupu, attended the congress of Russia's party of power, United Russia, which is officially headed by Prime Minister Vladimir Putin. Lupu initialed together with Duma Chairman Boris Gryzlov a draft cooperation agreement between United Russia and Lupu's Moldovan Democratic Party (Interfax, ITAR-TASS, November 21, 22).
At this congress, Gryzlov (who doubles as chairman of United Russia's Higher Council) defined the party's doctrine as "Russian Conservatism," whereas Lupu's party defines itself as left-of-center and seeks to join the Socialist International. Such doctrinal contrasts, however, seem irrelevant to the purpose of establishing direct political channels between Russia and a Moldovan leader-in-waiting.
In Moldova's political landscape, Lupu is a thoroughly Western-oriented figure. Internal political calculations impel his party (third-largest in the four-party AEI) to seek Russian blessings at least symbolically. Should Lupu actually sign the draft cooperation agreement between his party and the Kremlin's party of power, however, he would have to face uncomfortable questions internally and externally. He would in that case join such company as the Serb nationalist opposition leader Vojislav Kostunica and the Russian party "Harmony Center" in Latvia, among signatories to cooperation agreements with United Russia.
During the St. Petersburg congress, Lupu held political talks with Yevgeny Shevchuk, leader of Transnistria's Obnovlenie [Renewal] party, which holds the majority in Transnistria's Supreme Soviet. Shevchuk, a Russian citizen, had signed an inter-party cooperation agreement with United Russia in 2008 while chairing Transnistria's Supreme Soviet. But he lost that post afterward, in a still-ongoing power struggle with Transnistria's "president" and fellow-citizen of Russia, Igor Smirnov. By hosting talks between Chisinau's and Tiraspol's aspiring leaders under a common political umbrella, Russia adds a new type of lever to its panoply of levers on the negotiations regarding Transnistria.
Lupu is the joint presidential candidate of the four parties in the governing Alliance for European Integration (AEI). The powerful communist opposition under former president (2001-2009) Vladimir Voronin is blocking Lupu's candidacy in parliament. Moscow is trying to persuade the communists to relent.
Support for Lupu seems less than unanimous within the AEI. The parliament's chairman and acting head of state, Mihai Ghimpu (nominal Liberal Party leader) has clearly and repeatedly endorsed Lupu's presidential candidacy, though not ruling out his continuing as acting president for some indefinite period of time. For his part, Prime Minister (and nominal Liberal-Democrat Party leader) Vlad Filat has stopped far short of matching Ghimpu's endorsements of Lupu's candidacy. Filat maintains some ambiguity on the issue of the presidency. Local observers have noted the difference between Ghimpu's and Filat's public statements on this issue. The AEI's smallest party, Our Moldova, seems overwhelmingly interested in preserving its seats through avoidance of new parliamentary elections. It could support any joint AEI candidate for president, not necessarily a particular one.
Three weeks prior to the St. Petersburg congress, Lupu and Voronin had paid separate visits to the Kremlin. There, the presidential administration head Sergei Naryshkin undertook to mediate an internal political solution for Moldova. The Kremlin proposes to overcome the political deadlock by having Lupu elected as head of state in parliament with the Communist Party's support (EDM, November 4; Kommersant, November 11).
The Kremlin has apparently settled on Lupu as its preferred candidate for Moldovan president. Russian President Dmitry Medvedev had demonstratively treated Lupu as a head of state during the CIS presidential summit in Chisinau in early October, although Lupu's chances seemed distant at that stage and are still a long shot. Naryshkin had descended on Chisinau ahead of Medvedev and initiated meetings with the leaders of Moldovan political parties to explore their views about relations with Russia in the future.
Moscow could not have missed Filat's ambivalence about Lupu's presidential candidacy. Filat had launched a campaign in 2007-2008 to change the constitution, preparatory to a presidential bid of his own. The constitutional revision remains on the political agenda. This uncertainty necessitates mustering massive support from communist deputies to ensure Lupu's election as head of state in parliament, at the next and final round in December.
Moldova's parliament is almost evenly divided between the AEI of four parties with a total of 53 parliamentary seats, in power since September, and the opposition Communist Party with 48 seats in its own right. Under the constitution, at least 61 votes are required for electing the head of state. Thus, the communists hold more than enough seats to block the election. They seek either a deal that would turn Lupu into their captive, or a deadlock that would force repeat parliamentary elections to be held, which would be followed by yet more attempts to elect a head of state.
The Communist Party is divided on the presidential election, although it maintains painstakingly an appearance of unity. Voronin seems intent on blocking the presidential election and forcing new parliamentary elections. Most communist deputies follow this line. A growing minority of communist deputies, receptive to Russian advice, seem likely to go along with Lupu's election, if only to avoid new parliamentary elections. For the first time in 20 years, Moscow is in a position to influence and sway –although not dictate or impose– a leadership selection process in Moldova and possibly the balance of political forces in Chisinau.