Russia Subverting Armistice in Ukraine
Publication: Eurasia Daily Monitor Volume: 11 Issue: 179
By: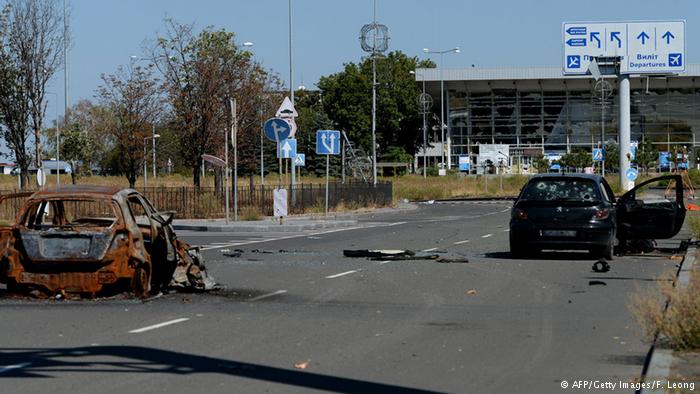 Russia is using the ceasefire as an opportunity to cement and expand its military presence, directly as well as through the Donetsk and Luhansk "people's republics" (DPR, LPR). Following the September 5 and September 19–20 armistice agreements, Russian regular and proxy forces have re-captured considerable territory in Donbas. They have compelled Ukrainian forces to withdraw behind the river Siverskyi Donets in the Luhansk province, to abandon several districts in the central part of Donetsk province, and to yield more territory to the east and north of Mariupil. The Ukrainians had liberated all those areas during their summer counter-offensive; but were driven back by Russian conventional forces in late August, and lost additional ground during the post-armistice period. The free flow of Russian reinforcements across the unsecured border means that Russia can breach the armistice at its discretion.
On October 6, Ukrainian President Petro Poroshenko told German Chancellor Angela Merkel by telephone and the visiting US Assistant Secretary of State Victoria Nuland in Kyiv about the "insurgents' [sic]" continuing attacks on Ukrainian forces in Donbas (area of eastern Ukraine including the provinces of Donetsk and Luhansk). Poroshenko appealed for help in securing the Russia-Ukraine border, returning the Ukrainian border guards there, starting the Organization for Security and Cooperation in Europe's (OSCE) border monitoring operation, and ensuring its effectiveness. "Without full control of that border from the Ukrainian side, a peaceful solution would be impossible," Poroshenko cautioned (president.gov.ua, October 6).
Nuland spent, apparently, three days in Ukraine (October 6–8) in a clear signal of support), and she included a meeting with the command of the border troops on her schedule. On the final day, she stated that the OSCE's mission can only monitor areas where the armistice has taken hold fully, but not uncontrolled borders, and not areas where military actions persist (Ukrinform, Interfax-Ukraine, October 8). If so, this amounts to an admission of the OSCE's irrelevance in the existing circumstances, and to any conflict that involves Russia.
The OSCE, officially responsible for monitoring the ceasefire's implementation, is not holding Russia to account and cannot do so by its own modus operandi (as previously demonstrated in Transnistria, in South Ossetia, and in Ukraine itself since May of this year). The OSCE's Special Monitoring Mission (SMM) lags far behind schedule in deploying its personnel and unmanned aerial vehicles (UAVs) on the Russia-Ukraine border and in the Donbas buffer zone. The technical and operational details of those deployments are subject to Russia's consent, under the OSCE's ground rules. Russia us using this right to drag out the negotiations and enfeeble the OSCE mission's mandate.
Moreover, Moscow seeks to insert the "DPR" and "LPR" authorities into discussions about the OSCE mission's operations, so as to elicit de facto acceptance of those authorities. As Russia's ambassador at the OSCE, Andrei Kelin, has warned, the Mission's deployment of UAVs "will not have a chance, if those who fly them and own them do not coordinate their activities with the leaderships of the Donetsk and Luhansk republics." And generally, according to Kelin, the "OSCE's leadership [sic] has no evidence of a presence of regular Russian troops in Ukraine's territory. No proof. Nothing" (RIA Novosti, September 26).
On October 7, Ukrainian President Petro Poroshenko hosted a meeting in Kyiv with 38 ambassadors who represent their respective countries at the OSCE. In the course of what he termed a "very frank conversation" (Ukrinform, October 7), Poroshenko drew attention to Russian forces' continuing attacks with the use of heavy artillery on Ukrainian positions. Poroshenko called for the OSCE's SMM to start effective monitoring of the Russia-Ukraine border and the Donbas buffer zone, without further delays. According to Poroshenko, an effective monitoring operation would require 1,500 OSCE personnel and some 30 UAVs (president.gov.ua, October 7; Ukrinform, October 8). The OSCE's UMM, however, only deploys some 270 personnel currently, and it plans to increase that number to 500—the maximum number allowed by Russia after arduous negotiations. The OSCE has procured only four UAVs thus far (only two have actually been delivered), none, as yet, are operating after five weeks of Russian ceasefire breaches (UNIAN, Interfax-Ukraine, October 6, 8).
A convention seems to have taken hold whereby Russia's own military units involved in those attacks are referenced as "DPR"-"LPR" or irregular forces, so as to avoid naming Russia directly as a ceasefire violator. Even the Ukrainian presidential administration and some official military spokesmen seemed to be respecting this undeclared convention in their briefings recently (UNIAN, Ukrainian Channel Five TV, Ukraiynska Pravda, October 1–8).
Moreover, some heavily armed "third forces" have now emerged in the field, attacking Ukrainian positions. Russia's military as well as the "DPR" and "LPR" conveniently disclaim responsibility for some of their own ceasefire breaches, blaming those "uncontrolled third forces" instead. According to Ukrainian military analyst Dmytro Tymchuk, "if we believe that some 'third forces' in Donbas are firing from mortars, multiple-launch rocket systems and tank cannons, where then do they receive these weapons, their ammunition and their fuel?" (UNIAN, October 6).
While Russia continues disclaiming its control over "DPR" and "LPR" forces, the latter similarly disclaim any relation with the "uncontrolled third forces" on their territories. It is a fact that some field commanders act autonomously, unity of command remains precarious, and some of the combat formations are little more than criminal gangs disputing the turf. Russian state television, meanwhile, celebrates "DPR-LPR" military exploits, crediting these to local volunteers, interviewing fighters and field commanders as heroes, and depicting Ukrainian forces as criminal (see accompanying article).