Russia Trips up Ukraine's OSCE Chairmanship in Transnistria
Publication: Eurasia Daily Monitor Volume: 10 Issue: 35
By: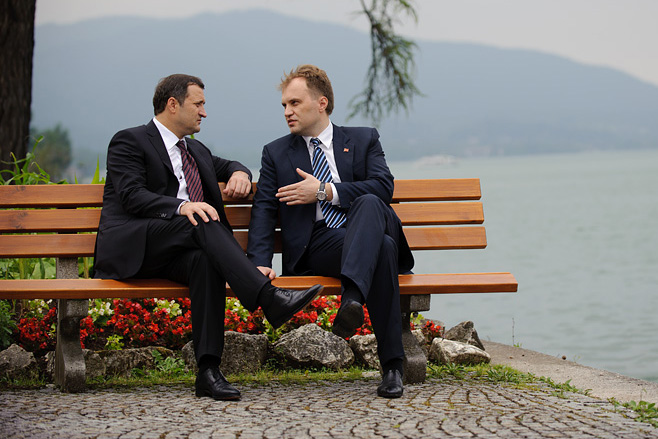 Ukraine has declared the Transnistria conflict a top priority issue of the Organization for Security and Cooperation in Europe's (OSCE) Ukrainian chairmanship in 2013 (OSCE press release, February 19). Nominally, the OSCE has been in charge of handling this conflict since 1993. Ukrainian diplomacy harbors no illusions about the conflict's quick or dramatic progress toward resolution. Kyiv seeks to start at least a discussion about a political resolution within the international 5+2 negotiating format (Russia, Ukraine, OSCE, the United States, the European Union, Chisinau and Tiraspol).
This format exists since 2005, but stopped functioning altogether from 2006 through 2011, and operates again since 2012. When Ukraine invited the European Union's Border Assistance Mission (EUBAM) to curb Transnistria's massive contraband in Ukrainian territory from 2006 onward, Moscow and Tiraspol responded by shutting down the 5+2 negotiating format for six years. As OSCE Chair this year, Ukraine is attempting at least a start toward implementing the OSCE's and the 5+2 group's respective mandates, both of which center on negotiating a political resolution of this conflict. Despite these mandates, the process has long been diverted toward social and economic matters, under the guise of civilian confidence-building and "improving people's lives on both banks of the Nistru River."
Ukraine's own national security interests are at stake here, although Kyiv does not speak openly about this. Russia's military presence for "peacekeeping" in Transnistria, with political and economic control of this territory from Moscow, pose security risks to Ukraine along this 400-kilometer stretch of Ukraine's south-western border. By the same token it motivates Kyiv from time to time, albeit inconsistently, to support a political settlement that would defuse those latent risks.
On February 18–19 in Lviv, Ukraine hosted the first meeting of the 5+2 negotiating format since Ukraine took over OSCE's chair (Interfax, February 19). Ukrainian Minister of Foreign Affairs, Leonid Kozhara, had made advance preparations to include some political and security items on the meeting's agenda. EU and US locally-based diplomats supported Kozhara's move. This did not yet touch on Transnistria's eventual political status within Moldova, nor on transforming Russia's "peacekeeping" operation into something more legitimate. The intent, however, was to start moving incrementally in that direction at this and subsequent meetings. Again with EU and US support, Kozhara tried hard to persuade Transnistria's leader Yevgeny Shevchuk to meet with Moldovan Prime Minister Vlad Filat in Lviv, parallel to the 5+2 meeting (Filat easily agreed).
Moscow and Tiraspol, however, used their veto to block any attempt at moving the 5+2 process from the socio-economic track toward security and political matters. Outside that process, Moscow used its own veto power over Tiraspol, causing a hesitant Shevchuk to refuse meeting with Filat. Hijacking the 5+2 agenda to drive it into a socio-economic dead end is a strategy on which Moscow's and Tiraspol's positions are indistinguishable from each other. Shevchuk, however, did at least consider the proposal to meet with Filat in Lviv.
On February 6, Russia's special envoy for negotiations on the Transnistria conflict, Ambassador Sergei Gubarev, held talks with Shevchuk in Tiraspol, effectively pre-empting the Lviv 5+2 meeting. Gubarev declared that negotiations toward a political settlement could only start after a process of building confidence through "economic interaction" between Chisinau and Tiraspol. Gubarev also ruled out a meeting of Shevchuk with Filat in Lviv, unless the meeting would produce agreements between Chisinau and Tiraspol on international transportation issues in line with Tiraspol's demands. Shevchuk and his "foreign minister" Nina Shtansky followed up with statements in the same vein (Interfax, Novyi Region, February 6–12). Gubarev also reaffirmed that negotiations on Transnistria's political status cannot be held unless Moldova revokes its organic law of 2005 about basic principles of such negotiations (this law rules out Moldova's "federalization" and Russia's military presence).
Moscow and Tiraspol's joint ownership of these positions never came into question. The only ambiguity arose from Shevchuk's initial consideration of Kozara's proposal to meet with Filat in Lviv. The two men had held a number of informal meetings in 2012, with Western encouragement and varying levels of publicity, soon after Shevchuk took over in Tiraspol. Apparently, Gubarev's visit caused Shevchuk to desist. A meeting between Filat and Shevchuk in Lviv would not have been a part of the 5+2 negotiations, but a parallel event with limited symbolic value.
The Lviv meeting broke down over Tiraspol's escalating demands on transportation issues. Beyond economic content, these demands are designed to obtain Chisinau's de facto recognition of Transnistria's separation from Moldova. The demands include (Interfax-Ukraine, Novyi Region, Nezavisimaya Gazeta, Kommersant, February 18-21):
— Separate, distinct license plates for Transnistrian road vehicles on Moldovan and international roads;
— Using the Tiraspol airport for international civil aviation services;
— Acceptance of Transnistrian-licensed shipping on the Nistru River (probably entailing some delimitation line along the thalweg);
— Recognition of Transnistrian-issued "university"-level diplomas;
— Acceptance of Russian and Ukrainian passports when presented by Transnistrian residents to Moldovan authorities (this could legalize and accelerate Russia's mass-passportization of Transnistrian residents).
These demands are being presented under the general heading of "freedom of movement" between Transnistria and the rest of Moldova, as well as beyond Moldova. This concept ("svoboda peredvizheniya") had focused until very recently on reopening the Gura Bacului–Bacioc bridge over the Nistru River for transportation. In the run-up to the Lviv meeting, however, Tiraspol enlarged this set of demands dramatically, with Moscow's full support.
These are becoming new pre-conditions, on top of the existing pre-conditions, for merely starting talks about a political settlement of the conflict. They are called "small steps" toward conflict-resolution; but they look like small steps toward Moldovan and international de facto acceptance of Transnistria's secession under Russia's continuing political, economic and military protection.