RUSSIA-UKRAINE GAS TRUCE: MORE QUESTIONS THAN ANSWERS
Publication: Eurasia Daily Monitor Volume: 3 Issue: 3
By: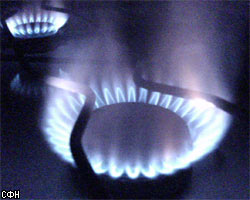 On January 4, after all-night negotiations in Moscow, Russia's Gazprom and Naftohaz Ukrainy signed five-year agreements on the supply of Russian and Turkmen gas to Ukraine and transit of Russian gas via Ukraine to European countries. Literally overnight, the agreements bring a truce to the spiraling dispute (see EDM, December 9, 12, 16, January 3, 4). The officials in charge of the negotiations on either side are expressing full satisfaction with the result. However, the agreements' official presentations in Moscow and Kyiv seem to raise more questions than they provide answers.
RosUkrEnergo, a Swiss-registered offshoot of Gazprom, is slated for a pivotal role to implement these agreements as middleman. During 2002-2005, many in Ukraine criticized RosUkrEnergo and its immediate predecessor, EuralTransGas, for lack of transparency and their role in Kuchma-era "gas supply schemes."
In a little-noted aspect of the Moscow agreements, RosUkrEnergo and Naftohaz Ukrainy are to form a joint venture by February 1 to sell gas on Ukraine's internal markets. Ukrainian Prime Minister Yuriy Yekhanurov hinted at this in one of his several statements on January 4, and Gazprom spokesman Sergei Kupryanov stated it outright (Channel Five TV [Kyiv], RIA-Novosti, January 4). If this goes ahead, it would cut into Ukraine's revenue and constrain its ability to diversify supply sources.
Under the agreements just signed, Gazprom will sell 25 billion cubic meters of Russian gas to RosUkrEnergo, for resale to Ukraine at a price of $230 per 1,000 cubic meters (clearly an overvaluation). In addition, Gazprom's subsidiary Gazexport and Turkmenistan's Nebitneftegaz will sell 35 billion cubic meters of Turkmen and other Central Asian gas to the same RosUkrEnergo, also for resale to Ukraine at a price of $50 to $60 per 1,000 cubic meters. RosUkrEnergo will merge these two flows gas of gas and sell the aggregate to Ukraine for $95 per 1,000 cubic meters at the Ukrainian border.
In the January 4 narrative of Russian and Ukrainian officials, the $95 price is made possible by combining high-priced Russian with low-priced Turkmen/Central Asian gas. The arithmetic does not seem to fall into place, however, and will require elucidation in the days ahead. Yekhanurov, Naftohaz chairman Oleksiy Ivchenko, and other Ukrainian officials take the position that such calculations are the affair of RosUkrEnergo, and the latter's non-transparent structure is also not for Ukraine to judge. These officials' expedient position will be open to internal political and media scrutiny in Ukraine.
In another little-noticed aspect of the agreements, Ukraine's transit fee for Russian gas en route to Europe is set at $1.6 per 1,000 cubic meters per 100 kilometers of Ukrainian pipelines. It is a particularly low rate by European and even neighborhood standards (Ukraine's neighbor Moldova, for example, charges $2.5 for the transit of 1,000 cubic meters of Russian gas en route to the Balkans per 100 kilometers of Moldovan pipelines).
All payments for gas supplied and transit services are to be made in cash. Thus, barter transactions come to an end; to this extent, market practices triumph. However, the monetary valuation of gas purchased and resold does not seem to obey market forces only.
In the most extensive briefing he offered, Yekhanurov listed the following benefits to Ukraine from the Moscow agreements: Ukraine has been proven to be a reliable partner to both Europe and Russia for transiting gas from the producer country to consumer countries; Ukraine has demonstrated that it does not "steal" gas from transit pipelines; the "terrible information wave that was invading our space" has ended; the agreements will spur Ukraine to conserve energy and develop alternatives to gas.
The benefits are largely collateral, and two of the successes listed seem questionable in any case. The main collateral benefit to Ukraine in the wake of these agreements must be serious discussion about reducing, instead of cementing, Ukraine's dependence on Russian and Russian-transited gas.
(Interfax-Ukraine, RIA Novosti, NTV Mir, Five + Five TV, UNIAN, January 5)