Russia-US Nuclear Cooperation Implodes
Publication: Eurasia Daily Monitor Volume: 11 Issue: 209
By: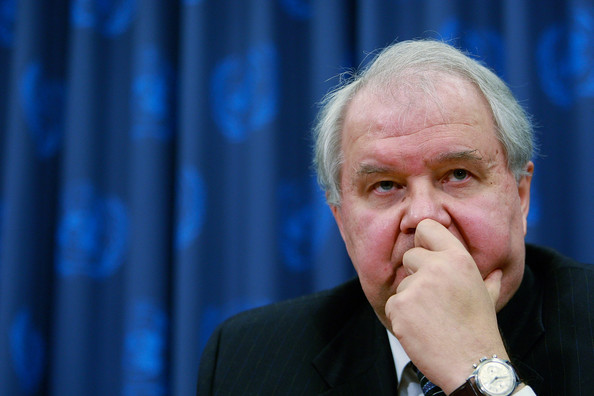 Tensions between Russia and the United States, deepened by the Ukraine crisis, have now affected nuclear security cooperation—an area that had previously resisted the fallout from earlier disputes over ballistic missile defense, Georgia and other issues.
At the beginning of November 2014, media leaks revealed that Russia had decided to skip the 2016 Chicago Nuclear Security Summit (NSS). The Russian Ministry of Foreign Affairs later issued a statement (mid.ru, November 5) that offered several justifications for its decision: previous nuclear security summits had already accomplished their goals, and Moscow believed the 2016 gathering would provide little "added value"; the three previous host nations of South Korea, the Netherlands, and the United States dominated the agenda for the summit preparations and were discriminating against Russia (which had the opportunity to host the 2012 summit but declined in favor of Seoul); and it also alleged that the Western countries were planning to use the summit to instruct the International Atomic Energy Agency (IAEA) and other multinational organizations on how to address nuclear security issues rather than let these more universal institutions decide for themselves.
With respect to the latter charge—that the Chicago NSS was acting as a global nuclear security directorate—the foreign ministry stated, "We believe it is unacceptable to create a precedent of such outside interference into planning the work of international organizations, which have a more solid expertise and rely on democratic procedures." The foreign ministry added that Russia would focus its future nuclear security preparations on strengthening the IAEA, though the agency's legal authority and resources in this area remain limited and its meetings lack the high profile of the summits.
Russian analysts later said that the NSS process aimed to circumvent Russia's leading role in these inter-governmental non-proliferation bodies as well as its United Nations Security Council veto powers (Vzglyad, November 7). Sergei I. Kislyak, the Russian ambassador to the United States, reinforced these points in a rare meeting with Western journalists (RT, November 9). He complained about how the Western media had "demonized" Putin and how the US government had suspended the almost two dozen bilateral cabinet-level commissions between the two governments (Washington Post, November 5). Russian officials also claimed that they had told Washington back in October that they would not participate in the 2016 summit, but that the US deliberately leaked the news to the media in an effort to pressure Russia to reverse its decision (Rossiskaya Gazeta, November 5). Thus far, the Barack Obama administration has said that the door remains open for Russia to attend the summit if it changes its mind (TASS, November 5).
Deputy Foreign Minister Sergei Ryabkov said that the Russian government would refuse to recognize the legitimacy of any decisions taken at the summit. He denied that the Ukrainian crisis prompted Moscow's position (TASS, November 10). Russian analysts also averred that the United States would never have had attended a meeting in Moscow under such "discriminatory" conditions (Vzglyad, November 7). Nonetheless, some Russian commentators could not help but attribute Moscow's boycott to the deterioration in bilateral relations (Rossiskaya Gazeta, November 6) and to retaliation for the US sanctions (Contrpost, November 5).
Other alleged Russian motives for skipping the summit include President Vladimir Putin's reluctance to attend high-profile events in the United States (seen in his previous boycotts of the US-hosted G8 and North Atlantic Treaty Organization (NATO) summits in 2012, as well as his failure to attend the annual UN General Assembly meetings in New York. Perhaps, Putin desires to sabotage what the US president sees as one of his major foreign policy legacies, the nuclear security summits, whose last meeting will be in Obama's home town of Chicago. Russia may hope to encourage other countries to also skip the summit by claiming that the meeting was now pointless given Moscow's refusal to recognize its authority (Vzglyad, November 7).
Moscow more recently indicated it would not begin any new bilateral threat reduction projects in Russia next year, amplifying its 2012 decision to end the original Nunn-Lugar Cooperative Threat Reduction program. It remains uncertain whether the existing Russia-US nuclear security projects in Russia will continue or whether Russia-US threat reduction cooperation in other countries might expand (New York Times, November 13).
In September, the Ministry of Justice designated the Center for Policy Studies—the most active Russian non-governmental organizations (NGO) working with Western think tanks on non-proliferation issues—as a "foreign agent," which will discourage other Russia-US non-governmental dialogues (TASS, September 3). Several Russian NGO experts took care to support Moscow's efforts to torpedo the nuclear security summits, asserting that the NSS cannot legally make decisions on behalf of multinational security organizations like the IAEA where Moscow has more influence. And they claimed that Washington was trying to exploit their two countries' shared interest in nuclear non-proliferation as a means to exert pressure on Russia (Svobodnaya Pressa, Pravda, November 7).
Other recent developments further suggest that the prospects for new Russia-US arms control agreements and nuclear security cooperation have effectively vanished for the remainder of the Obama administration. Not only does Russia continue to deny that it has violated the 1987 Intermediate-Range Nuclear Forces (INF) Treaty, which has further weakened US congressional interest in ratifying additional treaties with Moscow, but Russian officials still insist that future strategic arms control agreements must address many other problematic issues. Inter alia, they list the inclusion of other nuclear weapons states, US conventional strike weapons, and legal limits to BMD systems—on which there is a wide gap between the parties. Meanwhile, Russia continues to rebuild its nuclear arsenal and has engaged in more military exercises simulating nuclear attacks on the United States and its allies (see EDM, October 7).
Putin and Obama may have avoided public confrontations at the recent multinational meetings they attended in China and Australia (see EDM, November 17), but bilateral exchanges over Ukraine have grown more testy as evidence mounts that Russia is rearming the rebels to resume military operations (see EDM, November 13). The two countries have curtailed many other bilateral dialogues, exchanges and projects.
Attention now focuses on whether the Russia-US conflict will affect the delicate nuclear negotiations regarding North Korea and, especially, Iran. The Obama administration insists that cooperation continues on these non-proliferation cases, but Russia recently hosted a high-level North Korean delegation and has announced plans to resume building Iran's civil nuclear energy sector. Such moves may give Moscow additional leverage with which to punish Washington, even at the cost of harming Russia's own long-term interests.