Russian Deputy Rebukes Kadyrov for His Flashy Visits to Ukraine War Zone
Publication: Eurasia Daily Monitor Volume: 19 Issue: 102
By: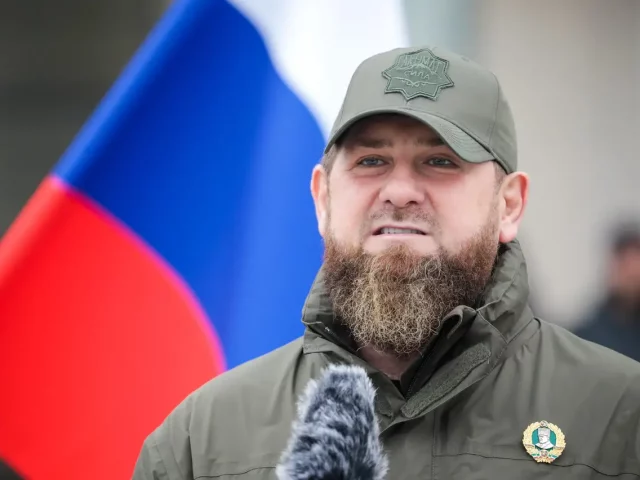 The Russian State Duma (lower chamber of parliament) deputy from Kurgan, Aleksandr Iltyakov, launched a surprise blistering verbal attack against the governor of Chechnya, Ramzan Kadyrov, for the latter's ostentatious visits to the war zone in Ukraine. The lawmaker criticized Kadyrov's behavior and alluded to the Chechen strongman's background as a former insurgent who had lived through the Russian-Chechen wars in the 1990s. "He knows what war is, he was essentially born in war," the Russian member of parliament said. Iltyakov ironically remarked, "It is possible that he [Kadyrov] has all the issues resolved in the republic [of Chechnya]. Maybe he just has some free time on his hands. But I think that the other heads of regions have nothing to do there [in Ukraine]. It is necessary for them to do their work and not to arrange such extreme trips for themselves. Let everyone mind their own business." According to Iltyakov, governors must leave waging war in Ukraine to the Russian military to avoid "irreparable losses" (URA, July 1).
Chechnya's long-time ruler, Ramzan Kadyrov, has been highly active in the large-scale Russian invasion of Ukraine from its onset (launched on February 24, 2022). Though much of Chechnya's participation in Russia's war appeared to be a prolific PR campaign rather than actual fighting (Current Time, March 16). Most recently, at the beginning of July, the Chechen governor reported that the last large town in the Luhansk region of Ukraine under government control, Lysychansk, was taken by the Russian forces. "Civilians meet our fighters with relief," Kadyrov assured, while bragging of the superb fighting skills of the special forces under his command (RBC, July 2). Following the capture of Lysychansk, Chechnya's ruler posted videos on his social media accounts that showed happy residents meeting Chechen fighters and officials, including the speaker of the republican parliament Magomed Daudov. Kadyrov warned that Russian military units would not stop after establishing control over the Luhansk region of Ukraine (Chechnya Today, July 6).
The significance of the Chechen forces' contribution to the Russian invasion of Ukraine remains debatable. The forces personally loyal to Kadyrov, commonly referred to as kadyrovtsy, are estimated at around 16,000–18,000. Formally, they are part of either the Ministry of Interior or the National Guard of the Russian Federation. It is unknown how many kadyrovtsy have actually been dispatched to the frontlines. The Chechen regional parliament's speaker, Magomed Daudov, stated that over 10,000 service members from Chechnya and 4,000 volunteers from other Russian regions, who trained in the republic, have participated in the Russian re-invasion of Ukraine to date (Chechnya Today, July 5). At the beginning of June, Daudov said that nearly 8,200 people from Chechnya went to fight in Ukraine, including almost 1,800 volunteers from other regions and 1,360 volunteers from Chechnya (Kavkazsky Uzel, July 5). Recently, Kadyrov announced sending another group of volunteers to fight against Ukrainian forces, though without specifying their origins (Chechnya Today, July 1). Volunteers from all over the Russian Federation undergo brief (two weeks long) combat training in Gudermes, Chechnya, before being dispatched to the front line (Vesti, June 19). Chechen opposition sources previously claimed that the Chechen authorities had forced some Chechens to go to war in Ukraine (IADAT, May 16).
Meanwhile, Chechen officials announced a recruitment drive for the new North-Akhmat and South-Akhmat military battalions, which will consist exclusively of residents of Chechnya. Two more battalions are expected to be formed—East-Akhmat and West-Akhmat. Unlike other forces under Kadyrov's de facto command, these battalions will subordinate directly to the Russian Ministry of Defense (Grozny-Inform, July 5).
Researchers have also identified Kadyrov's so-called TikTok forces, which follow the Russian military advances and produce a significant amount of online propaganda content. According to the analysis, Chechen forces in Ukraine are used as light infantry (Charter97.org, May 31). Chechen officials organized a tour in Donbas for the Russia-friendly media outlets from China, North Korea, Serbia and Turkey, along with Russian journalists (Chechnya Today, July 6).
The relatively modest role of the Chechen forces in the military outcomes in the Russo-Ukrainian war contrasts with their outsized media impact; and this incongruity seems to have seriously irked many of Russia's regional and military elites. The aforementioned Russian parliamentarian, Aleksandr Iltyakov, expressed a grudge apparently shared by many of his colleagues. No Russian region has come close to the number of mentions of Chechnya and Buryatia in the headlines of the Russian media reports in connection to the war.
The emphasis on ethnic minorities' participation in the Russian invasion of Ukraine helps Moscow to alleviate ethnic Russians' concerns about the war and the mounting casualties. Russian public opinion is certainly more tolerant toward minority deaths than the deaths of ethnic Russians. However, this PR strategy has its own downsides for the Russian government. If it is the minorities who are fighting for the Russians in Ukraine, then they also receive disproportioned amounts of respect and glory for any successes. Apparently, not all Russians are happy with this media portrayal. Meanwhile, Chechnya's ruler, Ramzan Kadyrov, is already capitalizing on his real and media victories, claiming that he has received the Kremlin's permission and funding for the creation of four additional battalions (T.me/RKadyrov_95, June 26). This is likely to further increase the Russian elites' resentment against Chechnya and its leadership.