Summit Shows NATO's Limited Relevance to Ukraine (Part Two)
Publication: Eurasia Daily Monitor Volume: 19 Issue: 103
By: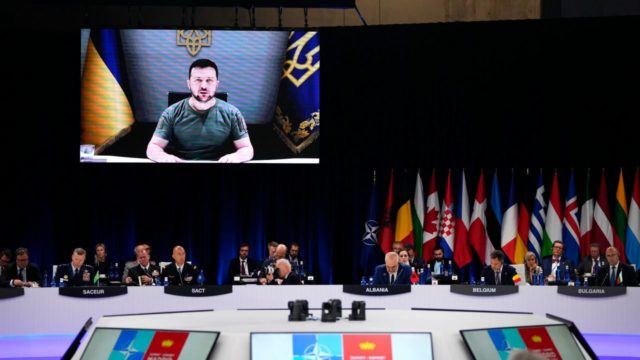 The North Atlantic Treaty Organization (NATO) had blocked Ukraine's membership track long before Russia's 2022 re-invasion of Ukraine. The summit in Madrid (June 28–30) changed nothing in this respect. While the proverbial door remained open to Ukraine in theory, the path to it was blocked in practice by certain Western members, shaping the Alliance's collective position on this issue at the lowest common denominator. Since US President Joe Biden's administration joined the naysayers in 2021, NATO has stopped referencing Ukraine's membership as an explicit goal in the Alliance's official documents. It merely references, in the abstract, Ukraine's sovereign right to choose its own security arrangements.
For its part, Ukraine has not abandoned the goal of joining NATO. That goal has been inscribed in the Ukrainian constitution since 2019; the current leadership seems to adhere to it as tenaciously as the prior leadership (currently the parliamentary opposition) did; and public opinion support for this goal makes it risky for political leaders to be perceived as abandoning it, unless NATO itself ends up disappointing Ukraine. The membership aspirations of Ukraine are coupled with confidence in NATO's capacity to protect its members from Russian aggression.
Addressing NATO's Madrid summit by video from Kyiv, Ukrainian President Volodymyr Zelenskyy stated: "Has Ukraine not sacrificed enough [to join NATO]? Is our contribution to the defense of Europe and of the civilized world still insufficient? What else is needed then? … [Ukraine], not a member of NATO, albeit with your support, is holding out against a great power that you all officially identify as the main threat to yourselves. We are holding back Russia from destroying us and destroying you" (President-gov.ua, June 29).
Ukrainian Presidential Office chief Andriy Yermak and deputy, Ihor Zhovkva (chief diplomatic adviser to the president), attended a number of sideline events at the summit. According to Yermak, "We are not content with an illusory Open Door. Ukraine will not deviate from its course toward full membership in NATO. The Ukrainian army and people demonstrate every day that our membership would only strengthen the Alliance." Zhovkva similarly insisted: "We are staying the course to join the Alliance. Nobody will remove this from the agenda. NATO membership is the best security guarantee for Ukraine" (Ukraiynska Pravda, June 30, July 1).
The summit's concluding political documents came as a net disappointment to Kyiv (see EDM, July 6, 7, and 8, November 7, 2019, Part One and Part Two). According to Ukrainian officials, Kyiv was not included in the consultation processes that led to the adoption of NATO's new Strategic Concept and the Summit Declaration in Madrid. Nevertheless, Ukrainian Foreign Minister Dmytro Kuleba and Defense Minister Oleksiy Reznikov addressed a joint letter to NATO Secretary-General Jens Stoltenberg in the run-up to the summit, submitting Ukraine's inputs for the concluding documents. As a non-member country, Ukraine could not offer official recommendations, only informal suggestions.
Some of the content of the Kuleba-Reznikov letter can be pieced together from fragmentary disclosures to Ukrainian media. Kyiv hoped that the Summit Declaration would delineate a path for Ukraine to reach that "Open Door" to NATO membership. The letter specifically asked about a clearly defined path, other than the (evidently defunct) Membership Action Plan. It further suggested that the Alliance's new Strategic Concept should include a special mention of NATO's partnership with Ukraine, as well as an acknowledgment that Ukraine is "a cornerstone of European security." As reported, Kyiv's letter also cautioned NATO leaders that it would be a mistake to seek "yet another understanding with Russia, since the latter has broken all previous understandings" (Novoye Vremya, June 25; Ukraiynska Pravda, June 27, 29; Dzerkalo Tyzhnia, June 30). None of those suggestions found their way into the summit's concluding political documents, however.
Kyiv is currently seeking to enlist a group of Western countries willing to provide security guarantees to Ukraine as an interim, suboptimal solution. Kyiv has set up an international advisory group, headed by former NATO Secretary-General Anders Fogh Rasmussen, to work toward that solution. On July 1, at a public event in Kyiv, the advisory group was officially launched. Yermak and Rasmussen each said in their opening remarks that this effort does not imply abandoning Ukraine's goal to become a member of NATO (Ukraiynska Pravda, July 2). President Zelenskyy underscored this policy in his July 7 televised remarks: "We are prepared to consider entering into any structure that would bring an end to the war and guarantee our security." But at the same time, "there is no better guarantee than NATO membership…and Ukraine does not abandon this path" (Ukrayinska Pravda, July 8).
The Summit Declaration "welcome[s] the efforts of all Allies engaged in providing support to Ukraine." This alludes to the fact that most military support comes from individual allies, not from NATO collectively. However, countries providing lethal equipment to Ukraine are pooling their efforts through the Ukraine Defense Contact Group, also known as the "Ramstein format" named after its inaugural meeting on the US military base of the same name in Germany (a follow-up meeting was held at NATO headquarters in Brussels). The Pentagon plays the de-facto leading role as the largest donor. The Ramstein format amounts to a "coalition of the willing," apt to bypass NATO's cumbersome procedures for unanimous approval at the political levels (see EDM, July 8).
On the other hand, the Alliance acts collectively in providing Ukraine with nonlethal equipment. The Madrid summit approved a strengthened Comprehensive Assistance Package (CAP) for Ukraine. It is "strengthened" in comparison with the CAP for Ukraine that had been approved at NATO's 2016 Warsaw summit. That package was comprised of six sectoral Trust Funds, which turned out to be meagerly funded, and most of which fell short even of authorized funding levels.
The new CAP, in contrast, is considerably more ambitious. Integrating the previous Trust Funds into a coherent whole, it envisages providing Ukraine with modern, NATO-standard, nonlethal equipment, such as secure communications gear, body armor, medical supplies, portable anti-drone devices, demining equipment and equipment to counter chemical and biological threats (Nato.int, July 8).