Summit Shows NATO's Limited Relevance to Ukraine (Part One)
Publication: Eurasia Daily Monitor Volume: 19 Issue: 102
By: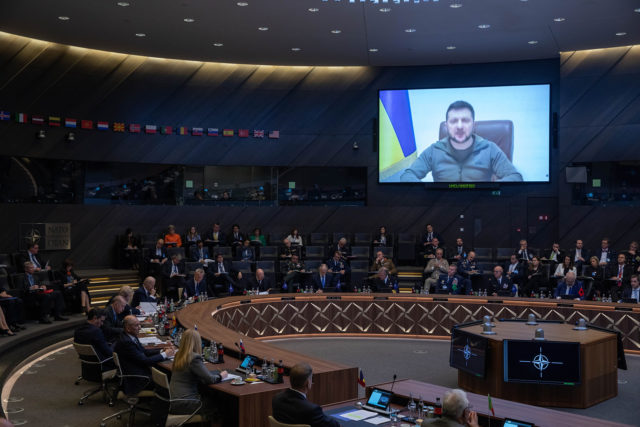 The North Atlantic Treaty Organization (NATO) is what the political leaders in the capitals of member countries make it to be. The summit just held confirmed this reality (see EDM, July 6, 7, November 7, 2019, Part One and Part Two).
NATO decisions necessitate working out a political consensus among all member countries. This system applies across the board but is particularly deleterious to NATO's collective policies toward Russia and Ukraine (whereby many member states view their Ukraine policy through the prism of their Russia policy). Consensus-based decision-making not only slows down the process but tends to produce decisions on the lowest common denominator, with limited effectiveness. This system is accepted for what it is, cannot be challenged, but can be bypassed.
When it comes to assisting Ukraine, the more motivated, proactive member countries bypass NATO's framework, instead acting bilaterally with Ukraine or in supportive coalitions-of-the-willing. Consequently, the relationship known as "NATO-Ukraine" mainly operates, in fact, on bilateral tracks between Ukraine and key member countries or in small ad hoc coalitions-of-the-willing. These formats handle, for example, arms supplies, troop training, and intelligence-sharing in support of Ukraine. Meanwhile, NATO collectively supports Ukraine within the limits of consensus-based decisions. Arms transfers are, in any case, a national prerogative of member countries.
These circumstances have produced a division of labor whereby some countries do the heavy lifting in assistance to Ukraine, outside the collective NATO. The United States, United Kingdom and Canada assumed this role from at least 2015 onward, followed by many other members in their national capacities after Russia's second invasion of Ukraine (February 24, 2022). Meanwhile, NATO as such continues to provide only non-lethal types of assistance to Ukraine. This division of labor seems far from clear to Ukrainian public opinion, resulting sometimes in misunderstanding and frustration. NATO's Deputy Secretary General Mircea Geoana had explained it, preparatory to the summit, as part of the Alliance's outreach effort in Ukraine (Ukraiynska Pravda, June 27).
Russia went to war against Ukraine purportedly in order to prevent Ukraine from joining NATO. On the obverse side, the Kremlin demanded guarantees from NATO to rule out Ukraine's membership (and even to refuse cooperation with Ukraine short of membership). This was one key element in Russia's casus belli against Ukraine (directly) and its "hybrid" war against NATO as such (indirectly). Russia's claim was mendacious. In reality, Ukraine's NATO membership prospects had receded with every passing year since NATO's initial 2008 promise. Opponents of that promise in Western Europe soon grew into a critical mass within NATO. In 2021, the Joseph Biden administration officially withdrew the traditional US support to an ever-elusive NATO Membership Action Plan (MAP) for Ukraine (see EDM, May 6, 10, 2021; Whitehouse.gov, November 10, 2021). In early February 2022, German Chancellor Olaf Scholz and French President Emmanuel Macron publicly pressured Ukrainian President Volodymyr Zelenskyy to abandon on his own accord the goal of joining NATO (see EDM, February 10, 15, 17, 2022).
When Russia made its decision to invade Ukraine, that country was more remote than ever not only from NATO membership but from any track that might lead to membership. The path remains firmly blocked to date. At its summit just held, NATO announced in its new Strategic Concept, "We reaffirm the decision we took at the 2008 Bucharest Summit and all subsequent decisions with respect to Georgia and Ukraine" (Nato.int, June 29).
This formula is copied-and-pasted from all the NATO summit communiques of nearly a decade. It fails to specify that decision (it was that "Ukraine will become a member of NATO"). This vagueness is a way to disengage from the purpose of that decision without officially revoking that document. The "subsequent decisions" (those post-2008) alludes to requiring Ukraine to complete a MAP as a sine qua non prerequisite to NATO membership, only to block Ukraine's access to a MAP in order to avoid provoking Russia. The Kremlin nevertheless invaded in 2022 without any provocation. NATO emphasizes this fact in its statements, but it blocks Ukraine's path to membership even more firmly amidst the ongoing war.
Past NATO summits had announced the position on Ukraine's membership prospects (namely, their remoteness) in the summits' communiques or final declarations. This summit, however, announced its position on this matter in NATO's new Strategic Concept (see above). Separately from it, a Summit Declaration was also issued. In this document, "We reaffirm our commitment to NATO's Open Door Policy." The Declaration goes on to reference Finland and Sweden, without mentioning Ukraine (Nato.int, June 29).