RUSSIAN DIPLOMACY IN LITHUANIA: AGGRESSIVE BUT CLUMSY
Publication: Eurasia Daily Monitor Volume: 2 Issue: 52
By: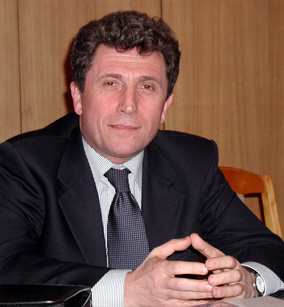 Not long after Russia's new ambassador to Latvia, Viktor Kalyuzhny, had piled gaffe upon diplomatic gaffe in lecturing his host country, Russian diplomacy in Lithuania seems to demonstrate the same mix of aggressiveness and clumsiness. On March 15, Russia's Ministry of Foreign Affairs issued a communique regarding a telephone conversation Foreign Minister Sergei Lavrov had initiated the preceding day with Lithuania's Minister of Foreign Affairs Antanas Valionis. According to Moscow's communique, Lavrov "expressed bewilderment over the unfriendly campaign, mounted recently at the instigation of certain representatives of Lithuania's leadership, against Russia and Russian diplomats." Consequently, Lavrov asked Valionis to "exert efforts in order to stop tension-incitement in Lithuania with respect to our relations" (Interfax, March 15).
However, according to Valionis, interviewed on the same day, "Our actual conversation [with Lavrov] and the Russian MFA's press release were as different as day and night. Such differences between Lavrov's statements and the press release expose a certain duality of Russian diplomacy" (BNS, March 15).
In media interviews last week and at this opportunity, Valionis confirmed that Russian embassy staffers are aggressively visiting government officials and parliamentary deputies in their offices, sometimes unescorted and, in some cases, for hours at a time. Without naming names, he cited instances of "diplomats trying to interfere with the political process, telling what coalitions should be made and which should be unmade." Such diplomats, he predicted, "will be barred from walking freely around the parliament, and some of them will most probably have to return to their home country" (LNK Television, March 10; BNS, March 11, 15).
Meanwhile, Parliamentary Chair Arturas Paulauskas has publicly cautioned deputies twice this month that Russian embassy staff are showing excessive and improper interest in the work of parliament and its members, and that deputies should always ask such visitors to clarify the reasons for the meetings they solicit (BNS, March 3, 11). Lithuanian press reports have identified the Russian Embassy's First Secretary, Oleg Ryabchikov, as a particularly intrusive seeker of contacts of that type. Ryabchikov's immediate predecessor as First Secretary, Vladimir Mikhailov, was one of three Russian Embassy staffers who were expelled by Lithuania last year on suspicion of espionage — in Mikhailov's case, for seeking to obtain data constituting state secrets from a parliament deputy.
Russia's ambassador in Vilnius, Boris Tsepov, meanwhile chose Lithuania's national day, March 11 (the fifteenth anniversary of the restoration of state independence) to write an angry open letter to the country's leading daily, Lietuvos Rytas. "Your newspaper has for a long time resorted to disseminating deception and lies, hence the people rightly consider it the symbol of the yellow press," Tsepov wrote to the editors of Lithuania's most respected newspaper. Describing it as serving "political forces that are ferocious advocates of Russophobia and of international confrontation," he warned, "you and the likes of you have not learned and will not learn to be honorable citizens of the civilized international community," and will find no place in "united Europe."
Lietuvos Rytas duly published the letter at the ambassador's request (March 14). "The ambassador lost his diplomatic face," editorialist Rimvydas Valatka observed. The editors decided to have the letter's printed text framed and used as decoration on the walls of the newspaper's cafeteria (ELTA, March 14). The newspaper's report the preceding week, forecasting Tsepov's possible recall from Lithuania, was the trigger to the ambassador's outburst. Tsepov had apparently failed to predict that Lithuanian President Valdas Adamkus would decline to go to Moscow for the May 9 anniversary celebrations of the Soviet Union's victory in the Second World War. Adamkus and his Estonian colleague, Arnold Ruutel, both made public on March 7 their respective decisions to stay home with their nations on May 9, a date that marks the subjugation of the Baltic states.
The Russian MFA's Director for Relations with the Baltic States, Mikhail Demurin, resigned on March 5, when the decisions of Adamkus and Ruutel were first reported. Baltic and Russian press comments suggest that Demurin had optimistically reassured the Russian hierarchy that the two presidents would go to Moscow on May 9 (Interfax, March 14).