Russian Economic Forum—All About China
Publication: Eurasia Daily Monitor Volume: 16 Issue: 85
By: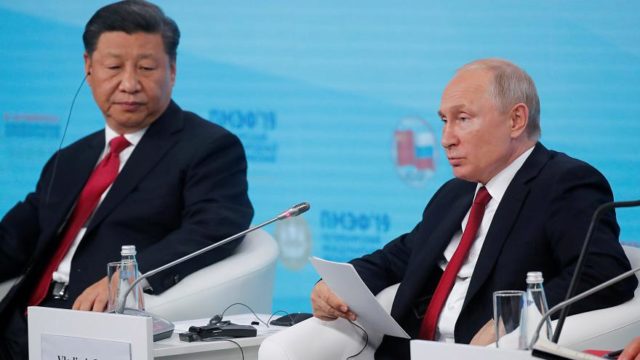 The annual St. Petersburg International Economic Forum was held last week (June 6–8) with the usual pomp and spin. But the traditional goal of attracting Western investments was clearly replaced with an urge to advertise the strength of ties between Russia and China. President Xi Jinping was the guest of honor at the Forum, and he had visited Moscow prior to it for long meetings with President Vladimir Putin. Both leaders supplemented their talks with new descriptions of extraordinarily friendly relations; thus, the arrival of two young pandas to the Moscow Zoo for a 15-year stay was intended to materially demonstrate this perfect rapprochement (Moskovsky Komsomolets, June 5). In embracing his Chinese "dear friend," Putin sought to show he did not bemoan missing the meeting of Western leaders, who gathered in France to commemorate the 75th anniversary of the Allied landing in Normandy—which, in the Russian interpretation, is anyway an event of secondary significance for the final outcome of World War Two (Vedomosti, June 7).
The unprecedented Chinese dominance at the summit-conference in St. Petersburg—nearly a thousand guests arrived from the People's Republic—did not actually signify any specific surge in economic cooperation with the host country (Kommersant, June 7). In the five years since Putin's May 2014 visit to Shanghai, jumpstarting a new bilateral partnership, the amount of promises and memoranda of understanding has greatly exceeded the modest number of projects under implementation (Kommersant, May 31). Chinese entrepreneurs and state-owned companies are quite reserved about investing in Russia, particularly in the latter's financial sector, which is seen as vulnerable to Western sanctions (see EDM, December 12, 2018). Seeking to camouflage this under-achievement, Putin lashed out against the undue prominence of the US dollar as the world currency and described the United States' censure of Huawei as the "first technological war of the digital era" (RIA Novosti, June 7, 2019). In another ostensible show of support for China, the Russian destroyer Admiral Vinogradov dangerously approached the US cruiser Chancellorsville in the East China Sea. The Russian government followed up this incident with a disingenuous official protest lodged at Washington (Newsru.com, June 7).
While courting his Chinese partner, Putin tried to simultaneously take a stance against US "hegemony" and send positive signals to President Donald Trump in anticipation of their possible meeting at the G20 summit in Osaka, later this month. He claimed that the US-designed model of globalization has entered a profound crisis and could push the global economy into deep disarray. Putin's rhetoric, thus, went much further than that of Xi, who habitually prefers to portray himself as a careful manager of globalization (The Bell, June 7). At the same time, Putin emphasized Russia's willingness to cultivate dialogue with the US, particularly on arms control, and even hinted at his readiness to abandon the besieged Nicolás Maduro regime in Venezuela (Nezavisimaya Gazeta, June 6). He elaborated on the risks of an arms race in space, a topic that worries Moscow acutely due to the deepening troubles in the Russian space industry (see EDM, February 1, 2018; July 19, 2018; October 15, 2018), which cannot be obscured by Roscosmos head Dmitry Rogozin's outlandish invitation to China to build a joint space station on the Moon (RBC, June 7).
Ultimately, the purpose of the St. Petersburg Forum, not to mention the foundation of the bilateral partnership with China, were undermined and degraded by the incurable feebleness of the Russian economy. Putin loyalist and former Russian finance minister Aleksei Kudrin estimated the country's growth potential for 2019 at a mere 1 percent (Izvestia, June 6). Since January 1, international investors have withdrawn more than $1 billion from the Russian stock market, and Chinese companies demand privileges and guarantees that Russian authorities are unable to provide (Kommersant, June 8). The oil price continues to be a major factor of uncertainty, but a no less significant driver is the growing burden of household indebtedness caused by long-contracting incomes (Nezavisimaya Gazeta, June 6). Putin's ideas for overcoming stagnation are essentially Chinese: to increase state control over the economy and to channel more money into infrastructure development through "national projects." What works in China, however, goes astray in Russia, primarily because of the greed, arrogance and incompetence of the bosses of state corporations (RBC, June 6). Illustratively, while speaking at the Forum, Igor Sechin, the head of the giant state-owned oil producer Rosneft, sought to pin the blame for Russian economic under-performance squarely on the US. But Kudrin and many other participants pointed to the predatory pressure on business from various law enforcement agencies (Kommersant, June 8).
One major example of this predation is the ongoing prosecution of Michael Calvey, a US investor accused of fraud. However, his case is based on such flimsy evidence that the underlying intention of certain forces to confiscate his Baring Vostok fund is clear (Svoboda.org, June 6). Many Russian businessmen had hoped Calvey would be allowed to attend the St. Petersburg Forum, which certainly did not happen (Vedomosti, June 7). Further aggravating the situation was the recent arrest, in Moscow, of Ivan Golunov, an investigative journalist, who exposed several cases of spectacular and shameless corruption (Forbes.ru, June 7). Even Russia's mainstream media has felt obliged to join the liberal commentators and activists' desperate demands for his release (Novaya Gazeta, June 7). The Kremlin had carefully prepared the political show and business entertainment in St. Petersburg. So it did not expect such minor spoilers to expose the depth of economic plundering practiced by the "guardians" of Putin's regime, who care little about the embarrassment of the image-makers.
Putin does not seem to comprehend that the "expropriation" of some insufficiently loyal business enterprises and punishment of some minor troublemakers could interfere with his macro-economic instructions as well as with his ambitions to reconfigure global governance. The president's courtiers, meanwhile, are eager to improve Russia's economic performance and to ensure the popularity of the supreme leader by doctoring statistics and ordering corrections in opinion polls. Self-deception is a typical blunder of authoritarian regimes, but China is unlikely to be fooled. For Xi, sustaining high economic growth is a fundamental political objective, and Putin's readiness to sacrifice business activity for the sake of satisfying the appetites of his siloviki (security services personnel) hardly inspires respect. China recognizes Russia as an economic loser in the competitive global marketplace and is looking for useful pickings among Russia's escalating self-pillaging. Leaning on Beijing thus adds to the risks Moscow has recklessly taken by opting for a confrontation with the West.