Russian Energy Projects in the Black Sea Reach End of an Era
Publication: Eurasia Daily Monitor Volume: 8 Issue: 54
By: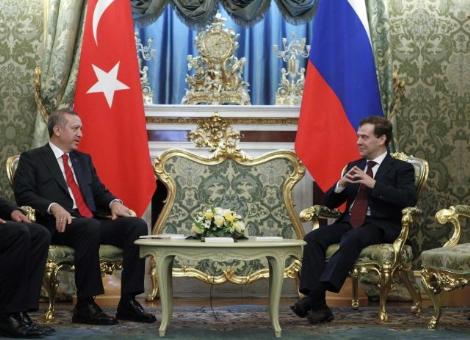 Turkish Prime Minister, Recep Tayyip Erdogan's, March 16-17 Russia visit capped a four-week period of spectacular changes to Russian energy transit projects, in the Black Sea and beyond. During these critical weeks, Russia abandoned the Trans-Balkan (Burgas-Alexandropoulos) oil pipeline project, which it had planned for more than a decade to form a transcontinental oil corridor, stretching from Kazakhstan to the Aegean Sea. The Kremlin also abandoned (in all but name) the South Stream gas pipeline project, designed to have stretched from the Black Sea into eight European countries. Moscow also had to register the stagnation of the Trans-Anatolian (Samsun-Ceyhan) oil pipeline project, designed to connect Kazakhstan via Russia, the Black Sea, and Turkey with the Mediterranean.
The Erdogan visit's timing was a coincidental one, but provided the occasion for stock-taking on these changes, which also affect Turkey in one way or another. Erdogan discussed the situation with Russian President Dmitry Medvedev and Prime Minister Vladimir Putin, both of whom had personally promoted these projects, and are interested in keeping Turkey dependent on Russian-supplied energy.
Moscow is considering the option of replacing the South Stream gas pipeline project with a liquefied natural gas (LNG) project. This would involve construction of a liquefaction plant on the Russian Black Sea coast, and export of the product by tankers. Putin and Energy Minister, Sergei Shmatko, outlined this concept in broadest terms on March 9 (EDM, March 11).
Shmatko and Deputy Prime Minister Igor Sechin started elaborating on it during and after the Erdogan meeting. They made clear this time what Putin had implied in his remarks, namely, that the LNG project would neither be a part of South Stream nor an addition to it, but a substitute for it. The declared goal is to reduce costs below those of South Stream. This goal, along with the proposed liquefaction plant, would suggest a far smaller volume of natural gas to be liquefied, compared with South Stream's implausible offer of 63 billion cubic meters (bcm) per year to have been pumped. Russia had never identified a source of gas for South Stream. The South Tambey field on the Yamal peninsula (north-western Siberia) is now explicitly identified as a source for this LNG project.
The Russian Novatek Company and Total of France agreed in Putin's presence on March 2 to develop South Tambey, without indicating a time-frame (EDM, March 4). The general idea is to transport a part of South Tambey's production through Gazprom's pipelines to the liquefaction plant on the Black Sea. Thus, Gazprom would function as transport operator, but not as gas supplier, or possibly as a minor supplier.
According to Shmatko at the Russian government's meeting the same day (March 17), the liquefied product would be delivered by tankers within the Black Sea only. As anticipated (EDM, March 11), this is the only possible choice given Turkey's refusal to allow large-capacity LNG tankers through the Bosporus Strait (Kommersant, Vedomosti, Interfax, March 17).
There is no word yet at this very early stage about liquefaction technology, volumes, costs, time-frame, a tanker fleet, re-gasification terminals on the Black Sea's western shores, or inland transportation from there into European Union territory. South Stream, led by Gazprom, had proposed to use or build dedicated pipelines there, but this is now being abandoned. Moreover, South Stream participant countries Greece and Italy are out of reach for [putative] Black Sea LNG tankers, and thus out of the new concept. Gazprom had enlisted Italian ENI in South Stream, to build the seabed pipeline in a 50 percent-50 percent partnership as well as for marketing some gas volumes in Italy. However, Gazprom and ENI are not being mentioned as part of this new concept. ENI was in any case attempting to disengage from South Stream during the last two years.
Russia had requested that Turkey allows the South Stream pipeline's seabed portion to cross Turkey's exclusive economic zone in the Black Sea, from the Russian coast to the Bulgarian coast. Putin and Medvedev had discussed this issue with Erdogan repeatedly and in some detail during 2009 and 2010. Turkey consented in principle, but dragged its feet in practice. Ankara missed two deadlines: in November 2009, to allow Gazprom to conduct exploratory work on the seabed; and in November 2010, to allow actual construction work (again, on paper only, as Gazprom was clearly not ready to proceed).
Erdogan's March 16-17 Moscow visit occasioned a post-mortem on that maneuvering. Russia had sought Turkey's permission in order to bypass Ukraine's Black Sea exclusive economic zone. This was consistent with Russia's use of the South Stream project as a pressure tool against Ukraine. The Turkish government lent itself to this for a price –namely, the Kremlin's promise to abandon the Trans-Balkan oil pipeline project (Burgas-Alexandropoulos, see above) in favor of the Trans-Anatolian (Samsun-Ceyhan) oil pipeline project (see above). The Kremlin delivered on this –again, at least on paper.
However, Ankara tacitly pursued a further goal. As a South Stream-skeptic, Ankara had all along hoped that Gazprom would build the Blue Stream Two pipeline on the seabed of the Black Sea, from Russia to Turkey. This would have added 8 bcm of gas annually, on top of the existing Blue Stream One's 8 bcm per year. And it was Ankara's hope to transit that volume (or even more, if Gazprom could deliver) overland via Turkey to third countries. Ultimately, none of this materialized since Gazprom was bluffing on multiple fronts.