Russian Espionage Case in Italy: A Setback for Moscow?
Publication: Eurasia Daily Monitor Volume: 18 Issue: 60
By: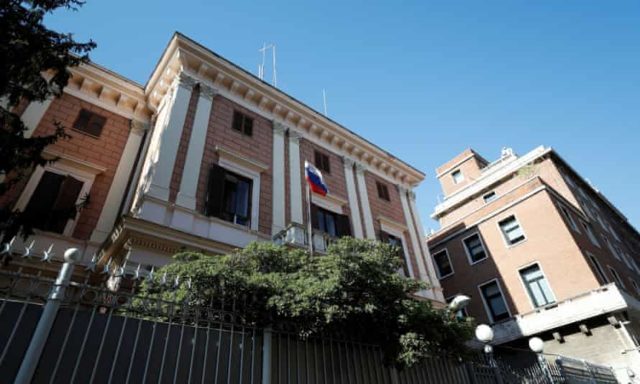 On the night of March 30, an Italian frigate commander, Walter Biot, was caught red-handed selling documents to Dimitry Ostrukhov, an employee at the Russian embassy in Rome (Repubblica, March 31). The documents, whose content has not been disclosed, are said to regard North Atlantic Treaty Organization (NATO) telecommunications and logistics. They consist of 181 papers, of which 7 documents are "NATO Secret," 57 are "NATO Confidential," 9 are "riservatissimo" (Italian equivalent of "confidential" in the United States), and 65 are unclassified. Biot exfiltrated these materials from his office computer, photographing and storing them on an SD card provided to him by the Russians. Upon arrest, Biot was found with a suitcase containing 5,000 euros ($5,980), while the SD card was in Ostrukhov's possession (Repubblica, April 13).
Ostrukhov and his superior Alexei Nemudrov, the naval and aeronautical attaché at the Russian embassy in Rome, have both been expelled for what the Italian minister of foreign affairs labeled "an extremely severe act of hostility" (Sole24Ore, March 31). Elisabetta Belloni, the secretary general of the Ministry of Foreign Affairs, summoned Russian Ambassador Sergei Razov (Askanews, March 31). The Russian embassy has refused to comment, while Kremlin spokesperson Dimitry Peskov noted he "hopes good relations with Rome would continue" anyway. Ambassador Razov, interviewed by the Italian public broadcaster, said Russia believes the episode will not negatively affect the "overall constructive" relations between the two countries (RaiNews, April 2). The expected symmetrical response—an expulsion of Italian diplomats from Moscow—has yet to be announced.
Biot is now sitting in a Roman jail and awaiting trial. He potentially faces life imprisonment. The former Italian frigate captain had served in the third department of the Defense Staff—the Military Policy and Planning Office. The frequent visits Ostrukhov had paid to Biot's office generated suspicion and a call to the Italian Security Services' branch for internal threats (AISI).
Following the AISI's counter-intelligence inquiry, the Prosecutor's Office in Rome assigned the case to the Special Operation Group of the Italian Military Police (ROS Carabinieri), which carried out the arrest (Corriere, April 3).
Biot declared that he betrayed his country out of "desperation" for his financial condition, and that his post in the Defense Staff did not allow him access to Top Secret documents. Indeed, it appears Biot exfiltrated documents en masse, without following any particular criteria as to their content. Italian Defense Minister Lorenzo Guerini strongly condemned the act of espionage, but reassured that Biot held no commanding position and was not privy to details regarding NATO operations (RaiNews, April 8).
According to AISI estimates, a network of more than 80 Russian operatives under diplomatic cover had been active in Italy; and the recent counter-intelligence operation struck a severe blow to those efforts. Of particular importance was the Italian government's expulsion of Alexei Nemudrov, the Russian military attaché in Rome. Nemudrov was considered the second-most-important personality at the embassy after the ambassador. In March 2020, he was notably in charge of coordinating the logistics of Moscow's COVID-19 aid operation to Italy, "From Russia With Love" (see EDM, April 8, 2020). Between 2002 and 2005 and then uninterruptedly since 2017, Nemudrov had been building a wide web of relations in Italy, including with influential politicians like Gianluca Savoini (IlPost, July 11 2019), the former spokesperson of the "League" party of Matteo Salvini and the founder of the Lombardia-Russia Association (Repubblica, April 2, 2021).
Several Italian commentators underplayed the severity of the Biot affair, arguing it should be framed as a "routine" espionage case. As such, they see the decision to publicly disclose the issue as a gesture toward Washington by the newly appointed (since February 23) executive led by Mario Draghi (Sole24Ore, April 2; Limes, April 1). Other commentators, however, underlined what they see as yet another case of Russian hostile activity in Italy (see EDM, June 15, 2020), and rebuked the "League" party for its Russia connections. In particular, they noted that the Italian Parliamentary Committee for the Security of the Republic (COPASIR), in charge of overseeing intelligence activities, had conspicuously not been summoned since the change of government and, thus, has not expressed a position on the Biot case. Moreover, the COPASIR's head, Raffaele Volpi of the "League" party (part of the current coalition government), has still not been replaced even though this Committee is supposed to be led by a member of the opposition (Repubblica, April 2; IlRiformista, April 3).
And yet, such domestic criticism aside, the current Italian government is actively pursuing foreign policy objectives, that, despite biased perceptions, often collide with Russian interests. Illustratively, on April 6, Prime Minister Draghi paid his first foreign visit to Libya, where he met with the head of the Tripoli-based Government of National Accord (GNA) in an attempt to resume historical ties between Rome and its fundamental southern partner (Repubblica, April 6). Moreover, the frankness with which Draghi recently denounced Turkey's President Recep Tayyip Erdoğan as "a dictator"—echoing US President Joseph Biden's condemnation of President Vladimir Putin as "a killer" (see EDM, March 18, 22)—is yet another sign the new executive is aggressively reasserting Italy's posture in the Mediterranean basin (RaiNews, April 9). Russia, in contrast, has been seeking to strengthen its rival footprint in Libya. Most recently, Moscow reportedly redeployed 300 Wagner Group contractors from Syria to Libya to fight alongside "Field Marshall" Khalifa Haftar, whose forces are attempting to depose the Rome-backed GNA (Daily Sabah, April 13).
The Biot case in Italy comes on the heels of similar espionage scandals in Bulgaria (see EDM, March 31) and Montenegro (see EDM, April 6). In all those instances, the information leaked to Russia targeted not only sensitive national but also NATO information. The similarities between the Italian and the Bulgarian espionage scandals, in particular, are multifaceted. In both, the spying scheme followed the traditional Russian military intelligence (GRU) playbook for cultivating local assets. Both countries are (or are considered to be) among the most Kremlin-friendly in the European Union and NATO. Both are in the midst of domestic political churn. And most importantly, each country plays a fundamental role in NATO's defense posture along its southeastern flanks, which constitute particularly sensitive areas for Russia: the Black Sea (Cepa.org, January 21, 2021; Jamestown, August 18, 2020) and the Mediterranean (Jamestown, June 11, 2020). The Black Sea basin has in recent weeks become an area of renewed aggressive moves by Russia (see EDM, April 14).
As retired KGB colonel Mikhail Lyubimov sardonically commented regarding the Italian spy affair, Russian military intelligence is "working, not sleeping" (Argumenti.ru, April 7). But this time, NATO is responding.