The Paradox of Russia's Disinformation Activities in Italy
Publication: Eurasia Daily Monitor Volume: 17 Issue: 85
By: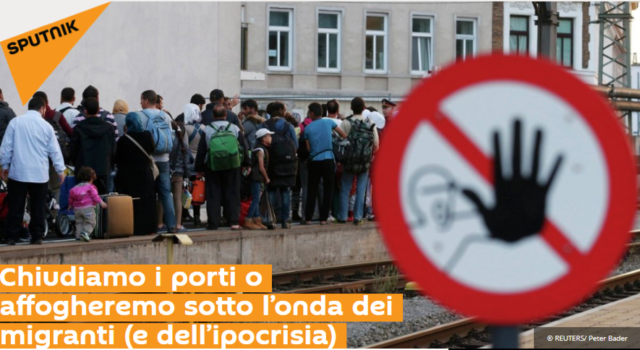 As the novel coronavirus crisis unfolded in Italy, several countries came to the rescue, and among them, Russia played a crucial role (see EDM, April 8). Italian authorities acknowledged and praised these efforts. Foreign Minister Luigi Di Maio personally welcomed Russian cargo planes when they arrived back in March, and he publicly thanked Russia's government (Corriere della Sera, March 23). A few months later, Defense Minister Lorenzo Guerini called his Russian counterpart, Sergei Shoigu, to praise Moscow's "prompt and substantive support," offering Italian help in return as the COVID-19 crisis in Russia deepened (ANSA, TASS, May 7). And on May 8, Italian Prime Minister Giuseppe Conte thanked Russian President Vladimir Putin for the help over a phone call to mark the 75th anniversary of the victory over Nazism (Kremlin.ru, La Stampa, May 8).
These dynamics highlight the well-established and widely recognized existence of a robust relationship between Rome and Moscow. Russian-Italian ties have remained resilient over the years, with Rome perpetually among Moscow's closest partners within the European Union—independent of any changes in the government in Italy. Against this backdrop, however, a number of developments have emerged in the wake of the coronavirus crisis that may, at least partially, undermine this friendly relationship.
First, a poll carried out by SWG in April showed the impact of aid diplomacy on Italians' estimation of foreign countries, forcing Rome to respond with reassurances to its closest allies. According to the survey, 32 percent of respondents identified the Russian Federation as a "friend," up by 17 percent over 2019. The only country in higher place than Russia was China (52 percent); whereas, the United States garnered just 17 percent of responses (Formiche.net, May 5). The results of this public opinion poll were so stark that they raised alarms in the capitals of historical Italian allies, prompting members of the Italian government to intervene. Defense Minister Guerini, likely the most pro-Atlanticist individual in the cabinet, openly addressed the US policymaking community "inside the Beltway" with a speech at the Washington-based Atlantic Council. Specifically, he reassured his audience that, despite his government's expressions of gratitude to all those countries that had provided support to Italy amidst the pandemic, the pillars of Rome's " Euro-Atlantic position […] do not change" (Affari Internazionali, May 26). Foreign Minister Di Maio—in contrast, usually considered more inclined to develop Italy's non-traditional diplomatic channels, particularly with China—conspicuously stressed that relations with Moscow and Beijing must be seen merely in transactional terms, as business opportunities. However, Italy will not abandon its historical Euro-Atlantic orientation, he argued (Affari Italiani, May 1).
At the same time that the coronavirus crisis triggered concerns among Italian allies and forced Rome to disavow its cozy relationship with Moscow (and Beijing), the pandemic also spotlighted the mounting disinformation activities targeting Italy. For the first time, a report drafted by the Italian Parliamentary Committee for the Security of the Republic (COPASIR) openly addressed the reality of Russian and Chinese disinformation inside the country. This issue, despite being more and more visible at least since 2016, had never been treated quite so openly by Italian institutions (La Repubblica, May 26; Corriere della Sera, May 5; AGI, March 28).
Enrico Borghi, a member of parliament from the Italian Democratic Party (PD), drafted the above-mentioned report, drawing on classified material provided by Italy's intelligence agencies. Remarkably, the report was approved unanimously by COPASIR members, thus showing that all the parties in the Italian parliament share these concerns—even the League, usually considered, ideologically, Italy's most pro-Russian faction (see EDM, August 1, 2018). Addressing the role of Russia, the report notes that "Russia, like other states, uses information as a weapon to influence attitudes, beliefs, and opinions." Additionally, the parliamentary document stresses that Russian disinformation focuses mainly on fueling conspiracy theories. The report underscored the activities of two Russian media outlets: Sputnik News and RT. Both, the COPASIR study notes, have been aggressively highlighting issues related to migration and playing up examples of supermarket riots in the middle of the coronavirus outbreak. And since the beginning of the health emergency, Sputnik has been particularly active in disseminating content that contained either outright "fake news" or that had deliberately misleading headlines (Formiche.Net, May 26).
These actions beg the question: why does Russia carry out such activities considering the overall positive relations between the two countries? From Moscow's perspective, information warfare serves the Russian goal of achieving so-called "reflexive control"—that is, pushing an actor to (seemingly voluntarily) choose a course of action more consistent with Russian objectives. However, in the case of Italy, the country's actions are already routinely compatible with Russian interests. As such, Moscow's information warfare approach must likely be part of a longer-term strategy aimed at maintaining strong influence over the Italian public that can be exploited in the future to prevent Rome from adopting positions increasingly at odds with Moscow.
However, this Russian approach presents its own inherent risks. Notably, China's extremely aggressive efforts to shape Italian public opinion in the wake of the crisis backfired, as the most pro-Euro-Atlantic politicians in Rome started becoming more vocal in criticizing Beijing (see China Brief, April 2). Although Italy's geopolitical links with Russia are much more profound, intense disinformation activities from Moscow risk eroding—at least partially—the political capital the Kremlin has long enjoyed in Rome. The COPASIR report is the first visible sign of a shifting awareness. As such, Russia now faces an increasingly narrow margin for maneuver, between keeping up its aggressive information warfare versus preserving its historically cordial bilateral relationship.