The Chinese Charm Offensive Towards Italy as the Coronavirus Crisis Deepens
Publication: China Brief Volume: 20 Issue: 6
By: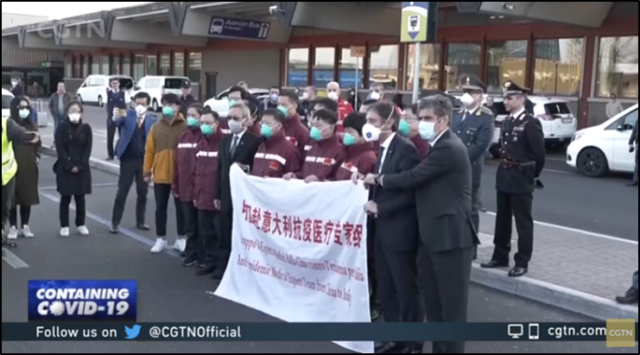 Introduction
One year ago, Italy was hitting the headlines as Rome became the first G7 country to formally sign a Memorandum of Understanding (MoU) with China to join the Belt and Road Initiative, or BRI (China Brief, April 24, 2019). For Italy-China relations, 2020 would have been in any case a vital year: marking fifty years since the establishment of official diplomatic ties, the Italian President of the Republic Sergio Mattarella was due to visit China by the end of the year, after People's Republic of China (PRC) President Xi Jinping came to Italy in March 2019 to sign the MoU (La Repubblica, January 17). However, twelve months later, Italy is finding itself facing the worst health and economic crisis it has experienced since World War II—a crisis in which the PRC is playing a number of prominent roles.
This global pandemic has been caused by a new strain of coronavirus that emerged in the central Chinese city of Wuhan (Hubei Province) in late 2019. Officials of the ruling Chinese Communist Party (CCP) at first tried to cover up the outbreak, before having to admit to its existence (China Brief, January 17; China Brief, January 29). It was just a matter of weeks before this disease started spreading worldwide. Beyond China itself, the country that has faced the most virulent outbreak is Italy: as of March 31, the COVID-19 virus had claimed the lives of 11,591 Italians, while 14,620 have recovered out of 101,739 people who tested positive (Corriere della Sera, March 31). Such a horrific outbreak has thrown Italy into the worst crisis of its republican history, and one of the worst in its unitary history. This crisis soon assumed a multifaceted dimension: it became not merely a public health emergency, but also developed into a political, institutional, economic, security, and even psychological emergency, with entire Italian communities under lockdown for weeks.
European Troubles and Chinese Readiness
In Italy, one of the most debated aspects of this crisis has been the role that external players came to play, as either facilitators or troublemakers. China immediately assumed an obvious relevance in this context: being on the one hand, the country where this global emergency started; and on the other, one of the most active and vocal countries in coming to the rescue of Italy. The CCP first commenced a domestic propaganda campaign, with Xi Jinping calling in February for a "people's war" against the virus (Xinhua, February 11). Then, as the pandemic was unfolding globally, the PRC launched a massive information campaign to shift the narrative, with a two-fold aim: magnifying the virtues of its own management of the crisis, and spreading doubts regarding the actual origin of the disease (The Diplomat, March 24, 2020).
As new cases of COVID-19 started shrinking on its own territory, the PRC embarked on a global information war and a strategy of global engagement, turning what was a weakness into a de facto potential strength: using the know-how that Chinese officials and doctors built up to cope with this pandemic, and using it as a sharp tool of diplomacy and soft power. Being that Italy is the country hardest hit after China, Beijing found a fertile soil to launch its initiative. It is also an effort favored by several other circumstances: as summarized by Francesca Ghiretti, China's activities concerning the Italian coronavirus crisis gained particular attention in light of "the slow reaction by actors on which Italy has traditionally relied" and the "lack of an efficient and pervasive communication strategy," which represented "another shortcoming in Europe's response" (Istituto Affari Internazionali, March 26).
These weaknesses nurtured a mounting anti-European feeling in Italy, and the hashtag "#Italexit" became a common feature in Italian social media (Corriere della Sera, March 17). More broadly, Italians were expressing frustration in their historical alliances and the lack of aid from other countries in the European Union (EU). In more recent weeks, both communitarian institutions and individual EU states have tried to make it up for this, sending doctors, providing biomedical materials, and accepting Italian patients into their medical facilities. However, the damage was done: the initial delays created severe damage to Italy's broader European ties.
The Chinese Propaganda Campaign and Its Impact in Italy
Against this background, the PRC has launched a number of initiatives to seize control of the public relations momentum. Beijing is now actively advancing the narrative that, while European countries were all rejecting the Italian call for help, and the United States was buying up much-needed testing kits and lifting them out on a military plane, China was stepping in to help. In a message posted on the Facebook account of the PRC Embassy in Rome on March 10 (titled "Beijing Asks Chinese Companies to Send Respirators and Masks Immediately to Italy"), the Chinese government announced its readiness to do "its part as a sign of deep thanks to Italy for helping the country in times of need." After a telephone conversation between PRC Foreign Minister Wang Yi (王毅) and his Italian counterpart Luigi Di Maio, the PRC offered to provide lung ventilators, masks (including high-tech ones), protective suits, and swabs for coronavirus tests (PRC Embassy in Italy–Facebook, March 10).
The message has been that China "donated" these materials to Italy. However, the reality was somewhat different: only a small portion of these medical supplies were donated, while the rest were purchased by Italy  (Il Foglio, March 12). In parallel, the Italian Red Cross was in touch with the Chinese Red Cross to have representatives of the latter organization come to Italy, and the first group of doctors from the Chinese Red Cross arrived in Italy on March 12. The PRC leveraged the occasion to turn this nominally non-governmental exchange into a public relations exercise. The Chinese government organized a special charter flight of China Eastern Airlines (which was allowed despite a ban on flights from China, due to the flight being a humanitarian aid plane), and the arrival of the delegation was accompanied by live streaming from Fiumicino Airport in Rome, with PRC Ambassador Li Junhua in attendance (Il Foglio, March 13).
The scene of Chinese doctors coming to Italy's rescue was compelling. These images, as well as the Facebook post described above, were widely shared in the Italian social media sphere. They also came immediately after news reports of other European countries acting selfishly in the face of Italy's crisis: for example, Germany and France blocked the export of masks and other medical materials, a decision harshly criticized by Italy and other EU countries (Corriere della Sera, March 6, 2020). Media and social media comments by many Italians have been highly critical of Italy's historical allies, with many commentators also celebrating the Chinese efforts. PRC representatives have actively promoted such messages: for example, PRC Foreign Ministry Spokesperson Hua Chunying has posted a fake video on Twitter saying that Italians were chanting "Grazie, Cina!" ("Thank you, China!") while the PRC national anthem was being played in Rome (Hua Chunying Twitter, March 14). And recently, for the first time ever, all members of the Italian Parliament received copies of the latest issue of the bilingual magazine Cinitalia, produced by the PRC state-owned China Media Group (Formiche.Net, March 20).
The timing of all of this is not coincidental: Beijing saw an opportunity to take advantage of the emerging European rift, and to increase its level of public and political engagement with Italy. (Unlike Moscow, which seeks to weaken the EU, Beijing does not have an issue with pan-European institutions. It will, however, continue to seek greater influence in individual European states whenever possible.) Beijing had an interest in shifting the narrative: from China being the country where the pandemic started, to China being the country that comes to the rescue of countries suffering from the same problems—offering solutions, much needed biomedical support, and valuable experience. The message has also been advanced that these solutions are linked to China's own model of governance, which offers lessons to those facing similar situations in the future. This approach has worked: many Italian commentators have stressed how the Chinese model was successful, and how Italy should try to follow China's lead in the future to become more efficient in coping with sudden crises (Corriere della Sera, March 9; ANSA, March 8).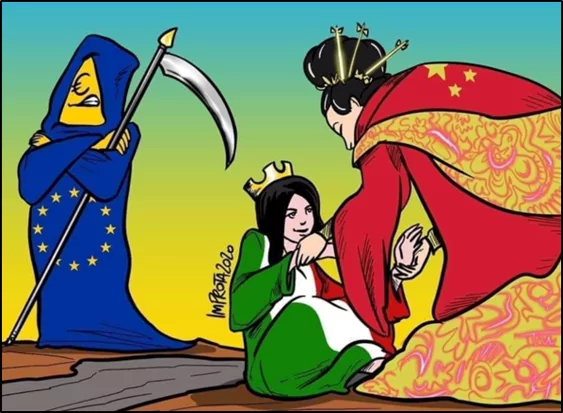 Chinese medical aid and positive propaganda have also been accompanied by active disinformation, with Beijing pushing narratives that question the actual origin of the virus. For instance, PRC officials and state media outlets have used social media to promote the idea that the virus was the result of an American experiment, or that suspicious cases of coronavirus-related pneumonia already existed in Italy prior to the disease outbreak in Wuhan in November (Lijian Zhao Twitter, March 12; Global Times Twitter, March 21). Disinformation has also been accompanied by social media manipulation: on March 30, the news website Formiche published analysis showing that almost half (46.3%) of the Twitter posts published between 11-23 March with the hashtag "#forzaCinaeItalia" ("let's go, China and Italy") are the work of bots, along with 37.1% of the tweets linked to another popular hashtag, "#grazieCina" ("thank you, China") (Formiche.Net, March 30).
What Is At Stake?
China's charm offensive towards Italy has been particularly significant amidst the COVID-19 crisis. However, it was so substantial in part because it found a fertile terrain in Italy, particularly among specific political actors. The Italian Minister of Foreign Affairs, Luigi Di Maio, was very active in nurturing this. This activism has triggered several criticisms, even among Di Maio's allies in the government, who have accused him of being too keen on China (La Stampa, March 25). Di Maio was the institutional architect behind Italy joining the Belt and Road Initiative last year when he was Minister of Economic Development (China Brief, April 24, 2019). Since taking over his new role, Di Maio has tried to strike a more balanced position, but some of his statements—for instance, on protests in Hong Kong—remain highly controversial.
Di Maio's party, the Five Star Movement (FSM), is openly pro-China. Earlier this month, a post appeared on the blog of FSM founder Beppe Grillo, which was written by Fabio Massimo Parenti and titled "China-Italy: a Shared Destiny" (Il Blog di Beppe Grillo, March 12). Parenti is the same writer who, on the same blog, wrote very apologetic articles—in line with Beijing's narratives—concerning the human rights situation in the western PRC region of Xinjiang (Il Blog di Beppe Grillo, September 13, 2019; Il Blog di Beppe Grillo, November 15, 2019). This pro-Chinese attitude has often created friction with some of  Italy's historical allies, particularly the United States (Formiche.Net, March 19, 2020).
In the wake of this crisis, PRC President Xi Jinping has proposed to Italian Prime Minister Giuseppe Conte the construction of a "Health Silk Road"— a variant on the "New Silk Road" program, which would be dedicated to public health issues. As the crisis unfolded, Huawei sent biomedical material and protection devices to support Italy and advanced a proposal to connect Italian hospitals in the cloud, in order to facilitate communication between each other and local medical work teams (Sole 24 Ore, March 13, 2020). This proposal directly connects to Huawei's presence in the Italian market and the controversies it has experienced over the past few months, particularly as several Italian institutional bodies—such as Copasir, the parliamentary committee controlling the secret services—has raised concerns regarding the presence of Chinese companies in developing the 5G network in Italy. These concerns pushed the current government to use its oversight powers in supply deals for fifth-generation (5G) telecom services, one of the first measures the government took after its creation in September 2019 (Il Foglio, March 20; La Repubblica, September 5, 2019;  il Fatto Quotidiano, March 19).
Conclusion
The COVID-19 crisis has the potential to become a foundational moment in Italian history—a moment of profound change, in which some of the socio-political pillars of the country could be called into question. International alliances might be one of the cornerstones affected by these shifts. However, this passage is not automatic. Beijing has clearly tried to seize the momentum, with the two-fold aim of transforming its weaknesses into strengths: shifting the narrative about its performance in the crisis, and taking advantage of the problems that Italy has encountered in Europe with its historical allies.
In doing so, China found fertile soil, as the depth of the crisis put Italy in the uneasy position of searching for as much as help as possible and as soon as possible. This was also true because some Italian political players—namely, the current foreign minister and his party—are indisputably sympathetic to the PRC. Beijing was ready to make the most out of these peculiar circumstances, but whether these significant changes will occur—and at what speed—remains to be seen. The adroit way in which China has managed the relationship with Italy in this peculiar historical moment will give Beijing increased leverage in the future, and this leverage could become even more significant depending on the outcome of this crisis.
As already shown by Italy's decisions on the BRI and after the MoU, Italy is indeed developing its relationship with China. Furthermore, the magnitude of the current pandemic crisis has created cracks in the Italy-EU and Italy-U.S. relationships, although this does not necessarily mean that Italy is ready to abandon its historical alliances in order to strengthen its relations with China (War on the Rocks, June 19, 2019). One thing is certain, however: Beijing will likely try to exploit these divisions, in order to keep advancing its broader design to become the central country of the international system by 2049, the centenary year of the People's Republic of China.
Dario Cristiani is a political risk consultant working on Mediterranean countries. He is currently an IAI/GMA Fellow at the German Marshall Fund, in Washington, DC. Previously, he was a Visiting Fellow at the International Centre for Policing and Security at the University of South Wales (UK); and prior to that, he was the director of the Executive Training in "Global Risk Analysis and Crisis Management" and an adjunct professor in International Affairs & Conflict Studies at Vesalius College (VUB) in Brussels. He received his PhD in Middle East & Mediterranean Studies from King's College, University of London, in 2015. The views expressed in his articles are his own, and do not necessarily represent those of the German Marshall Fund.