Russian Motives Behind Helping Italy's Coronavirus Response: A Multifaceted Approach
Publication: Eurasia Daily Monitor Volume: 17 Issue: 47
By: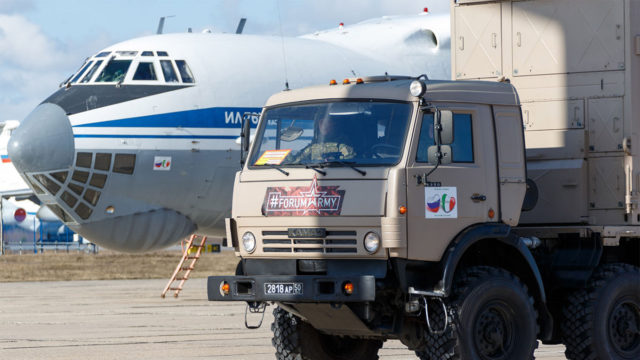 In the wake of the novel coronavirus outbreak in Italy, the country has become the target of a number of foreign diplomatic and public relations operations. Following a phone call, on March 21, between Italian Prime Minister Giuseppe Conte and Russian President Vladimir Putin, Russia has also stepped in to provide help. On March 23, around 15 Ilyushin cargo planes arrived in Italy "from Russia with love," as they self-proclaimed. The aircraft carried medical equipment, military personnel headed by Major General Sergei Kikot, and a nuclear-biological-chemical (NBC) laboratory for bacteriological-chemical disinfection. The Russian planes, which were welcomed by Italian Foreign Minister Luigi Di Maio, touched down at the military airport of Pratica di Mare, before heading to Bergamo (La Repubblica, March 22; Mil.ru, March 24). Pratica di Mare is a highly symbolic location for Putin's Russia, being the base where the NATO-Russia Council was established in 2002, at a time when Russia was particularly weak on the international stage (Corriere della Sera, May 28, 2002).
Footage of Russian military vehicles moving along the roads of a North Atlantic Treaty Organization (NATO) member triggered significant debate in Italy about the actual intentions of this mission (Formiche.net, March 29). The Turin-based La Stampa, quoting sources from the Italian Ministry of Defense, said that "80 percent of the [Russian] aid was considered useless," implying that the effort was primarily for public consumption and suggesting that the mission had intelligence goals (La Stampa, March 25). These allegations triggered several heated reactions out of Moscow.
The Russian ambassador to Italy, Sergey Razov, openly criticized these views (La Stampa, March 27). But over the following days, La Stampa continued to publish other pieces on the subject, and Codastory posted an English-language report summarizing all the previous articles written in Italian (Codastory, April 2). Russia reacted furiously. The Russian foreign ministry's spokesperson, Maria Zakharova, accused La Stampa of spreading fake news, linking this to some unspecified British company (TASS, April 2). In turn, the Russian defense ministry spokesperson, Major General Igor Konashenkov, used an even harsher tone, saying that Russian help to Italy came with "no conditions attached." His statement closed with a pointed sentence in Latin, "Qui fodit foveam, incidet in eam [He that diggeth a pit, shall fall into it]" (Facebook.com/mod.mil.rus, April 2).
In response to the aggrieved Russian declarations, many Italians expressed solidarity with La Stampa's journalist Iacopo Jacoboni (Articolo 21, April 2). Whereas, Italian officials issued a joint (defense and foreign ministry) communiqué thanking Russia for the help, though adding that freedom of expression remains paramount in Italy (Rai News, April 3). The Italian government's reaction was neither particularly harsh, nor timely, however, as it came almost a full day after the bilateral spat exploded into the open.
Russian forces operating inside a NATO country will inevitably be collecting intelligence on how the host country's security forces currently function. Some of this intelligence will surely be related to the ongoing pandemic, as Russia itself braces for a more intense wave of contagions over the coming weeks (TASS, April 7; see EDM, March 26). However, this is arguably not the major, or sole, reason for why Russia has undertaken its mission in Italy. Several other elements must be taken into consideration.
First, the Russian engagement is qualitatively different from China's. Beijing is operating in Italy to shift the public coronavirus narrative and, more broadly, it sees Italy as a political doorway into Europe (see China Brief, April 24, 2019 and April 1, 2020). Russia, in contrast, has not had to contend with widespread international blame for the spreading global pandemic.
Second, Italy has historically had warm relations with Russia and is likely one of the (if not the) Kremlin's closest European partners. An often overlooked but significant politico-cultural element of this relationship deserves closer examination. Igor Pellicciari, a noted Italian expert on Russia, has pointed out that Russian policy has always been to reward those it perceives to be friendly, even when this clashes with more pragmatic cost-benefit analyses of a relationship. This approach, Pellicciari argued, echoes Soviet foreign policy, which Putin has adopted (Formiche.net, April 1). Illustrative of how significant this attitude is, in March 2019, Foreign Minister Sergei Lavrov went on an official visit to San Marino, a micro, independent state located in central Italy, where he underscored how appreciative Russia was of the fact that his host government had not joined "the anti-Russian sanctions spiral promoted by Brussels, on direct instructions from Washington." Lavrov added that this "autonomous and pragmatic approach […] deserves the deepest respect" (ANSA, March 21, 2019).
Lastly, there is an element of perceived status to the Kremlin's foreign policy calculations. For Putin, this means being able to demonstrate to the domestic as well as international audiences that Russia has returned to play a prominent role on the global stage. Operating in a NATO country is, thus, a matter of pride. The same rationale can be observed in Putin's decision to send (actually sell) medical equipment assistance to the United States (The Moscow Times, April 2).
The Russian aid policy toward Italy in the wake of the coronavirus outbreak, as such, is more multifaceted than often presented. Intelligence collection considerations are likely to be important. But other factors also come into play: rewarding countries perceived to be friendly as well as strengthening the public perception that Russia has the capacity to carry out such an ambitious foreign operation. For the Kremlin, it is crucial that this message reaches domestic and global public opinion.