Russian Imperial Movement Deepens Involvement in Ukraine War
Publication: Eurasia Daily Monitor Volume: 20 Issue: 80
By: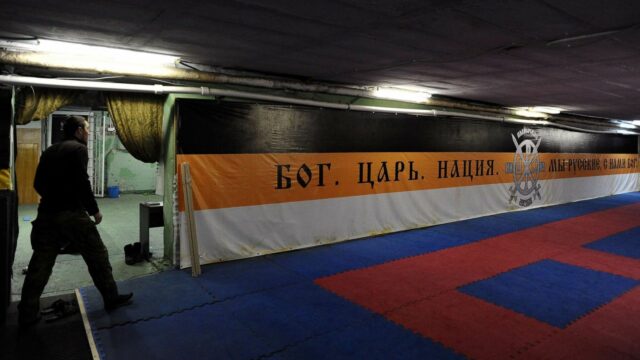 In late March 2023, The Moscow Times published a report detailing those ultraconservative, pro-Russian militias fighting in Ukraine. One of these elements, the Russian Imperial Movement (RIM), has been training volunteers willing to fight in Ukraine. On the day of Russia's re-invasion of Ukraine in February 2022, RIM Founder Denis Gariyev declared, "We of course support the liquidation of the separatist entity that goes by the name of Ukraine" (The Moscow Times, March 24).
The RIM, and its militant wing the Russian Imperial Legion (RIL), have deep roots in the Ukrainian conflict, having fought alongside pro-Russian separatists after post-Euromaidan hostilities broke out in 2014 (Radio Free Europe/Radio Liberty, May 27, 2022). Today, the RIM recruits and runs training camps inside Russia to prepare fighters to be sent to Ukraine, where the RIL has been active throughout the invasion (Novayagazeta.eu, August 12, 2022). In April 2020, the United States Department of State classified the RIM as a "Specially Designated Global Terrorist" organization, and the Canadian government followed suit, listing the group as a terrorist entity in 2021 (Treasury.gov, June 15, 2022).
The RIM describes itself as an imperialist, ultra-reactionary, Russian Orthodox, fascist, anti-liberal and anti-communist organization. While not a proxy of Moscow, the RIM is given "a great deal of latitude to interact with neo-Nazi and far-right extremist groups in the West—but only as long as they don't cause too much trouble in Russia" (Icct.nl, April 24, 2022). That said, the RIM still has some marked ideological divergencies and challenges in its relationship with Moscow.
According to the RIM's telling of its organizational history, the group claims to have coordinated the "Russian movement" in Kyiv during the Euromaidan protests in 2014, also establishing a training center for volunteers and organized detachments of the RIL in so-called Novorossiya ("New Russia") (Radio Free Europe/Radio Liberty, May 27, 2022). Geographically, Novorossiya is a large swath of Ukraine that was once part of the Russian empire, and, accordingly, the RIM wholeheartedly supports Moscow's war effort largely because of the group's imperialist ideology, hoping to conquer and annex these lands once more.
From 2014 to 2017, the RIM claims that the RIL was involved in an "armed struggle" against Ukrainian separatists in Novorossiya. This likely means involvement within the various separatist movements fighting against the Ukrainian government during this period.
Russia's re-invasion of Ukraine on February 24, 2022, marked a new phase of the RIM's activities in Ukraine. The paramilitary branch of the RIM, the RIL, ramped up recruitment of fighters to participate in Moscow's widened invasion through various Russian social media platforms, such as Vkontakte and Telegram. (See, for example, Vk.com/partizan.) Through accounts affiliated with the RIM, RIL and training center known as "Partizan," these operatives aim to attract recruits by putting out calls to join operations in Ukraine, posting images of personnel presently fighting in Ukraine, photos of recruits training and posts about the necessity of participating in Russia's invasion on ideological grounds.
Based on posts uploaded to RIL-affiliated Telegram accounts, there appears to be an eight-step process for joining the organization: being of the Russian Orthodox faith; having conservative views (specifically monarchist); ideally being in good physical shape (those of average shape can join provided they get in shape); absence of unhealthy habits such as drinking alcohol and smoking; contacting the Telegram profile of a member responsible for responding to recruits (the specific account is stipulated in various social media posts); passing a five-day generalized training course at the Partizan training grounds in St Petersburg (even if an applicant already has past military experience); completion of a seven-day, in-depth training course that involves training to develop a particular military specialty; and psychological testing (T.me/imperskiylegion1917, April 12).
RIL fighters have been involved in various areas of operation since February 2022. A video posted on the RIL's Telegram channel on April 23 alludes to the presence of its operatives near the town of Vuhledar in Donetsk oblast. An interview with RIL combatant Vladislav Efremov, who claims to have lost his leg in Vuhledar after stepping on a landmine while fighting Ukrainian forces, was also released on April 26 by the Russian outlet Readovka (T.me/readovkanews, April 26). However, it is unclear when exactly Efremov sustained this injury based on the contents of the video.
On April 23, an account belonging to the Partizan training center posted a series of videos and photos of RIL fighters on the Ukrainian frontlines on April 23, allegedly in the direction of Bakhmut. It involves a video of combatant Alexander "Barsu" (likely a nickname) and pictures of personnel in trenches with assault rifles and even a Rocket-Propelled Grenade. The fighters sport a distinctive patch that identifies them as members of the RIL (T.me/ruspartizan, April 24). On May 7, the RIL also posted an edited montage video of its personnel using various forms of weaponry ranging from Anti-Tank Guided Missiles, Multiple Rocket Launch Systems and sniper rifles, both on the frontlines and during what appears to be training sessions (T.me/imperskiylegion1917, May 7).
As the brutal war of attrition drags on and Russian manpower continues to dwindle, Moscow may increase pressure on and provide greater support to highly motivated irregular formations, such as the RIM and RIL, to bolster recruitment for Russia's regular forces. This may ultimately result in the RIM becoming a more capable and dangerous organization due to the experience and resources it has gained in Ukraine since 2014. Given the group's history of actively contributing to the training and support of radical right-wing elements around the world—including training members of the Nordic Resistance Movement and members of various German neo-Nazi groups at the Partizan training grounds (Radio Free Europe/Radio Liberty, April 26, 2020; Focus, June 5, 2020)—the RIM's further development of capabilities could have vast security implications that reach well beyond Ukraine and Eastern Europe.