Italy Commits to Unwavering Support for Ukraine During Zelenskyy Visit
Publication: Eurasia Daily Monitor Volume: 20 Issue: 80
By: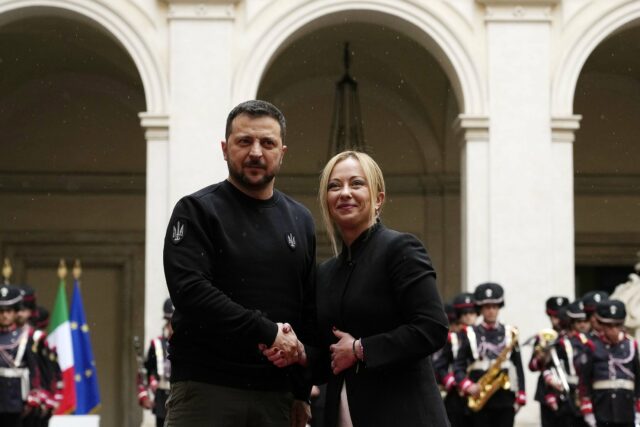 On May 13, Ukrainian President Volodymyr Zelenskyy arrived in Rome for an official state visit. During his brief trip, Zelenskyy met with Italian Prime Minister Giorgia Meloni and President of the Republic Sergio Mattarella (Governo.it, May 13, 2023). According to the readout provided by the Office of the President of Ukraine, "The President of Ukraine and the President of the Council of Ministers of the Italian Republic reiterated their unequivocal condemnation of Russia's ongoing war of aggression against Ukraine," with Italy "unwavering in its commitment to Ukraine's independence, sovereignty and territorial integrity within its internationally recognized borders." The announcement also stressed the "solid military contributions" that Italy has made to Ukraine thus far, which will continue "to take into account the most urgent and immediate needs of Ukraine to strengthen its defense capabilities." Overall, this support has been provided not only on a bilateral basis but also through the European Union and North Atlantic Treaty Organization (NATO) (President.gov.ua, May 13).
Meloni openly stated that Italy maintains a clear position in support of the Ukrainian people and Rome's allies, declaring that "Italy will continue to provide military support" to put Ukraine in a position "to negotiate from a solid position." The Italian premier added that Rome supports "President Zelenskyy's ten-point peace formula" and Kyiv's "legitimate European aspirations" (Rai News, May 13). She concluded, "We are ready to support the further intensification of Ukraine's partnership with NATO," making it a central theme in the forthcoming Alliance summit in Vilnius (ANSA, May 13). Zelenskyy's visit to Rome kicked off his European tour, during which the Ukrainian president also visited the Vatican, Germany, France and the United Kingdom. The visit to London came on the heels of the UK's confirmation of the successful delivery of long-range Storm Shadow cruise missiles to Ukraine—becoming the first country to provide long-range munitions of this type to Kyiv (Pravda.com.ua, May 11).
The Italian leg, however, was particularly significant for several reasons. Ukrainian observers consider Italy a "difficult country" in relation to the ongoing war, as some politicians and influential intellectuals hold a more pro-Russian view on the conflict (Linkiesta, May 15). Furthermore, unlike other European countries, the Italian public is not fully committed to the Ukrainian cause. For example, those that are against sending weapons to Ukraine represent around 50 percent of the population, while the number of people who want the war to end, even if it means that Ukraine will suffer territorial losses, is increasing (Ipsos, April 3). Moreover, public debate has been dominated by narratives and positions often recalling those from Moscow (Linkiesta, February 25). However, though Italian society remains skeptical and rather critical, overall, the Italian government remains stalwart in providing substantial assistance to Ukraine following Zelenskyy's visit (Il Foglio, May 13).
For the most part, majority members within the Italian government whose views have historically been critical toward Ukraine, including Matteo Salvini and Silvio Berlusconi, have been partially sidelined. The main opposition party, the Democratic Party (Partito Democratico; PD), has remained so far firm in its support of Ukraine, even under the new, more left-leaning leadership of Elly Schlein. Peppe Provenzano, the PD party member responsible for foreign affairs and considered one of its most left-leaning members, openly welcomed Zelenskyy to Rome (Twitter.com/peppeprovenzano, May 13) Over the past months, Provenzano has stressed that, regarding Ukraine, "the Democratic Party has voted on all the decrees to send arms to Ukraine and Schlein did too. Anyone who raises this issue does so mostly to raise controversy" (Formiche.net, April 7).
PD's consistency in supporting Ukraine has triggered criticism of those Italian media outlets that are critical of Kyiv and closer to the other main opposition party, the Five Star Movement (Movimento 5 Stelle; M5S)  (Il Fatto Quotidiano, May 12). The M5S is, at the moment, the only major party openly trying to capitalize on public skepticism toward Ukraine. Party leader, former Prime Minister Giuseppe Conte, has often stressed his opposition to sending new weapons to Ukraine (Huffingtonpost.it, April 18). However, recent electoral results suggest that this strategy is hardly paying off (Il Tempo, May 16). In January 2023, the M5S voted against the legislative decree extending until December 31, 2023, the authorization to provide weapons to Ukraine, shifting its position from the previous year, when, as part of Mario Draghi's majority, the party voted in favor of this legislation. However, M5S's opposition failed to prevent the Italian Parliament from approving the measure, with 215 votes in favor and 46 against (Formich.net, January 24).
At the beginning of February 2023, Italian Defense Minister Guido Crosetto signed the sixth decree for military aid to Ukraine (La Repubblica, February 9). Thus far, Italy has kept the list of specific weapons and munitions sent to Ukraine a secret; nevertheless, much debate has centered on which new weapons Italy should provide to Ukraine moving forward. At the moment, Kyiv is asking for modernized fighter jets, air defense systems and long-range missile launchers. Earlier, in February 2023, Italian Foreign Minister Antonio Tajani excluded sending Italian fighters to Ukraine (La Stampa, February 21). Even so, Tajani's deputy, Edmondo Cirielli, stipulated that, while providing F-35s remains out of the question, a conversation could be had about the AMX fighter bomber, depending on Kyiv's requests (Il Messaggero, February 23). Italian sources also announced that Rome was discussing sending drones and eventually supplying "long-range missiles" to Ukrainian forces (Il Corriere della Sera, February 20, 2023). While in Rome, Zelenskyy stressed the relevance of donating the advanced SAMP/T anti-missile system, which Italy agreed to provide—together with France—and which should be fully operational in the coming weeks once Paris delivers all necessary parts (Decode39, May 15).
Thus, despite the odds and pressure from the public, Italy remains resolute in supporting Ukraine militarily. And this, coupled with a significant focus on economic issues, as shown by the bilateral Ukraine Reconstruction Conference organized on April 26, demonstrates that Rome and Kyiv are building a stronger and deeper partnership.