Russian Intrigues in the Middle East
Publication: Eurasia Daily Monitor Volume: 16 Issue: 81
By: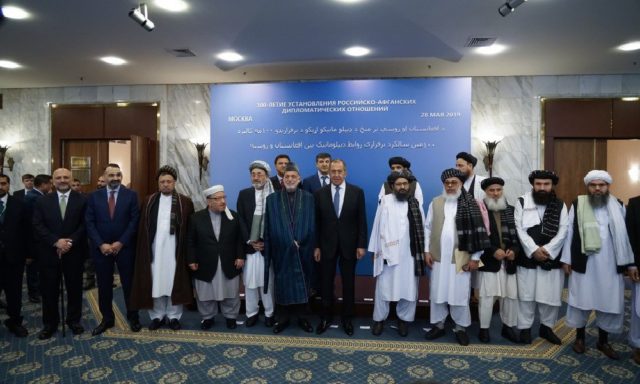 Russian diplomacy is well known for its apparent readiness to engage with all parties to the multiple conflicts in the Middle East, and this characteristic has recently produced another awkward tangle of opportunistic intrigues. President Vladimir Putin fancies himself a master of communicating with difficult counterparts, but he is by no means a grandmaster capable of playing chess on several boards at once. He simultaneously wants to be seen as an exterminator of terrorism and a perfect mediator; thus, a Taliban delegation as well as a contingent of Afghan politicians landed last week (May 28) in Moscow, while new reports proliferated about forceful counter-terrorist operations in Astrakhan, Vladimir and Dagestan (Znak.ru, May 30). The most complicated entanglement involves relations with Iran, with whom Russia needs to maintain a partnership on the Syrian battlefield, rather than merely good-neighborly ties. But it does not necessarily want to openly side with the Islamic Republic in the latter's fast-unfolding confrontation with the United States and its Gulf allies.
Russia would normally relish, at least rhetorically, opposing the mounting US pressure on Iran, but it can hardly resist the efforts of another valued regional partner—Saudi Arabia—to build an anti-Iranian coalition of the Gulf states (Kommersant, May 28). Moscow felt obliged to clarify, amidst news reports alleging a scuttled arms deal, that it did not refuse to sell Tehran S-400 surface-to-air missiles; according to Russia, there had never been any discussion of such a deal at all (TASS, May 31). Meanwhile, Russian military experts speculate that minor naval clashes in the Gulf could escalate to a full-blown military conflict (Nezavisimaya Gazeta, May 29). Seeking to persuade the Iranian leadership to refrain from provocative actions, the Kremlin dispatched Deputy Foreign Minister Sergei Ryabkov to Tehran, where he expressed understanding of the Iranian position on the nuclear deal; but he was not granted any high-level meetings (Rossiiskaya Gazeta, May 29). Russian protestations against new US sanctions on Iran have effectively been undercut by China, which quietly stopped its oil imports from this troubled supplier (Rosbalt, May 29).
It is also becoming more difficult than ever for Moscow to reconcile its support for Iran with the desire to build close ties with Israel. Putin highly values his personal rapport with Prime Minister Benjamin Netanyahu, but the latter's failure to form a coalition makes new Israeli elections unavoidable (Kommersant, May 30). While the Russian top brass abhors Israel's continuing air strikes in Syria, Putin tends to ignore them and is eager to see a meeting later this month between US National Security Advisor John Bolton, Israeli National Security Advisor Meir Ben-Shabbat and Nikolai Patrushev, the secretary of the Russian Security Council (Nezavisimaya Gazeta, May 30). This flexibility stands in contrast with the Russian foreign ministry's firm rejection of the US initiative to organize a "Peace to Prosperity" economic workshop in Manama, Bahrain, in late June (Mid.ru, May 28).
Russian intrigues involving Iran, Israel and the US naturally center primarily on Syria, but the "victorious" military intervention there brings new troubles for Moscow. The Syrian campaign is increasingly unpopular among Russia's general public, so the official propaganda prefers to keep quiet about continuing airstrikes, leading to speculation about possible looming withdrawal (Newsru.com, May 30). The safety of Russian bases depends on continuing close cooperation on the ground with pro-Iranian militias, but the prospect of an Iranian base being permitted to emerge in Latakia Province is a big worry (Nezavisimaya Gazeta, May 26). Furthermore, Moscow has to treat Hezbollah as a legitimate stakeholder in the Syrian war despite this group's irreconcilable conflict with Israel. Russia has tried to work with its dubious partner to prompt some return of refugees from Lebanon (Russiancouncil.ru, May 30). These "humanitarian" activities are supposed to provide cover for the long-planned but still delayed offensive on the rebel-controlled province of Idlib.
Standing in the way of this potentially devastating operation is Turkey, which has its own plans for northern Syria and does not want Bashar al-Assad's forces anywhere near Turkish borders (Nezavisimaya Gazeta, May 30). Putin called President Recep Tayyip Erdoğan again last week, but no signs of a compromise on the Idlib issue were reported (Rossiiskaya Gazeta, May 30). Putin is perhaps reluctant to put more pressure on Erdoğan because the main concern for the Russian leader is the execution of the perfect political coup (rather than a business deal) of exporting S-400s to Turkey (Nezavisimaya Gazeta, May 26). This nearly accomplished breach of integrity of the Turkish air-defense system has been escalating the quarrel between Ankara and Washington. Moscow has gleefully followed these developments, expecting to see a further deepening of disagreements within the North Atlantic Treaty Organization (NATO) regarding strategic plans and activities in the wider Black Sea area (Kommersant, May 30).
Turkey is, indeed, in a tight spot due to its inflated ambitions for playing too many key roles. But Russia hardly stands to benefit from trying to build a "strategic partnership" with a NATO member state. Moscow's reputation in the Middle East is tainted not only by its hollow pledges of support to various clashing causes but also by a reluctance or inability to commit serious resources to its political goals. Even in Syria, Russia seeks to sustain its engagement on the cheap, employing the now-infamous quasi-private military contractors to perform many of the most difficult and dirtiest tasks (Nezavisimaya Gazeta, May 26). This propensity to employ low-cost instruments to manipulate high-risk conflicts endangers the interests of real stakeholders, from Israel to Iran, and curtails any possible content of high-level dialogue with Washington, which is Putin's persistent desire.
For Russia, the Middle East is a convenient not-too-close neighborhood where China, the European Union, the US and many other global actors all have major interests at stake in multiple overlapping conflicts that upset attempts to promote a new world order (Carnegie.ru, May 29). Moscow suspects that every step toward establishing such an order diminishes its role, which depends upon gaining maximal influence with minimal commitment. What makes the Middle East crucially important in world politics is the unique position of the Gulf states as indispensable suppliers of hydrocarbons, and Russia has no interest in ensuring uninterrupted flows of oil from this conflict-rich region. The parties to these conflicts are gradually realizing that there is no longer much need to counter-balance US dominance in the region; instead, the challenge of ensuring sustained US engagement is growing. Russia is not particularly useful in addressing this challenge—its short-term multi-vector opportunism only works to further stir instability.