Russia's Novatek Allies With French-American TechnipFMC on New Arctic LNG 2 Project
Publication: Eurasia Daily Monitor Volume: 16 Issue: 81
By: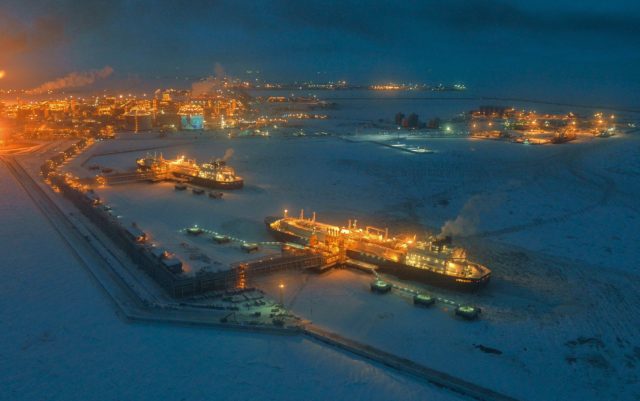 A joint venture led by Russia's Novatek has chosen the French-American company TechnipFMC to spearhead its new Arctic LNG 2 liquefied natural gas project on the Gydan Peninsula, in northern Siberia. The same Western firm previously oversaw the work on Novatek's first LNG facility on the Yamal Peninsula (see below). According to the newly signed deal, TechnipFMC will be in charge of the engineering, procurement, supply, construction and commissioning of the planned Arctic LNG 2 complex, which will have an annual liquefaction capacity of 19.8 million tons of gas (1prime.ru, May 20). Work on the four-year project will begin in the third quarter of 2019.
Novatek owns 70 percent of the Arctic LNG 2 venture. France's Total owns 10 percent and two subsidiaries of China National Petroleum Corporation control 10 percent each. Novatek plans to sell the other 10 percent to Saudi Aramco or Japan's Mitsui by the end of June. Last December, the joint venture chose Italy's Saipem and Turkey's Renaissance for the on-shore engineering and construction part of the work—a contract worth $2.2 billion (Saipem.com, accessed May 31).
Novatek chose a non-Russian project overseer once more because Russian companies lack the technology to operate in the Arctic's severe weather and permafrost soil. TechnipFMC oversaw the work on Novatek's Yamal LNG project in 2017. That facility has an annual capacity of 17.5 million metric tons, and Novatek plans to add an additional million tons by the end of 2019 (Novatek.ru, accessed May 31).
The choice of TechnipFMC as Arctic LNG 2's overseer is the latest example of Russian gas-exporting partnerships with European companies. Total, which owns 19 percent of Novatek, has stakes in both Yamal LNG and Arctic LNG 2. Meanwhile, Russian state-owned natural gas giant Gazprom has partnered with French companies in its own LNG projects in the Arctic region as well as with German companies on the Nord Stream Two gas pipeline, which will deliver additional volumes of Russian gas to Europe across the Baltic seafloor.
One reason Russian companies may have chosen German and French companies as their Arctic LNG partners was to preemptively minimize the risk of United States and European Union sanctions against them. The US has already sanctioned the oligarchs who own a combined 51 percent of Novatek—Leonid Michelson and Gennady Timchenko—but not the company itself. Washington has also been threatening to sanction companies working on Nord Stream Two, which it opposes on the grounds that this pipeline will make Europe more dependent on Russian gas.
Novatek's Arctic projects have become the linchpin for a recent Russian LNG export offensive. In early May, President Vladimir Putin signed a new national energy security doctrine that makes expansion of Russia's LNG capacity a priority (Minenergo.gov.ru, May 13). While the previous version of the doctrine saw other countries' LNG as the main threat to Russia's energy export markets, the new version sees it as a way to increase gas revenue while avoiding Western sanctions. Putin has said that Russia plans to expand its LNG capacity to 100 million metric tons a year by 2035 (The Barents Observer, April 3).
Novatek is using dozens of Arc7 ice-breaking vessels to transport its Arctic-sourced LNG. South Korean companies built the medium-sized tankers specifically for extreme Polar conditions. Recently, Novatek awarded shipbuilding contracts to the Russian companies Sovcomflot and Zvezda. Igor Sechin, a close associate of President Putin, runs two of the companies that own Zvezda—Rosneft and Gazprombank (Sovcomflot.ru, January 11).
Thanks to its ice-breaking tankers, Novatek became the largest LNG supplier to the EU in the first quarter of 2019—a development that reduced Gazprom's gas market share in northwest Europe (see EDM, May 6). Gazprom complained about this to the Kremlin, but Novatek has shown no signs of backing away from its determination to expand the company's European market share. Indeed, it has already signed contracts to sell some Arctic LNG 2 output to Spain's Repsol and Switzerland's Vitol (LNG World News, April 2).
Russia has been flexing its muscles in the Arctic to try to dominate the area's energy landscape as well as the Russian High North's main maritime transport corridor, the Northern Sea Route (NSR), which climate change is making increasingly navigable. In addition to establishing new military bases in the Arctic, Russia is requiring foreign military and commercial vessels to notify it before using the NSR (Maritime Executive, March 8; see EDM, May 14, 30).
The United States and Europe have yet to apply sanctions to Russian natural gas projects to, for instance, match the preexisting US sectoral sanctions on Russia's oil exploration operations in the Arctic. And the personal sanctions against Michelson and Timchenko have not prevented Novatek from expanding its business. When Arctic LNG 2 is commissioned in 2023, Novatek's overall LNG capacity will jump to 37 million metric tons a year.