Russia's New Electronic Warfare Capabilities in the Arctic
Publication: Eurasia Daily Monitor Volume: 16 Issue: 79
By: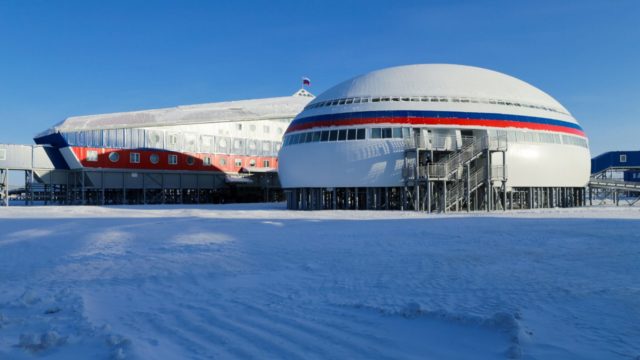 Last fall, during the North Atlantic Treaty Organization's (NATO) massive Trident Juncture 2018 military exercises, 31 allied and partner countries, over 50,000 personnel, 10,000 vehicles, 150 aircraft and some 60 warships, including the carrier USS Harry Truman, gathered to practice large-scale maneuvers in Norway as well as the airspaces of neutral Finland and Sweden and the surrounding seas. Moscow expressed vehement disapproval over the scope and location of that year's Trident Juncture. Whereas, Norwegian and Finnish authorities alleged that, during these exercises, the Russian military deliberately suppressed GPS positioning signals, endangering civilian air traffic and other legitimate day-to-day non-military activities in the northern regions of Norway and Finland. Long after the Trident Juncture 2018 war games wound up, in December 2018, both Oslo and Helsinki continued to complain about Russian GPS interference. But the Kremlin denied knowing anything about any such interference (Interfax, February 11, 2019).
Russian President Vladimir Putin and his administration continued to play ignorant this spring, when Scandinavian leaders again complained about GPS suppression during a Russian-organized Arctic Summit in St. Petersburg (TASS, April 9). However, the Russian military somewhat undermined the credibility of these denials by boasting about recently acquired electronic warfare capabilities that will reportedly allow Russia to dominate the entire northern Polar region.
Earlier this month, the Kremlin-controlled daily Izvestia announced, quoting defense ministry sources, the establishment of a Northern Fleet Center of Radio-Electronic Warfare (TsREB) in the Murmansk region. The Russian Northern Fleet had recently been established as a separate strategic command, on par with Russia's four other military districts (Western, Southern, Central and Eastern) (see EDM, April 24, May 14). The North Fleet's zone of responsibility begins in the Barents Sea and covers the entire Russian Arctic, to Alaska and the Bering Strait, extending to the sea, air and littoral land areas. In the Russian Far East, another TsREB has been established in Kamchatka. Both TsREBs are armed with different types of electronic warfare equipment, including the newest long-range Murmansk-BN electronic warfare stations designed to selectively suppress radio signals at ranges of up to 5,000 kilometers or, in some cases, up to 8,000 kilometers. Officials announced that the Murmansk-BN system has been intensely tested, possibly also during Trident Juncture 2018. Based on its alleged range (5,000–8,000 km) the Murmansk-BN could theoretically cover not only all of Scandinavia, but also most of Europe. Furthermore, the Russian military boasts that its Krasnukha-2 and Krasnukha-4 mobile REB stations also effectively suppress GPS signals. And allegedly, the new Divnovomorye stations are capable of spoofing the radars of Airborne Warning and Control System (AWACS) and Hawkeye aircraft, Global Hawk drones, and radar spy satellites (Izvestia, May 7).
All these REB systems are land-mobile and may be also moved by transport aircraft. The two TsREBs in the Murmansk region and in Kamchatka cover the two entrance points of the Russian sector of the Arctic—the so-called Sevmorput or Northern Sea Route. If necessary, additional REB assets could be promptly deployed by air to newly renovated and modernized Russian bases in the Arctic region to "cover" the entire Sevmorput with a dense electronic veil. Apparently, the idea is that these REB assets may be used as a "nonlethal weapon" to disable foreign ships, submarines or aircraft if they venture into the Russian sector of the Arctic (from the Barents to the Bering Sea, from the Russian Arctic coast to the North Pole) or attempt to negotiate the Sevmorput without explicit Russian consent or without first taking aboard Russian pilots and/or Russian military personnel. If a trespasser is noticed in the Sevmorput, it could be attacked using REB electronic warfare assets that would suppress communications, radar and GPS navigation capabilities, "making the trespasser deaf, numb and blind." The Russians would then apparently expect the offender to ether surrender or flee, "because if we hit such a numbed opponent with a missile, it will go down without a trace, and no one will ever know what happened with them" (Izvestia, May 7).
Russian officials have, for some time, been proclaiming their intention to reclassify the Russian sector of the Arctic as territorial waters (see EDM, December 13, 2018). Russia asserts it has the right to regulate all traffic on the Sevmorput no matter if it is within the 12-mile territorial water limit defined by international law or beyond; and Moscow further claims it is entitled to use force to enforce compliance. Still, for the time being, these regulations have not been enacted, despite Russian accusations that the United States and its NATO allies have been plotting to undermine Russia's legitimate interests in the Arctic (Izvestia, March 6, 2019).
Apparently, this pause is tactical. Russia has applied for an extension of its continental shelf beyond the standard 200-mile exclusive economic zone. In April 2019, a United Nations committee agreed there is scientific/geological evidence supporting some of Russia's territorial claims. This has been hailed as a major victory in Moscow even though it is well understood that the UN will not grant Russia the entire Arctic sector it wants and that the extension of continental shelf seabed rights does not imply an extension of Russia's territorial waters. The government in Moscow evidently decided to wait on pressing further claims and enforcing severe transit regulations in the Sevmorput until the UN made its final decision on extending Russia's Arctic seabed rights (Interfax, April 9). In March 2014, the UN allowed Russia to claim seabed economic rights over a zone in the center of the Sea of Okhotsk. Russia has interpreted this as recognition of the Sea of Okhotsk as an "internal Russian sea" that no one may enter without permission. The Sea of Okhotsk is the deployment zone for Russia's nuclear strategic-missile-carrying submarines based in Kamchatka, which makes it extremely important to keep foreign ships and aircraft out (Gazeta.ru, November 19, 2018).
Moscow believes the Arctic is the Gulf of the future, overflowing with oil and natural gas deposits while simultaneously being an increasingly important strategic and trading waterway Russia must defend against foreign encroachment by all means available. After the UN announces its final decision, the gloves will come off and Russia will ready its regionally positioned REB assets for action. It is unclear just how susceptible US and NATO military ships and aircraft are to Russian REB attack. Western military forces likely installed countermeasures that may or may not be effective. The real problem could be civilian ships and aircraft caught in the impending electronic crossfire, suddenly losing GPS and communications midflight over the Arctic.