Azerbaijan and China Sign $800 Million Economic Package: The Geo-Economic Implications
Publication: Eurasia Daily Monitor Volume: 16 Issue: 78
By: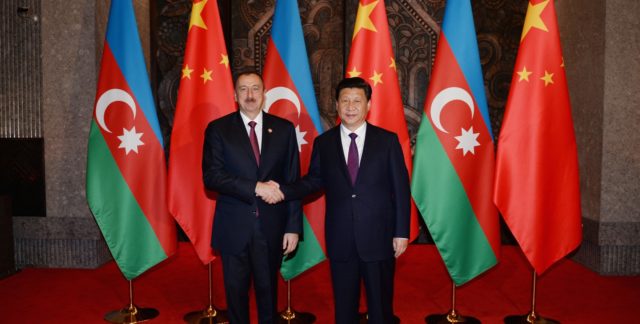 Azerbaijan's participation in the second Belt and Road Forum for International Cooperation, which took place in Beijing, on April 25–28, proved successful for Baku, having resulted in a number of important new, non-oil-sector investment projects in the South Caucasus country. Specifically, during the Forum, Azerbaijani representatives signed ten agreements, cumulatively worth $821 million, with Chinese companies (Azertag, April 24; see EDM, April 30).
Based on these agreements, China National Electric Engineering Company (CNEEC) will invest $300 million in a tire factory in the Sumgayit chemical-industrial park (about 25 kilometers northwest of Baku) (Azernews, May 3). The investment promises to create 800 new factory jobs there and boost the plant's production potential to 3.3 million tires per year. CNEEC will acquire a 90 percent share in the project. The remaining 10 percent of stock will belong to the Azerbaijan Investment Company.
The signed business deals also include the building of a 300-hectare greenhouse complex in the Kurdamir region of Azerbaijan, the construction of agrological industrial parks in the Guba, Goychay and Khachmaz regions, an agreement on export of Azerbaijani wine to China, and the creation of the Azerbaijan Trade House in Chengdu, China (Turannews, April 24). Moreover, an Asian-European telecommunication corridor will be establish within the framework of the "Azerbaijan Digital Hub" initiative in order to better coordinate the annual transit of 2,5000 containers across the territory of Azerbaijan, traveling along the Trans-Caspian International Transport Route (Azvision.az, April 24).
Sino-Azerbaijani economic cooperation truly picked up in 2015, when President Ilham Aliyev made an official visit to China. During that trip, the two governments signed several important documents, including a memorandum of understanding (MOU) on Joint Encouragement of the Establishment of the "Silk Road Economic Belt," which promised to Increase Azerbaijan's geostrategic role within China's Belt and Road Initiative (BRI) (Azernews, April 17).
In the following years, Azerbaijan has implemented several important infrastructure projects that attracted Chinese interest as potentially beneficial for the BRI. Notably, in May 2018, Azerbaijan inaugurated the Baku International Sea Trade Port on the Caspian Sea, which has an annual capacity of 15 million tons of cargo (Azertag, May 14, 2018). Another important event was the inauguration of the Baku–Tbilisi–Kars (BTK) Railroad in 2017, which has been mostly financed by Azerbaijan (President.az, October 30, 2017). This railway is a key link in the trans-continental, overland transit of goods from China to Europe, and vice versa.
The development of economic relations after 2015 also significantly affected bilateral trade volumes. Since then, trade turnover between China and Azerbaijan more than doubled, reaching $1.3 billion in 2018 (Stat.gov.az, accessed May 17). And China has become one of Azerbaijan's four top trade partners (it ranked ninth in 2015).
Despite active cooperation on strategic projects and the increasing levels of trade turnover with China (43 percent of China's trade with the South Caucasus region is now with Azerbaijan—Azernews, May 3), until now Azerbaijan has largely not been willing to open its doors to private Chinese companies. Most of the investment agreements had heretofore been with Chinese state-owned enterprises. And compared with neighboring Georgia, which also participates in BRI and has signed a free trade agreement with China, Azerbaijan had attracted far less Chinese money—which some Chinese experts blamed on Baku's constrained domestic economic policies (Author's interviews, September 2016; November 27, 2017).
Therefore, the package of agreements signed last month at the second Belt and Road Forum, in Beijing, can be considered an important turning point in Sino-Azerbaijani economic relations as it substantially increases the involvement of Chinese companies in this easternmost South Caucasus republic. Indeed, the fact that the value of these ten agreements actually surpasses the total value of all investments made by Chinese firms until then ($800 million) underscores the willingness of both sides to expand their economic cooperation going forward.
The increased importance of the non-oil sector in bilateral economic relations is another significant factor in these developments. The oil crisis of 2014 had encouraged Azerbaijan to attract outside investment in its non-oil enterprises as well as to seek out new export markets (see EDM, April 18, 2016). And Baku assessed China to be the best option in both cases (see EDM, April 12, 2017). Although, petroleum-based products, including fuel and plastics, continue to dominate Azerbaijani exports to China, in the longer-term perspective, the Chinese market should provide great opportunities for Azerbaijan's non-oil products.
However, tightening relations between Azerbaijan and China come with some critical political implications. Taking into account the fact that Russia and Turkey are presently Azerbaijan's main trade partners in the country's non-oil sector, growing Chinese involvement there is likely to create friction with the most important players in the region. It bears reiterating that, although Russia does not want to create problems in its relations with China, it does consider the South Caucasus to fall within its "sphere of privileged interests" and jealously guards the access of third countries to this region. Baku certainly understands this dynamic and is thus prudently cautious in its approach to Moscow, knowing that the latter remains a key player in any prospective resolution to the Karabakh conflict—reaching which has never stopped being a priority of Azerbaijan's foreign policy.
Risks related to sudden drops in oil prices, on the one hand, and China's large investment projects in neighboring countries, on the other, are omnipresent. Together, they encourage Azerbaijan to maintain a balanced policy both toward China and other regional players while taking into account its national economic and political interests. To achieve this, Azerbaijan seeks to participate in BRI without assuming Chinese loans—thus avoiding China's "debt-trap diplomacy." Furthermore, it prefers to deal mainly with state-owned companies on investment projects in order to decrease the scope for economic pressure. Due to their success to date, these tactics will certainly remain the main components of Azerbaijani policy toward China going forward.