New Prospects for Development of Transport Sector in Azerbaijan
Publication: Eurasia Daily Monitor Volume: 13 Issue: 75
By: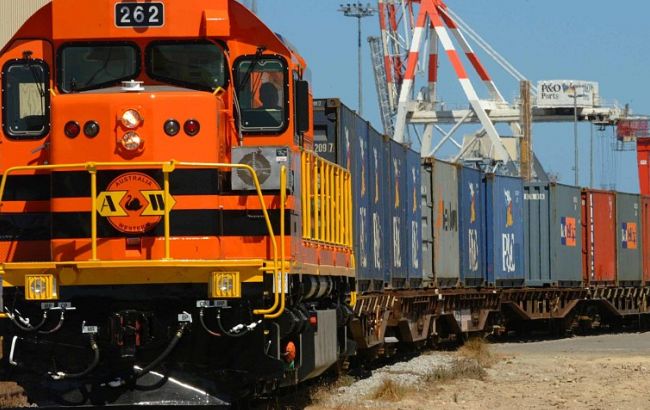 Continuing drastic declines in energy prices have given new impetus to Azerbaijan's long-running quest to diversify its economy and develop the domestic non-oil sector. In this regard, the country's leadership has placed particular importance on the transport sector (Abc.az, April 13; Azernews, March 10). In October 2015, President Ilham Aliyev signed a decree on the establishment of a Coordinating Council on transit cargo, headed by Minister of Economy and Industry Shahin Mustafayev (Contact.az, October 22, 2015). Moreover, Baku has intensified negotiations with neighboring countries and taken key steps to support the coordination of transport polices, the harmonization of transit regulation, and the introduction of single tariffs in order to establish cost-effective and competitive transit routes through Azerbaijan (Azernews, Jan 12).
Several other recent developments have also improved Azerbaijan's prospects of becoming a strategically central transit country for international trade. First of all, the Trans-Caspian route through the South Caucasus and Central Asia is viewed by China as one of the key transit corridors in its "One Belt, One Road" initiative, aimed at establishing multi-modal transport links across Eurasia (see EDM, September 8, 2015; January 27, 2016). Despite the existing Trans-Siberia route through Russia, which links China to Europe, Moscow's conflicts with its neighbors and its frequent transit disputes with Belarus and the Baltic states motivates China to ensure alternative inland routes (see EDM, February 26).
In a bid to improve transportation cooperation and to become a transit route for European Union–China trade—currently valued at well over €1 billion ($1.13 billion) a day—Azerbaijan, Georgia and Kazakhstan established a coordination committee, in November 2013, to develop the Trans-Caspian International Transport Route (TITR). The TITR is a 4,766-kilometer-long multimodal route connecting China, Kazakhstan, Azerbaijan, Georgia and Turkey, with Europe as its final destination. In October 2015, the three main participating countries established a consortium to promote the project (Azertag, October 14, 2015). And on January 14, 2016, they, together with Ukraine, signed a protocol on the establishment of competitive preferential tariffs for cargo transportation along this route (Azernews, February 3). They predict that in its initial phase, TITR will be able to transport up to 5.5 million tons of cargo annually, rising to 13.5 million tons of goods and 300,000 Twenty Foot Equivalent Unit (TEU) containers per year by 2020 (CACI Analyst, February 18, 2015). In August 2015, delegates from the member states welcomed the Nomad Express, the first container train to complete a journey of over 4,000 km along the TITR corridor. Loaded with 82 containers, the train departed from the city of Shihezi, in northern China, and arrived six days later in Baku (Tengrinews, August 3, 2015). Earlier the same year, Baku's Alyat port also welcomed Turkmenistan's Ro-Pax (designed to carry wheeled freight and passengers) ferry Berkarar for the first time (Trend, January 15, 2015).
Russia's conflicts with Ukraine and Turkey have prompted Moscow to close its borders to outbound transit from these countries. Ukraine and Turkey have, thus, been forced to redirect their exports to China and Central Asia, which has further increased interest in the Trans-Caspian route. Before Turkey's downing of a Russian warplane on November 24, 2015, which had violated Turkish airspace, Russian territory served as the major transit route for Turkey's multi-billion-dollar trade with Central Asia. But after Moscow imposed sanctions on Ankara, including a transit ban, President Ilham Aliyev opened the Azerbaijani route to Turkish truck traffic and signed a protocol with Turkey on international transit, reducing tariffs for cargo transportation via the Baku port to Aktau and Turkmenbashi and by extending multiple visas for Turkish drivers for a year (Daily Sabah, December 8, 2015; CACI Analyst, February 11, 2016).
Similar to Turkey, the transit of Ukrainian goods through Russian territory has faced difficulties, forcing Ukraine to search for alternatives. At the beginning of January 2016, Ukraine proposed using the TITR for its $1.3 billion in annual exports to Central Asia and China (Azernews, January 6; Iwep.kz, February 21). The first container train loaded with Ukrainian goods departed from the port of Illichivsk along the TITR route on January 15 (Trend, Jan 22)
Another noteworthy event that contributed to the increased focus on transit routes in Azerbaijan has been the lifting of the sanctions on Iran, which has enabled the realization of the long-agreed but repeatedly delayed North–South corridor, a route that aims to connect Russia and Europe to Iran, India and the Gulf region (Today.az, October 27, 2015). During the initial stage, it is planned that the route will transport 6 million metric tons of cargo per year, eventually increasing to 15–20 million metric tons (Azernews, August 19, 2015).
The initial agreement on the 7,200-km-long North–South corridor, stretching from St. Petersburg to Mumbai, was signed between Russia, Iran, India and Oman in September 2000. Azerbaijan officially joined the corridor project in 2005 when Baku, Moscow and Tehran endorsed the construction of a 375-km railway—the Qazvin–Rasht–Astara connection—to join the railways of the three countries (Silkroadstudies.org, 2010). After long delays (due in part to the sanctions on Iran), the construction of the 205-km-long Qazvin–Rasht railway has already been completed (see EDM, March 9). The Rasht–Astara line is still the missing link in the North–South transport corridor. However, after the sanctions on Iran were lifted, in September 2015, work on the line was intensified, and the Iranian side promised to complete it in 2016 (Trend, September 11, 2015). When Azerbaijani, Russian and Iranian foreign ministers met in Baku on April 7, 2016, the North–South corridor was again one of the key topics of discussion. According to Russian Foreign Minister Sergei Lavrov, "An agreement on joint work of the transport ministries, the customs and consular services was reached to promote trilateral transportation projects" (Azernews, April 7).
Azerbaijan aims to position itself as a key node in strategic East–West and North–South inland transportation routes across the Eurasian landmass. When it comes to shipping goods by land versus by sea, these overland transit corridors certainly cannot compete with alternative maritime routes on price alone. However, Azerbaijan together with its neighbors believe that they can properly utilize their advantage in terms of distance, compared to the much longer sea routes, to be able to establish truly competitive transit routes across central Eurasia.