Russian Military Presence in Caspian Sea: Protection of National Interests or Military Muscle Flexing?
Publication: Eurasia Daily Monitor Volume: 14 Issue: 141
By: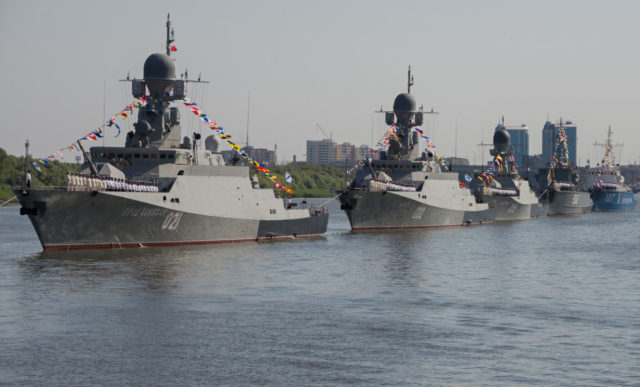 The Russian Caspian Flotilla conducted several military exercises in the Caspian Sea over the last two months—part of drills connected to the summer training period. More than 20 warships, support vessels, minesweepers, amphibious boats and landing craft were involved (Mil.ru, October 10, 14 ). Moreover, military ships of the Flotilla visited ports of Azerbaijan and Kazakhstan in September. Officials from Russia's Southern Military District explained that these activities were aimed at strengthening cooperation among the Caspian littoral states, but added that this particular naval detachment was also charged with showcasing Russian naval presence in the Caspian Sea. The same navy group also conducted an exercise in which it was tasked with protecting oil and natural gas facilities from possible threats of "illegal armed groups" (RIA Novosti, September 1).
Since the beginning of the year, Russia's Caspian Flotilla carried out 700 exercises on countering and preventing terrorism (Mil.ru, October 15). That focus highlights Moscow's geopolitical and economic aims in the region. First of all, the Caspian is a valuable asset for the Russian military due to its location close to the Middle East and directly adjacent to the Caucasus and Central Asia. As the Russian operation in Syria proved, the Caspian Sea is a safe area from which to launch cruise missiles—the so-called "bastion" strategy (BBC—Russian service, October 7, 2015; Vpoanalytics.com, September 26, 2017). As such, with the support of Iran, Russia has actively sought to keep the Caspian inaccessible to third actors (i.e., the United States and European states) (see EDM, May 5, 2014). Second, Russian military presence in the Caspian allows it to maintain pressure on the other littoral countries as well as keep tight control over the North Caucasus. And third, the Caspian basin is rich in oil and gas resources. Moreover, the Caspian Sea can serve as a link in an alternate transit corridor for energy shipments from Central Asia to the West (via the South Caucasus)—a project strongly promoted by the West but which Russia opposes and hopes to be able to undermine (Oilprice.com, July 7, 2011).
Officially, the main objectives of the Caspian Flotilla are protecting Russia's coastal waters, fighting against poaching, and guarding the country's national interests in oil-producing areas. Strictly speaking, such goals have also been declared by the other states around the Caspian (see EDM, October 25). However, in both quantitative and qualitative terms, their fleets lag significantly behind Russia's regional naval force. Since 2010, Moscow has been sharply increasing its military presence in the Caspian Sea. Moscow plans for the Flotilla to be equipped with almost 90 percent new models of military equipment by 2020 (TASS, November 26, 2016). Currently, the Caspian Flotilla includes two project 11661 frigates (Tatarstan and Dagestan), three project 21631 corvettes (Grad Sviyazhsk, Uglich, Great Ustyug), a project 12411 missile corvette (Stupinets), as well as three small artillery boats (Astrakhan, Volgodonsk and Makhachkala) (Mil.ru, accessed November 2, 2017; Vpk-news.ru, September 30, 2013). Moreover, the Ministry of Defense plans to complete the construction of a military port in Kaspiisk (Republic of Dagestan) by 2020. The new facility will be designed for deployment of large surface ships equipped with high-precision weapons. After it is finished, Kaspiisk will serve as Russia's main naval base in the Caspian (Iz.ru , October 2).
Iran is the second-strongest military power in the Caspian basin (Army-news.ru, May 5; Tasnimnews.com, July 15) and in recent years has also been building capable new vessels, including a destroyer and a semi-heavy attack submarine (see EDM, April 2, 2013; July 25, 2016). Meanwhile, the other (former Soviet) Caspian littoral countries' naval forces are at a comparatively much lower level. That said, Azerbaijan and Kazakhstan have been working on strengthening their naval forces since the 1990s, while Turkmenistan started work on bolstering its navy in 2010 (Mod.gov.az, Mod.gov.kz, accessed November 2, 2017; Flot.com, October 10, 2011). Kazakhstan and Azerbaijan, in particular, have sought outside assistance in those efforts. Notably, in the 2000s, the United States' "Caspian Guard Initiative" coordinated activities between Astana and Baku with US government agencies to strength regional security by assisting the two countries in development their ability to prevent and respond to various maritime threats. This form of cooperation between the United States and the two countries, in addition to military educational exchanges, continued in subsequent years (EurasiaNet, March 13, 2011). Azerbaijan and Kazakhstan also regularly cooperate with Turkey to enhance their naval capabilities (Azeridefence.com, April 12, 2017; EurasiaNet, June 9, 2016). Although both post-Soviet republics regularly participate in Russia-led military activities in the Caspian basin, Moscow nevertheless strongly condemns any cooperation between Azerbaijan and Kazakhstan and the US (Astana Times, August 8; Sputnik News, July 30).
The Kremlin's strategic vision regarding the protection of Russian national interests in the Caspian and barring outside powers from accessing the region has thus encouraged Moscow to increasingly flex its growing naval muscles there—as illustrated by the recent uptick in the Caspian Flotilla's exercises and port visits. The result of these shows of force by Russia will put growing pressure on small countries in the region as well as potentially disrupt strategic transnational Caspian-basin projects the West is involved in.