Russia's Black Sea Ports in Trouble After Decades of Neglect
Publication: Eurasia Daily Monitor Volume: 17 Issue: 94
By: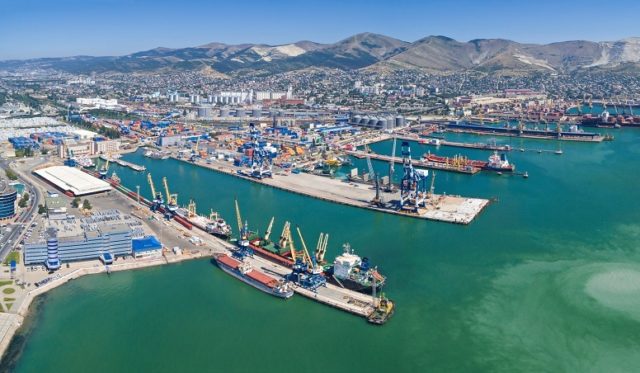 When the Soviet Union disintegrated in 1991, Moscow lost many of its commercial ports on the Black Sea to the then-newly independent Ukraine and Georgia. That loss forced Moscow to reroute cargo flows and is one of the reasons that Vladimir Putin attacked Ukraine and annexed Ukrainian Crimea in 2014. Despite its losses of ports to the two other former Soviet Black Sea littoral states, Moscow nonetheless did retain control of a large number of coastal facilities in the region. But instead of maintaining and developing them, the Russian authorities have allowed them to deteriorate to the point that many are now accidents waiting to happen. And because that is the case, there is a growing chance that the Kremlin may become even more interested in advancing into Ukraine toward the important ports of Odesa or Kherson (see EDM, June 29).
Moscow's loss of ports in the Black Sea in 1991 and its rerouting of trade to put pressure on its neighbors has been a constant in Russian policy under Putin.  That strategy has attracted continuing attention in the Baltic region, where it has had a serious impact even though it has sparked opposition from Russian businesses (Fondsk.ru, May 29, 2016; Regnum, December 7, 2015; see EDM, December 5, 2019). But it has attracted far less in the case of the Black Sea littoral even though the impact there may be just as great (see EDM, January 23, 2020).
Given Moscow's desire to use Russian ports rather than foreign facilities, the Russian authorities might have been expected to ensure that, over the past three decades, the country's ports on the Black Sea were well-maintained and even expanded. But neither has proved to be the case.  Ever more of them have deteriorated. In recent years, regional officials have been forced to declare the infrastructure of the ports at Novorossiisk, Anapa, Sochi and elsewhere dangerous to shipping and imposed restrictions on its use lest the country suffer another devastating technogenic disaster.  Not surprisingly, Russian firms desirous of using these ports have fought back. But so far, their pressure has not been enough to overcome the deleterious situation.
In March 2019, regional officials responsible for infrastructure identified 142 shortcomings at these ports, ordered them to be corrected, and said the wharves should not be used until those corrections were made. In turn, the affected shipping companies filed legal claims; but last week (June 26), Stavropol's arbitrage court unanimously decided against them and ordered that the restrictions be kept in place (Ras.arbitr.ru, June 26). The companies will undoubtedly appeal their case in Moscow and, ultimately, with Kremlin officials as well. But even if they win in those venues—and the odds remarkably appear to be against them given that they have lost in two lower courts already and publicity about the case would make any change quite unpopular in the regions—the problems the Stravropol Krai court has pointed to and the fact that the ports had not taken action to correct them represent a serious problem for Russia's trade sector and its business reputation.
In commenting on this 3,000-word judicial decision, Anton Chablin, a Russian regional specialist, points out that the verdict is the result of the unwillingness or inability of the government and the shipping companies to pay for proper maintenance and repairs (Akcent, June 28). But if the court ruling stands, that action will have, at a minimum, three major consequences.
First, it will seriously reduce the ability of Russian firms to use these ports, further cutting back on Russian exports and imports that have already been seriously reduced as a result of the pandemic-related crisis. In May, exports and imports were down by more than 60 percent from a year earlier, and the Russian Central Bank predicts they will be even lower in June and July (Krizis-Kopilka [1] [2], June 16).
Second, reduced trade through these ports will harm the surrounding economies still further, pushing up unemployment and the threat of labor actions in a region that is already restive. Stevedores in isolated Russian ports, like many on the Black Sea, are notoriously activist, and unemployment coming on top of the pandemic could push them to begin strikes (Caucasus Post, accessed June 30).
And third, the decay of Russian ports on the Black Sea could have significant geopolitical consequences. On the one hand, if Moscow cannot use its own ports because of the collapse of facilities in these places, or if foreign shippers refuse to use them because of fears their vessels could suffer if they did, some in Moscow will see this as yet another reason why Russian forces should advance further into Ukraine in order to seize the still well-functioning port at Odesa.  And on the other hand, if Russian companies cannot use the ports on the Black Sea, at least some will press for a further loosening of restrictions on trade via the Baltic ports, something Moscow might not want to do but would see as the lesser evil in the current economic environment.
Of course, the Kremlin may simply order that the Black Sea ports continue to be used despite their problems. Yet, just as in the Russian High North, that approach almost certainly guarantees that there will be disasters like the ones that occurred recently in Norilsk and Murmansk—all the more so now because the pandemic has put additional  pressure on all infrastructure related to trade (see EDM, December 6, 2018 and June 29, 2020; Windowoneurasia2.blogspot.com, October 2, 2018; Riddle, June 23, 2020).