Russia's Defense-Industrial Complex at a Crossroads: Aura Versus Reality (Part Two)
Publication: Eurasia Daily Monitor Volume: 18 Issue: 71
By: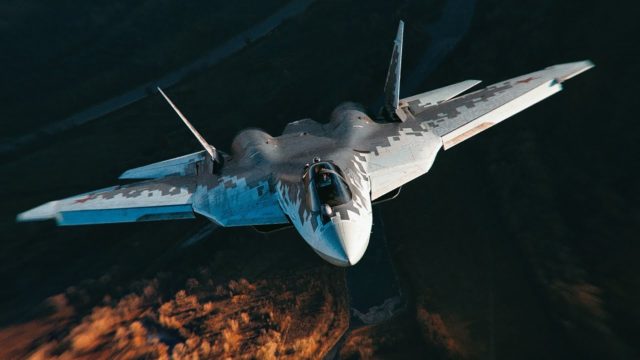 President Vladimir Putin's remarks about possibly nationalizing the Russian defense industry (DI) (Interfax, March 31) reinvigorated a debate on measures to optimize this strategically crucial yet decreasingly profitable sector of the country's economy (see Part One in EDM, April 13). The Kremlin leader's cautiously phrased openness to the idea was preceded by a telling and unambiguous comment from Deputy Prime Minister Yury Borisov. Speaking at the "Goszakaz-2021" government procurement forum, Borisov firmly stated that he is "a supporter of direct and firm protectionist policies" regarding the DI (1prime.ru, March 24). And in light of tightening international sanctions as well as the continued negative impact of COVID-19 on the Russian economy, the issue of the profitability of Russian arms manufacturers—as well as their future development more generally—has acquired new meaning.
Analysis of the Russian DI's recent performance paints a mixed picture. On the one hand, last year was marked by several momentous achievements. To name just a few, the following weapons systems were produced or entered service in 2020 (Nvo.ng.ru, January 14):
The Sukhoi Su-57 "fifth-generation" jet fighter, which ostensibly placed Russia into the "elite club" of countries (the United States and, somewhat more questionably, China) that possess this type of weaponry.
Project 955A Borei-A and the K-549 Knyaz Vladimir nuclear-powered ballistic missile submarines.
The 3M22 Zircon/Tsirkon scramjet-powered, maneuvering, anti-ship, hypersonic cruise missile.
The Project 23900 Ivan Rogov and Mitrofan Moskalenko amphibious assault ships (LHDs)—replacements for the French Mistral-class helicopter carriers, whose sale to Russia was aborted in 2014.
The medium-altitude, long-endurance (MALE) Orion, Russia's premier unmanned aerial combat vehicle (UCAV), perhaps the most important achievement of Russia's DI in 2020.
On the other hand, despite such achievements, Russian arms producers have continued to be plagued by serious maladies that pose long-term and far-reaching challenges to the industry. Among them, five outstanding issues deserve special mention.
First are persistent structural problems. As noted by multiple leading Russian defense experts, the Russian DI sector as a whole continues to operate in line with traditions of a planned economy—hardened adherence to a plan and the heavy involvement of the state—which in many ways hampers innovation (Denis Popkov, "Prichini otsutstvia stimulov k razvitiyu predpriyatii OPK Rossii," Ekonmocheskoye Razvitiye Rossii, 2017). Moreover, a strong tilt toward the production of weaponry (overall production ranges between 70–98 percent) at the expense of dual-purpose or civilian products (contrary to common practice among most international defense-sector manufacturers) has arguably held back the business potential of Russia's DI since the late 1920s (Arsenal-otechestva.ru, February 9, 2018).
The second problem is the sector's heavy indebtedness. In 2016, the Russian government covered 800 billion rubles' worth (currently, $10.5 billion) of defense contractors' loans; and an additional 200 billion ($2.6 billion) were covered in 2017 (Novaya Gazeta, July 21, 2019). And yet, in late 2020, Deputy Prime Minister Borisov revealed that the DI sector's overall indebtedness had reached three trillion rubles ($39.5 billion) (Riafan.ru, December 21, 2020). Earlier, Borisov admitted that the whole sum is unlikely to ever be repaid to the state (RBC, July 8, 2019). Even though he had warned top DI executives that Moscow would not be writing off any more of their arrears and debts (Interfax, July 17, 2019), less than a year later Borisov announced another write-off and restructuring of 750 billion rubles' ($9.8 billion) worth of loans owed by weapons makers (1prime.ru, March 5, 2020).
The third issue facing Russia's arms manufacturers is a lack of economic efficiency and mistakes related to import substitution. Russian sources have long argued that Russian weapons systems are competitive on the global market not only thanks to their high quality and original technological solutions but also, importantly, due to their relative inexpensiveness. However, given that most modern weaponry requires massive investments into research and development, the profits derived at Russia's low price points can barely cover what had to be spent to produce these products (Flanker.su, November 21, 2019). Consequently, economic sustainability becomes the main victim. At the same time, despite resilient rhetoric, Russia's top officials recognize that the country's import-substitution strategy—adopted after 2014 as a result of Russian actions in Ukraine—itself has multiple flaws. For instance, Russian Security Council Secretary Nikolai Patrushev grudgingly admitted last summer that "The Russian oboronka [DI] is still dependent on foreign technologies" (Vzglyad, June 9, 2020). In turn, President Putin openly demanded that the domestic DI rectify key mistakes in import-substation planning and management, which resulted in considerable delays of several projects of high importance (Vzglyad, September 19, 2019).
The DI sector's fourth major predicament relates to corruption and lack of corporate transparency. In fall 2020, Transparency International published a report on the basis of analysis of 37 Russian companies operating in the realm of DI (the low level of representation was reportedly due to many companies refusing to share their data). The study concludes that corruption and opaque business practices—by no means new to Russia's corporate culture—have grown profoundly worse since 2014 (introduction of sanctions). The situation, Transparency International's analysts argue, is particularly dire when it comes to "public accountability," "procurement activities" and "anti-corruption policies" (Rosbalt, November 27, 2020).
The final, and perhaps most controversial, factor contributing to the underperformance of Russia's DI was identified in an article published last year by Russia's leading military-analytical outlet Voenno-Promyshlennyi Kurier. Specifically, the piece contends that, despite common perceptions to the contrary, Syria did not become an important "exposition fair" for Russian defense products. The author claims that the employment of costly, cutting-edge weaponry—such as Su-57s and Kalibr cruise missiles—against a technologically constrained opponent lacking both electronic warfare and air-defense systems, was hardly an achievement, and little more than a "costly show." The article suggests that unlike during the Cold War, when Soviet weaponry was tested against technologically advanced enemies in Korea, Vietnam and the Middle East, the Syrian experience simply wasted Russian economic resources and "demonstrated a serious gap between Russian capabilities and its potential opponents… Americans were not destroying targets with the use of relatively inexpensive drones without the use of costly missiles." The article concludes that the "Syrian success" generated only sluggish growth in Russian arms exports (Vpk-news.ru, June 17, 2020).
For now, Russia's defense manufacturers remain capable of producing new technological wonders and original solutions—but largely thanks to heavy state support. Qualitative progress will only come from addressing some of the domestic defense sector's traditional weakness. And given the political-economic trends under late Putinism, this will be far from a simple or straightforward undertaking.