Russia's Direct Action 'Black Ops' in Europe
Publication: Eurasia Daily Monitor Volume: 18 Issue: 69
By: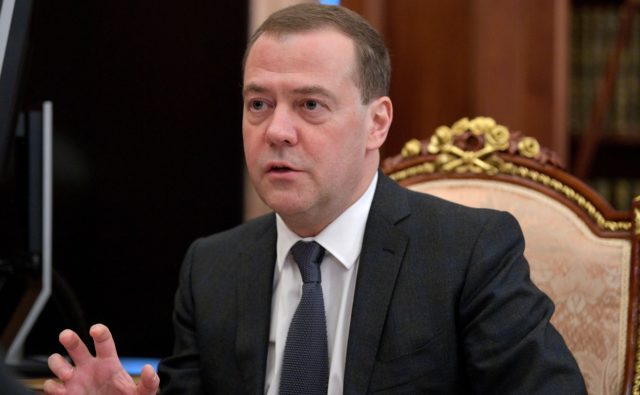 In a recent column published by RIA Novosti, the deputy chairperson of the Russian Security Council, Dmitry Medvedev, writes that Russia's relations with the United States have reverted back to a full "Cold War" (RIA Novosti, April 23). Medvedev served as Russia's caretaker president from 2008 to 2012, holding the post while the country's true ruler, Vladimir Putin, took the legally second-most-important national position of prime minister so as to bypass the constitutional ban on being able to run for president three times in a row. For obediently allowing Putin to return to the Kremlin as president in 2012, Medvedev was made prime minister for almost eight years. But in January 2020, Putin abruptly replaced Medvedev with Mikhail Mishustin, an energetic and bureaucratically savvy Federal Taxation Service director who effectively reformed the service. Medvedev was instead moved to a specially invented honorary post of deputy to President Putin in his capacity as chair of the Security Council. Though apparently lacking much real institutional power in his present position, Medvedev is a permanent member of the Security Council—Putin's inner national security cabinet—and, thus, is privy to the decision-making process as well as the top-secret intelligence briefs supplied to this body. Medvedev's opinion seems to be relevant and reflective of the consensus position of Putin and his inner circle.
In his column, Medvedev argues that US-Russian relations have moved from competition to mutual acute confrontation, are in a state of permanent crisis, and that at any moment they could escalate due to a wrong decision or misunderstanding into something much worse—a direct armed conflict. Medvedev compares the present US-Russia standoff with the 1962 Cuban missile crisis, which brought the world to the edge of nuclear war. In 1962, both Moscow and Washington managed to find a lasting compromise and defuse the crisis. According to Medvedev, the world had never since been as close to all-out war as apparently it is today. Moreover, he accuses the Joseph Biden administration of sending Moscow baffling signals by indicating its willingness for dialogue but, at the same time, imposing additional sanctions and threatening to "punish Moscow" (see EDM, April 15). All the while, North Atlantic Treaty Organization (NATO) forces are purportedly closing in on Russia's borders, Russian diplomats are being expelled, and the "conflict in Eastern Ukraine is being artificially intensified," he asserts. Medvedev commends the Cold War–era US leadership for treating Russia (the Soviet Union) as a global equal, while today Washington treats Moscow as second class. To avoid catastrophic consequences, the present situation must be understood, and direct Russo-US communications must work, but simply talking is not enough: Moscow's logic and arguments must be perceived and understood by the other side. Most importantly, "slander and ultimatums" must end. The West must understand the need for compromise and find the will to make concessions, he insists (RIA Novosti, April 23).
The Kremlin's spokesperson, Dmitry Peskov, confirmed the sentiment in Medvedev's article: "The double-track US policy of punishment and reward will not work, and Russia will only push back harder." Peskov called Washington's approach "schizophrenic" and complained Moscow is baffled and cannot understand the US's true intensions, but he hopes they will soon be revealed. Last week (April 21), speaking to the joint session of parliament, Putin warned that Russia will soon "draw red lines no one will be allowed to cross" (Interfax, April 29; see EDM, April 22, 26).
Medvedev's RIA Novosti column, while seemingly consistent with the Kremlin and Security Council's consensus opinion, still had a conspicuous factual inconsistency: In listing different historical examples of US mischief, Medvedev mentioned the "deployment of US missiles in the 1950s and early 1960s to Turkey, South Vietnam and Lebanon" (RIA Novosti, April 23). US medium-range nuclear missiles were indeed deployed to Turkey toward the beginning of the Cold War, and this deployment was one of the reasons the Soviet Union then sent its own missiles to Cuba. Those US missiles were withdrawn from Turkey as part of the deal that ended the Cuban missile crisis. But there were never any US nuclear missiles in Vietnam or in Lebanon. The brief deployment of US troops to Lebanon, which triggered a counter-deployment of Soviet combat units to Syria, happened in the 1980s.
At a special April 27 parliamentary meeting in St. Petersburg attended by Putin, State Duma Speaker Vyacheslav Volodin, a permanent Security Council member, accused the United States of genetically engineering the COVID-19 coronavirus "in the labs they [the US] have created all over the world" and then releasing this pathogen. Russian intelligence and the Security Council secretariat have long accused the US of supposedly running a global bio-military network of biolabs located all around Russian borders, in former Soviet republics (see EDM, October 18, 2018 and May 5, 2020). Volodin further charged that the US had been financing the biolab in Wuhan, China, where COVID-19 first appeared, and demanded the Russian government look into the matter. Russia, together with all other countries of the world, should demand the US pay compensation for all the global losses accrued as a result of the pandemic, he asserted (TASS, April 27).
It appears the Russian intelligence services are filling their top-secret briefs supplied to the Security Council's permanent members with fake anti-US propaganda. Russia's military intelligence, still popularly known as the GRU (Glavnoye Razvedyvatelnoye Upravlenye; in 2010, it was officially rebranded to simply Glavnoye Upravlenye or GU), has since at least 2014 been running direct action "black ops" in Europe and allegedly using the nerve agent Novichok to poison perceived hostiles. Most recently, the Czech government accused the GRU of organizing two explosions at a Cold War–era ordinance dump, apparently to prevent the shipment of those munitions to Ukraine for possible use against Russia-backed forces in breakaway Donbas (Newsru.com, April 27). The Russian opposition leader and fierce Kremlin critic Alexei Navalny has allegedly also been poisoned by Novichok last August, in Tomsk, Siberia. The main task of the GRU in war or in a prewar period is to carry out direct action "black ops," known in Russian military argot as "diversions." And the numerous GRU special forces (Spetsnaz) units are trained primarily as "diversanti," charged with creating and spreading chaos, terror and disinformation utilizing all means available. With such forces in play feeding disinformation to all, including Kremlin decision-makers, it will be a steep uphill climb to find any meaningful Russo-Western/US compromise or simply some common ground to deescalate the ongoing crisis.