Russia's Economic Decline Puts the Armenian Government Under Pressure
Publication: Eurasia Daily Monitor Volume: 13 Issue: 19
By: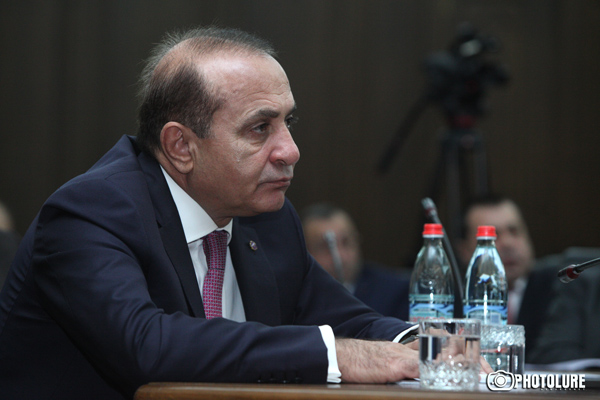 As oil prices have gone down significantly, the consequences may go well beyond the depreciation of the Russian ruble and Russia's economic decline. Armenian Deputy Minister of Finance, Pavel Safaryan, recently stated that some of loans previously promised by Russia, including the $270 million loan for refurbishment of the nuclear power station, may be not available if the current economic situation in Russia gets worse (Panarmenian.net, January 20). The reduction of the amount of hard currency available in Russia could, quite reasonably, be the core of the issue. Although two days later the Ministry of Finance issued a press statement mentioning that Safaryan meant future loans, not those previously agreed (168.am, January 22), the discussion about future economic relations with Russia has become more intense.
The Minister of Economy, Karen Chshmarityan, in turn, justified the recent decision to form a special commission for export stimulation by the need to approach new markets outside the Eurasian Economic Union (EEU). However, previously Chshmarityan and other cabinet members had eagerly repeated the Russian line of reasoning that it would not be possible to establish a free trade zone with the EU and to remain within the Collective Security Treaty Organization (CSTO) security framework at the same time (Lragir.am, January 21). An understanding of the unfavorable economic reality may now be finding its way, although rather late: the possible consequences of the economic dependence on Russia could have been analyzed and discussed much earlier (see EDM, January 5, 2015).
The Armenian government still has some expectations from Russia related to the defense sector. During a meeting of the intergovernmental commission on military and technical cooperation, Armenian representatives asked for investment in factories for maintenance and renovation of KAMAZ trucks, anti-aircraft units, and helicopters, for supplies of ammunition, as well as for three second-hand IL-76 cargo airplanes (News.am, January 20). The meeting outcomes have not been revealed. However, the $200 million loan promised last June for the purpose of buying certain up-to-date Russian weapons (see EDM, June 29, 2015) has not as of yet been made available, and there is no information about the possible schedule for its implementation.
Energy cooperation was discussed recently as well. Prime Minister Hovik Abrahamyan stated that the government asked Russia to reduce the price of supplied natural gas in accordance with the market trend (News.am, January 16). Formally, a 13 percent discount was already made by Russian energy giant Gazprom in 2015; however, its only beneficiary has been Gazprom's local subsidiary—Gazprom Armenia, the monopolist operator of the distribution network, in which Gazprom owns 100 percent of shares. The retail price for Armenian consumers was not reduced (see EDM, September 1, 2015).
Last week, noteworthy statements were also made by the Minister of Energy, Yervand Zakharyan. At a press conference he admitted that after selling the Electric Networks of Armenia (ENA), previously owned by the Russian RAO UES International (de facto owned by the state), to a private investor (see EDM, October 14, 2015), the quality of asset management has improved and the amount of losses has been reduced (Armtimes.com, January 22). In fact, it was admitted that as it had been suggested by several observers, last years' increase of electricity price did not occur because of economic necessity but rather was an outcome of the government's indulgent attitude towards RAO UES and its managers' requests. Zakharyan himself had said in January 2015 that the ENA was in debt because of poor management of funds, yet he supported a fee increase that resulted in mass protests (see EDM, June 12, 29, 2015).
Zakharyan also spoke about energy cooperation with Iran and Russia. He denied that the government had previously received an Iranian offer to supply gas cheaper than Gazprom (Lragir.am, January 21). However, in December 2013, just before the Armenian government signed a deal under Russian pressure selling the last 20 percent of shares of the distribution network to Gazprom and guaranteeing Gazprom's monopoly for a further 30 years, Iran's ambassador to Armenia, Mohammad Reyisi, said that Iran would be ready to provide cheaper gas supplies than Russia (see EDM, February 2, 2015). Moreover, as Armenian officials denied that Iranian gas could be cheaper than Russian, Reyisi called for a second press conference within three days and repeated his statements, noting that the Armenian side had not even tried to start negotiations with Iran about a possible price, while the price included in the final deal would be determined by means of negotiations (Lragir.am, December 6, 2013).
The issue of energy cooperation with Iran has become especially significant recently as the lifting of international sanctions against the Islamic republic has been made possible. More generally, new trade partnerships are becoming vitally important. Although the Armenian officials continue expressing cautious and often also servile attitudes towards Russia, the economic reality suggests the need to diversify the energy supply and to find new export markets. For several years, Armenia has been dependent on remittances from Russia as the most important source of hard currency. However, the tendency that started with a noticeable drop in Armenian workers' remittances from Russia already in May 2014 (see EDM, January 5, 2015) has resulted in a sharp decline in recent months because of low oil prices and the depreciation of the ruble, and the practical impossibility of quick recovery is obvious. Therefore, without reforms Armenia may in a few months face an economic collapse and social turmoil.