Russia's GLONASS Positioning System Cannot Work Properly
Publication: Eurasia Daily Monitor Volume: 8 Issue: 43
By: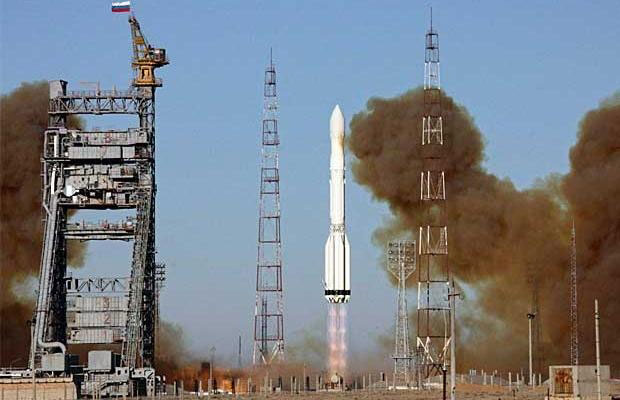 Continued technical mishaps are undermining Russia's efforts to modernize its military and defense industry. The Russian defense industry is in deep crisis while efforts to import Western technology, spearheaded by First Deputy Defense Minister in charge of rearmament Army-General (retired) Vladimir Popovkin, are bringing mixed results. Popovkin, the chief of the Russian Space Troops from March 2004 until June 2008, was the first top Russian military official to disclose that Russia was using foreign components to make military satellites (Nezavisimoye Voyennoye Obozreniye, February 1, 2008). In 2008, Popovkin changed the official Russian defense procurement policy of not buying Western-made weapons or components.
Last month, Russia launched a Geo-IK-2 satellite – the first in a series of two, specifically designed to generate high-precision digital maps of the surface of the globe to allow the independent GPS (GLObal''naya NAvigatsionnaya Sputnikovaya Sistema –GLONASS) system to provide positioning with an accuracy of up to one meter. The Geo-IK-2 was a secret military platform made in the closed nuclear city of Krasnoyarsk-26 (Zheleznogorsk), but its core instrument was a SADKO-2 scanning radar, provided by the French company Thales Alenia Space – a privileged partner of the Russian defense ministry (RIA-Novosti, February 1).
The satellite was launched by a Rokot rocket converted from a SS-19 intercontinental ballistic missile that apparently did its job sufficiently well, but an additional Briz-KM booster, designed to elevate the Geo-IK-2 to an orbit of 1,000 kilometer (km) malfunctioned. Finally, the Geo-IK-2 was boosted to an abnormal 370 to 1,020 km elliptical orbit. The satellites solar batteries unfolded and contact was established, but it could not function properly (Interfax, February 2).
For some time it was unclear, as to whether the Geo-IK-2 is totally useless, or may only partially do its job. The Geo-IK-2 orbit was designed so its solar batteries are constantly in the sun, providing power to its radar and other equipment. The abnormal orbit put it intermittently in the Earth's shade, disrupting the power supply (Interfax, February 3). Popovkin told journalists that the Geo-IK-2 is useless (Interfax, February, 20). This week Deputy Prime Minister in charge of the defense industry and former defense minister and KGB official, Sergei Ivanov, announced "there are no serious problems with the Geo-IK-2" (RIA Novosti, February 28). It turned out Popovkin was better informed: the defense ministry announced that Geo-IK-2 has fully lost power and turned into space junk after a week of malfunction (Interfax, March 1).
This week, Lieutenant-General (retired) Anatoly Bashlakov was handed a seven-year prison sentence for alleged bribery. Bashlakov commanded nuclear strategic missile units and was commandant of the Plesetsk missile and space launch center from 2003 to 2007. The trial was secret and no details are officially known, but that Bashlakov's crime occurred while he was in charge of Plesetsk from where the Geo-IK-2 was later unsuccessfully launched. It has been alleged that the Bashlakov case is somehow connected to irregularities in dealing with radioactive materials (Kommersant, March 2).
The Geo-IK-2 failure comes on the heels of another GLONASS disaster – the loss of three new GLONASS-M satellites that plunged into the Pacific Ocean after a failed launch on December 5, 2010. The crash reportedly cost Russia some $75 million and delayed the full formation of the GLONASS positioning system that was planned by January 2011. The GLONASS-M crash provoked President Dmitry Medvedev's anger: two high-ranking space officials were sacked and the chief of Russia's space agency, Roskosmos, Anatoliy Perminov was reprimanded. After an investigation ordered by Medvedev of the execution of the GLONASS program by Roskosmos, the Prosecutor-General's office recommended that criminal charges must be pressed (Kommersant, February 18).
This week during a meeting of the "collegium" of Roskosmos, Ivanov reprimanded the agency for multiple failures, pointing out that in 2010 it produced only five military satellites instead of the planned 11. Nonetheless, Ivanov expressed hope that by the end of 2011 GLONASS will be fully functional. Last week the first experimental GLONASS-K satellite was successfully launched and may become fully functional in two months. It is planned that before January 2012 five more GLONASS-M satellites will be launched and one more GLONASS-K. The GLONASS-M satellites have a lifespan of three to four years in orbit, while the new GLONASS-K, that apparently uses better-quality Western-made electronics must have, according to Ivanov, a 10 year lifespan (RIA Novosti, February 28).
The GLONASS-M crash may indeed be successfully compensated, but the loss of the Geo-IK-2 could be a more serious problem. The GLONASS satellites are mass produced while the Geo-IK-2 is not – only one is prepared, scheduled for launch by next December. Even if it is a total success, it apparently cannot fully compensate for the loss of the first Geo-IK-2. Precise global digital mapping has been seriously delayed.
The Russian military wants to develop and deploy an array of relatively cheap precision-guided weapons (bombs, cruise missiles, etc), as their US counterparts have done, but plans to use GLONASS-targeting instead of targeting devices based on the Pentagon-controlled GPS. Moscow has grand plans to sell its military GLONASS-targeting capabilities to other nations that do not have access to or do not fully rely on the Pentagon-controlled GPS. A less accurate GLONASS positioning signal could be distributed free, while a more precise "military" one could be coded and access sold by Russia.
Now all these planes are at risk. Without the Geo-IK-2 global digital maps, GLONASS, even fully operational, will have a positioning accuracy of ten meters at best – not the 1.5 meters that Ivanov was hoping for – no-good for military precision targeting (RIA Novosti, February 28). Russia has spent hundreds of millions of dollars buying Israeli unmanned aerial vehicles (UAV's) and to acquire technology and components for joint UAV production, with Popovkin spearheading the effort (EDM, October 14, 2010). But at present these UAV's are no more than expensive flying TV-cameras, the targeting information they produce is mostly useless, since there are no precise GLONASS (GPS)-targeted weapon systems to use it.
When the extent of military reform and defense modernization failure is contemplated by Russia's supreme leaders, heads may roll and in anticipation plausible excuses are being prepared. A "reliable space industry source" told Interfax news agency that the Briz-KM booster failed during the Geo-IK-2 launch, "because of possible external electromagnetic interference from a sea, land or air-based source," while the platform was on the other side of the globe out of sight of the Russian control center (Interfax, February 14). Of course, only the grand old enemy – the US – could have sabotaged the Geo-IK-2 launch by a presumed death-beam – to undermine Russia's possible GLONASS (GPS) independence.