Russia's Intermediate-Range Missile Production Challenge
Publication: Eurasia Daily Monitor Volume: 15 Issue: 159
By: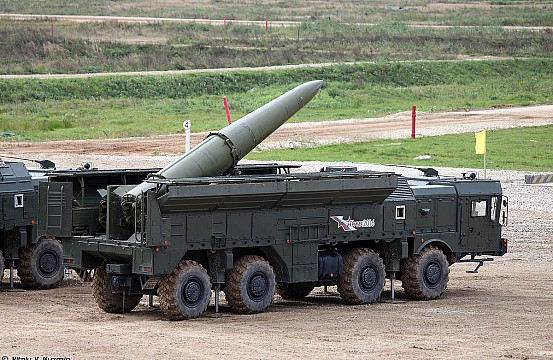 After President Donald Trump's stated decision to withdraw the United States from the Intermediate-Range Nuclear Forces (INF) Treaty, signed in 1987 by Ronald Reagan and Soviet leader Mikhail Gorbachev (see EDM, October 25, 29), some experts asserted that Russia will now be free to deploy a variety of ground-launched medium-range missiles in response. And indeed, Russian President Vladimir Putin specifically declared that Moscow will quickly and effectively respond to Washington's scrapping of the INF Treaty by producing a slew of new medium-range ballistic and cruise missiles (Interfax, October 24). Yet, Russia's domestic arms industry is likely to face certain challenges in fulfilling sudden large missile orders of this type, at least in the immediate term.
Russia already has several missile types capable of operating in the "intermediate" range previously banned by the INF Treaty (500–5,000 kilometers) or could easily be modified to do so. Only ground-launched intermediate-range missiles are forbidden by the treaty, not those launched from the air or sea. The first option for Russia is the 9М729 cruise missile—a prototype ground-launched version of the sea-based Kaliber-NK missile, able to hit targets at a distance of 1,400–2,600 km. The 9М729 cruise missile is a continuation of the work on the land-based 9М728 produced for the Iskander-M mobile theater missile system.
Indirect evidence suggests that the number of Iskander-Ms currently armed with the new 9M729 cruise missile is not large—up to 12—and further production may be hampered by economic considerations (Rossiyskaya Gazeta, September 14, 2017). Serial production of the Iskander-M missile-launch system started in 2011. Today, Russia fields 11 Iskander brigades, each of which operates 12 launchers. A contract was signed last year to equip two additional brigades with Iskander systems. And a modernized version of the Iskander-M has been added to the government's military armament program until 2027 (Rossiyskaya Gazeta, April 11, 2017). This creates opportunities to expand the number of Iskander systems armed with the INF-non-compliant 9M729 cruise missile. But that expansion will almost certainly be modest—perhaps 23 additional Iskander-Ms by 2027, according to current estimates. That number might be increased if Russia pivots away from producing other types of missiles (Iskander-Ms can fire up to seven different missile types).
The next option for Russia is the RS-26 Rubezh silo-based inter-continental ballistic missile (ICBM) (see EDM, September 27, 2017). Due to economic difficulties and consequent reductions to the defense budget, the program to turn the RS-26 into a mobile missile system was not included in the new arms program until 2027—though the siloed version was maintained. The Rubezh is a small-sized ICBM with a tested range of 2,000–6,000 km (Militaryrussia.ru, January 21, 2018). That is, it is quite capable of carrying out the tasks of medium-range ballistic missiles. But considering that this missile was developed on the basis of the larger Yars ICBM, production of the Rubezh will likely be limited to the single factory that builds Yars missiles. This means likely no more than 20 RS-26 medium-range ballistic missiles per year.
Another option is to develop new short- and intermediate-range missiles. One example could be to use the Soviet-era Pioneer mobile medium-range ballistic missile as a basis for a more modern system. This missile was capable of carrying three nuclear independently targeted warheads at a range of 600–5,000 km. New technologies could improve its accuracy. Yet, new weapons programs run the risk of serious time and cost overruns, as illustrated by the Bulava submarine-launched cruise missile (see EDM, October 22, 2013). In addition, Russia already maintains ten different combat missile systems, which does not even include the Rubezh, Sarmat heavy ICBM, and other maneuvering units currently under development. Each new missile system adds a further burden on the defense ministry's budget.
Iskanders and the Avangard hypersonic glide vehicle (which will be carried aboard the Rubezh and Sarmat) are or will be produced at the JSC Votkinsky Zavod plant, which already also builds the Topol-M, Yars and Bulava ballistic missiles. Votkinsky Zavod is contracted almost until 2020—when the current government arms program concludes. Topol-Ms will be removed from the Armed Forces after 2021, at which point Votkinsky Zavod will likely switch to serial production of the Avangard system. This will make it difficult for the factory to mass produce a new missile system without additional funding to expand manufacturing capacities.
Another possibility is to build new medium-range missiles at the Krasmach Plant, already a major manufacturer of submarine ballistic missiles (R-29RMU2 Sineva) and Russia's newest ICBM, the Sarmat. However, the factory is presently undergoing modernization. Moreover, starting in 2019, Krasmach will operate almost around the clock to fulfill current military procurement orders (RIA Novosti, October 4, 2018).
New medium-range silo-based missile systems will likely be placed along Russia's western border, in the Kaluga and the Tver regions. The distance from there to London is about 2,500 km. Yet, medium-range missiles might also end up being deployed primarily where they were located during the Cold War: in the Murmansk region, the North Caucasus, Crimea and Kaliningrad. Even more provocatively, Russian military expert Ruslan Gorevoy proposes placing short- and intermediate-range missiles in Syria or Egypt (Versia, August 14, 2017), and leading researcher of the Security Problems Studies Center Konstantin Blokhin says that Russia can place its systems in Cuba and Latin America, in addition to Kaliningrad (Svobodnaya Pressa, October 27, 2018). That said, the Iskander-M armed with the INF Treaty–breaking 9М729 missile only has a range of up to 2,600 km; thus, its deployment to the Western Hemisphere would offer limited coverage of the territory of Russia's potential enemies. In contrast, during the Cuban Missile Crisis, Soviet R-14 missiles sent to Cuba had a range of up to 4,500 km.
In general, Russia could certainly resume or start the production of new intermediate-range cruise and ballistic missiles, as confirmed by the military (RIA Novosti, February 19, 2007) and scientists (BBC, February 15, 2007) as early as 2007. But to begin serial production, Russia will presumably need 2–4 years and serious financial inputs to reorient its current manufacturing lines. Nevertheless, President Putin considers the US withdrawal from the INF Treaty a sufficient reason to do so. At the same time, it is not clear how many such intermediate-range missile systems Russia would even need. Prior to signing the INF, the Soviet Union fielded about 900 such missiles on alert status. Russia is not able to serially produce such numbers today, however. As such, for the time being at least, any new missiles of this type will remain small.