Russia's Karabakh Protectorate Taking Clearer Shape (Part Three)
Publication: Eurasia Daily Monitor Volume: 18 Issue: 47
By: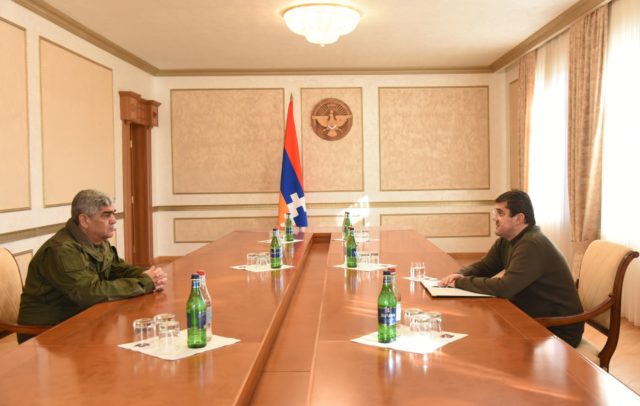 Relations between the authorities in Stepanakert, the capital of the self-declared "republic" of Karabakh, and the government of Nikol Pashinian in Yerevan are complicated and, for the most part, uneasy.
Armenia's 2018 "velvet revolution" under Pashinian did not extend to the Karabakh "republic"; the latter remained a political stronghold of Armenia's old authorities. Pashinian sought to gain influence in Karabakh by endorsing the slogan for outright unification ("miatsun") of Karabakh with Armenia and introducing insurmountable conditions for further negotiations with Azerbaijan. Calculated, in part, for political effect in Karabakh, these opportunistic moves by Pashinian paved the way to war (see EDM, November 25, 2020).
Karabakh's "president," Haraik Harutiunian, elected in April 2020 with Pashinian's blessing, has a good working relationship with Yerevan. From the November 10, 2020, armistice to date, Harutiunian has officially participated in several meetings of Armenia's Security Council chaired by Pashinian in Yerevan. In Stepanakert, however, the lost war increased the influence of Pashinian's and Harutiunian's opponents. Harutiunian appointed Major General Vitaly Balasanian as head of "Artsakh's Security Council" (Artsakh is the Armenian name for the Karabakh "republic") and yielded the "president's" decision-making authority on defense and security affairs to Balasanian's council. Balasanian is a declared adversary of Pashinian and an aspiring strongman in Karabakh (see EDM, January 14, 2021).
Balasanian and parts of Karabakh's military have sympathized with Armenia's General Staff under Lieutenant General Onik Gasparian in the recent confrontation with Prime Minister Pashinian. While Harutiunian offered to mediate between them, Balasanian openly sided with Gasparian; and Balasanian's Justice Party in Karabakh's "parliament" endorsed the alliance of 17 opposition parties in Yerevan against Pashinian's government (Arminfo, February 26; News.am, February 27). In the same vein, 124 officers of the "Karabakh Defense Army" supported Gasparian in a collective letter (News.am, March 7). Balasanian went on to clarify that the confrontation in Yerevan requires a political, non-military solution (Artsakh Public TV, March 13).
Under the November 2020 armistice agreement, Armenia's own troops were supposed to withdraw from the remainder of Upper ("Nagorno") Karabakh's territory back to Armenia (see EDM, November 12, 13, 2020). Azerbaijan is entitled to expect Russia to facilitate that withdrawal, given the fact that Russia defines this territory as the "Russian peacekeeping contingent's area of responsibility." The withdrawal process is non-transparent and involves two components, potentially overlapping with each other: a) compact units of Armenia's army that deployed to Karabakh during the recent war, and b) conscripts from Armenia assigned in considerable numbers to "Karabakh Defense Army" units, as was standard practice for at least 25 years (such conscripts were either volunteering or being selected by drawing lots).
Any remaining compact units from Armenia apparently did return home from rump-Karabakh. It seems unclear whether conscripts from Armenia are still serving out their term with Karabakh military units. Yet another problem stems from attempts to supply the Karabakh military with fresh conscripts from Armenia.
On February 9, Yerevan military authorities announced that conscripts from Armenia shall no longer be assigned to serve in Karabakh (Sputnik, News.am, February 9). Apparently the lots-drawing procedure (see above) has officially been discontinued in the Armenian army.
Nevertheless, during February and March, several groups of conscripts' parents were seen outside the Ministry of Defense in Yerevan, protesting against the intended transfer of their sons to Karabakh; and in several cases, those draftees were actually taken off buses bound for Karabakh. For its part, Azerbaijan found that small groups of conscripts from Armenia passed through the Lachin corridor to Karabakh in the guise of construction workers, aboard vehicles loaded with construction materials. Russian checkpoints cleared those vehicles through the Lachin corridor (see EDM, March 17). On March 1, Azerbaijan's Foreign Minister Jeyhun Bayramov informed the United Nations' Secretary General Antonio Guterres about those covert transfers as well as the conscripts' families' protests in Yerevan against such transfers. This covert action "eluded the Russian peacekeepers' control procedures in the Lachin corridor." At the same time, Baku asked the Russian peacekeeping command to redouble vigilance against the misuse of the Lachin corridor for military purposes (Azertag, March 1; 1News.az, March 12; Eurasia Review, March 20; Haqqin.az, March 20).
Following Baku's demarches, Major General Balasanian announced that Armenia no longer assigns conscripts to serve with the Karabakh military. Instead, the "Artsakh Security Council" head is encouraging citizens of Armenia to volunteer for service with the "Karabakh defense army" and take up residence there. At the same time—and confusingly—he refutes the information that Armenia has withdrawn its troops from Karabakh (Artsakhpress, News.am, March 22).
The Armenian government has made it possible for Karabakh's "foreign affairs minister," David Babaian, to meet with the Organization for Security and Cooperation in Europe's (OSCE) chairperson-in-office, Swedish Foreign Minister Ann Linde, during her visit to Yerevan. This meeting seems to have been the first time that a senior Western official received the unrecognized Karabakh's "foreign minister" (along, moreover, with the "Artsakh republic's permanent representative in Armenia"). In the meeting, Babaian urged the resumption of negotiations under the OSCE's Minsk Group's triple co-chairmanship toward resolving this conflict, defining it as "the conflict between Azerbaijan and Karabakh" (Armenpress, News.am, March 16). This framing contradicts the Minsk Group's definition of the conflict as one between Armenia and Azerbaijan. The attempt to elevate Karabakh as a party to the conflict follows Pashinian's line that derailed the Minsk Group–led process in the run-up to the recent war.