Vitaly Balasanian, Karabakh's Strongman-in-Waiting
Publication: Eurasia Daily Monitor Volume: 18 Issue: 8
By: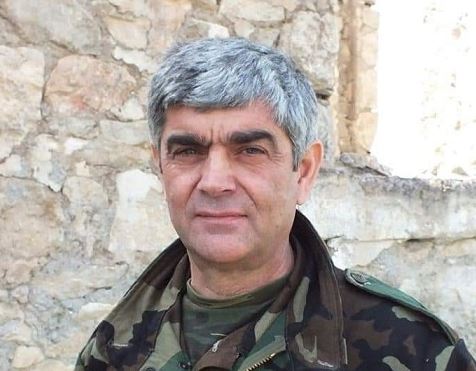 The unrecognized Karabakh republic ("Artsakh" to Armenians), a militarized proto-state, seems headed for leadership change. Following its defeat (shared with Armenia) by Azerbaijan in the recent 44-day war, Karabakh's so-called president, Araiyk Harutiunian, announced his intention to resign and quit politics as soon as a new presidential election can be held.
Pending another president's election, Harutiunian has appointed Vitaly Balasanian as "secretary of Artsakh's Security Council" (ArtsakhPress, December 2, 2020); and he followed up with an announcement that all decisions related to defense and security affairs are henceforth transferred into the Artsakh Security Council's competency (ArtsakhPress, December 16, 2020). In a New Year's statement, Harutiunian promised, "[W]e shall strengthen and rearm our forces with modern armament," so as to build a "qualitatively new army" (News.am, January 1, 2021).
Those intentions are in line with Balasanian's (see below). The latter is now deemed the most powerful office holder in Karabakh's opaque internal politics. Power in Karabakh is heavily concentrated in the "president's" hands, who doubles as "prime minister." Harutiunian, elected in April 2020 for a five-year term, has now forfeited a large share of power by transferring it to Balasanian (see above). Harutiunian has considerable business interests and is a conciliatory figure. His non-martial personality starkly contrasts with Balasanian's, a warrior type and retired two-star general. Balasanian is expected to run for president, although these expectations do not seem to factor in the need for a Russian green light to Balasanian.
Balasanian is closely aligned politically with Armenia's former heads of state Robert Kocharian and Serge Sarkisian (presidents in 1998–2008 and 2008–2018, respectively; both native to Karabakh). Their antagonism toward Nikol Pashinian, Armenia's current prime minister, dates back to at least 2008, did not abate after the 2018 regime change, and gained strength after Pashinian led Armenia (along with Karabakh) into the recent, lost war. Armenia's 2018 "color revolution" did not extend to Karabakh; on the contrary, Karabakh remained a stronghold of the old authorities, and the leadership in Stepanakert was described as "counter-revolutionary" by Pashinian. As part of his anti-government fronde since 2018, Balasanian adopted a quasi-autonomist stance vis-à-vis Yerevan, emphasizing Karabakh's own interests and decision-making rights (Vestnik Kavkaza, January 1, 2021).
In the wake of the lost war, Balasanian supports the ongoing protest movement in Yerevan against Pashinian's government (see EDM, January 7, 2021). On January 8, Balasanian's Karabakh-based Justice Party condemned the "defeatist attitude of Artsakh's [i.e. Harutiunian's] and Armenia's authorities. We appeal to Armenia's parliamentary and extra-parliamentary parties and its society to strive for the prime minister's [Pashinian's] earliest resignation." According to the same statement, "The November 9 ceasefire must be followed by political steps, namely: restoring Artsakh's status and its borders, pending a resolution of the conflict" (Newsam, Arminfo, January 8, 2021).
Balasanian was born in 1959 in the Upper Karabakh town of Askeran, served as a local field commander from day one of the Karabakh conflict, rose to the rank of general (commander of a division), served in various capacities in Stepanakert and Yerevan through the years, ran twice unsuccessfully for president of Karabakh, and served a first stint as Karabakh's Security Council secretary in 2016–2019. He resigned from that post in 2019 over differences with Pashinian's government.
Following his re-appointment to that post, grab of unique powers (see above) and perceived start on a presidential track, Balasanian has outlined his intentions in several interviews of a programmatic character. He intends for Karabakh not only to retain its panoply of military structures but to augment and upgrade them. The local army (labeled as the "Karabakh Defense Forces") would introduce a new reserve training and mobilization system on two levels: for combat troops and for militias (the former to be paid for the time spent in training). He would increase the special forces, with a view to conducting "anti-terror" operations; and he would establish border troops for Karabakh (it does not have them as a distinct branch at present). The emphasis on defining these forces as Karabakh's "own" seems to reflect Balasanian's distrust of the Yerevan government.
According to Balasanian, all these forces have been resubordinated to Karabakh's Security Council, which now has a new charter and wider powers under his leadership. Karabakh also needs "a new concept of information warfare," for which purpose it will seek out some "international specialists."
"Whether we are recognized internationally or not is a matter of secondary significance," since Karabakh will in any case cooperate with Russia's "peacekeeping" contingent and humanitarian response center in Karabakh (Aravot, Turan, December 29, 2020; Vestnik Kavkaza, News.am, January 1, 2021; EurasiaNet, January 7, 2021).
The lost war has apparently taught Balasanian that "we need to change everything, change our way of life." He condemns nepotism and clanishness on personnel appointments, would take action against alcoholism and drug addiction, and promises to enforce "discipline" in civilian life generally. The Armenian Apostolic Church being the national church, all "religious sects" would have to close their offices in Karabakh.
Balasanian's political prospects depend largely on Russia, which has taken over from Armenia the role of Karabakh's security guarantor and socio-economic benefactor as a result of the recent war, with troops in place (see EDM, December 8, 10, 2020). Russia is unlikely to endorse a revanche-seeking local leader who would jeopardize the armistice and the whole postwar order that Moscow envisages for the region. Russia is interested in sealing, not reversing, the new status quo after the 44-day war, including Armenia's weakness in defeat, which has maximized its dependence on Russia. The Kremlin relies on Pashinian's weak, discredited government to deliver compliance with the armistice terms and with Moscow's interests generally.