Russia's LNG Strategy: Foreign Competition and the Role of the Arctic Region
Publication: Eurasia Daily Monitor Volume: 18 Issue: 116
By: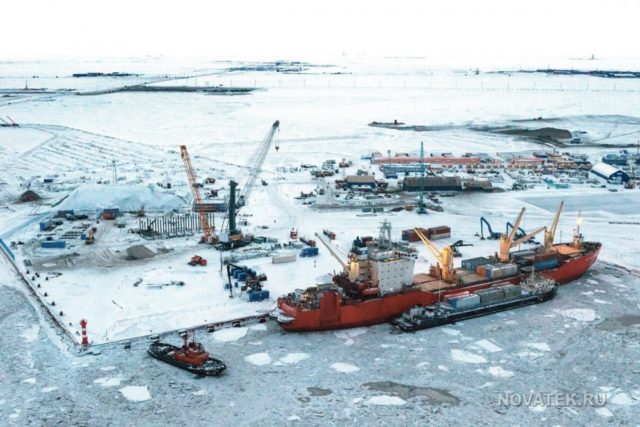 Earlier this spring (March 22), the Russian government adopted the "Long-Term Program on the Development and Production of LNG" (Government.ru, March 22). The document highlights the strategic role of the Arctic region in the pursuit of Russia's main goal—gaining a 20 percent share in the global liquefied natural gas (LNG) industry by 2035. This goal was reiterated in June by Prime Minister Mikhail Mishustin, during a meeting of his cabinet (TASS, June 7). The instructions outlined in the Program, combined with other already-observable indicators, suggest that Russia plans to drastically change its position in the global LNG sector by first implementing three key objectives.
First will require the activation of the economic potential presumably locked up in the Russian Arctic/High North and Far East. This will be accomplished through the exploitation of regional gas resources, particularly from the Yamal and Gyda peninsulas, the northern part of Krasnoyarsk Krai and the Arctic shelf. Moreover, it will involve upgrading the LNG-processing facilities in both the Arctic (the Yamal and the Arctic LNG-2 projects) and the Kamchatka regions. The key role of the High North is inseparable from the area's direct connection to Russia's largest natural gas deposits; whereas the development in Kamchatka signifies Russia's determination to create a direct connection to the lucrative Asia-Pacific markets for LNG, cutting down on transportation costs and eliminating risks of delays (RIA Novosti, June 7).
Russia's ambitious LNG-related plans are further tied to the Artic region because of the government's determination to upgrade the transportation capabilities of the Northern Sea Route (NSR), which links Asia and Europe via waters off Russia's northern coast. According to Russian plans up to 2035—a key milestone year for the government's various Arctic-related initiatives—the transportation of LNG could by then constitute approximately 80 percent of the overall cargo load (160 million tons) shipped yearly via the NSR (Energypolicy.ru, April 15). To accomplish this goal, Moscow has launched an ambitious icebreaker-building program as well as envisages the construction of 26 unique LNG carriers (six of which will be built in South Korea) capable of operating in Arctic seas (Yamal-news.net, October 30, 2020).
The second major objective for Moscow is to strategically orient Russia toward the Asia-Pacific markets, with an emphasis on China. In 2020, Russian LNG exports grew to 29.6 million tons (MT), with Pakistan and Singapore becoming Russia's newest customers in Asia (Smartmoney.one, May 15). That said, the top purchasers in the region remained Japan (6.1 MT of LNG from Russia) and China, which increased its imports of Russian LNG from 2.84 MT to 4.92 MT that year (Rossiyskaya Gazeta, May 15). Despite the global economic downturn, China's overall LNG consumption rose in 2020 by 34 percent and is expected to increase further, to 11 MT, in 2021 (Oilcapital.ru, June 21). As such, Russia perceives the massive and burgeoning Chinese market as crucial to being able to increase its LNG export potential. The Russian side is also jubilant about friction between Beijing and Washington, which allegedly decreases the United States' prospects for gaining a solid foothold in the Chinese gas sector. Russian expectations that it can become China's top LNG supplier are bolstered by the souring of political and economic ties between China and Australia; heretofore, Beijing has purchasing approximately 40 percent of its LNG (approximately $10 billion worth) from Australian suppliers. For now—and the Russian side grudgingly admits this—there are no tangible signs to suggest China is ready to discontinue buying Australian LNG. Still, Russia hopes that a further deterioration in political ties between the two actors might give Russia a historic chance to (at least partly) replace Australian exports with Russian LNG (Oilcapital.ru, May 12).
Third, to reach its goal of gaining a 20 percent share of the global LNG market, Russia will need to maintain strong supply volumes to the European Union—while avoiding competition with pipeline-delivered gas. Importantly, the year 2020 had a profound and deeply symbolic meaning for Russia's expert community: for the first time, these analysts observed, Russia overtook the US in terms of LNG exports to the EU (TASS, March 2)—a trend that Moscow hopes to preserve. Russian experts believe that the new US administration's more assertive environmental agenda will ultimately result in the United States diminishing its global share of exports of non-renewable energy resources (including LNG). On the other hand, Russia—whose LNG production is less expensive in comparison with the US (Baltnews.ee, January 18, 2020)—is seeking to bolster its position on the European market through the revitalizing of the extremely ambitious Gazprom-related Shtokman project (the field contains approximately 3.9 trillion cubic meters of natural gas). According to Russian sources, Shtokman-based LNG processing facilities could be launched in 2035, with the total annual capacity of the terminal prospectively reaching 30 MT (Oilcapital.ru, March 23).
These ambitious plans notwithstanding, the key questions is whether Russia will ultimately be able to carry out its strategy. The majority of experts agree that Russia has the potential to dramatically increase its LNG exports, but the country's ability to attain the declared strategic goal of becoming one of the world's top three LNG exporters is much less certain. For instance, analysis produced by Royal Dutch Shell argues that, by 2040, Russia might be able to boost its LNG export by a staggering 200 percent, surpassing 97 MT. However, the same source argues that Russia will still be unable to surpass the US, whose LNG exports are estimated to grow to approximately 144 MT (Gasandmoney.ru, February 26). Also worth noting, Ivan Kapitonov, a senior fellow with the Institute of Energy Studies of the Russian Academy of Science (RAN), recently opined that Russia's ability to achieve its LNG market share goal is contingent on more than just the country's vast resource potential, and other factors may yet interfere. To be successful, Russia must, according to Kapitonov, decrease transportation costs along the NSR and qualitatively upgrade the level of domestic LNG and transportation infrastructure. At the same time, Russia will need to develop a robust strategy for how to deal with both current (Qatar, Australia and the US) and rising (countries of Sub Saharan Africa) competitors. So long as these issues remain unresolved, Russia's ambitious LNG export strategy will continue to encounter serious challenges (Vzglyad, June 8).