Russia's Pacific Fleet Receives New Ships, Missions
Publication: Eurasia Daily Monitor Volume: 11 Issue: 47
By: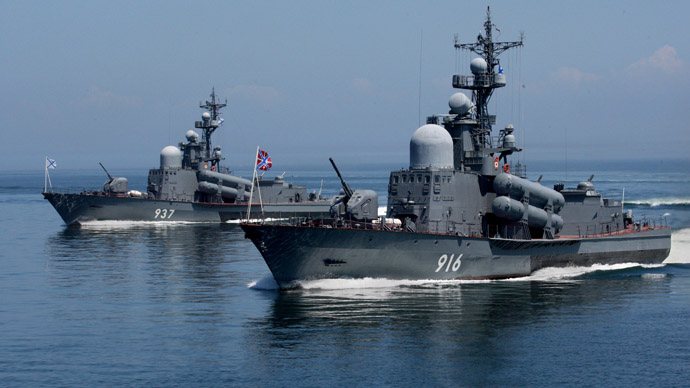 Long the most neglected of the Russian Federation's four fleets, the Pacific Fleet is receiving new equipment and participating in more international exercises as the administration of President Vladimir Putin focuses on building up its eastern Siberian and Far East regions.
During his "Presidential Address to the Federal Assembly," on December 12, 2013, Putin singled out developing Siberia and the Far East as strategic objectives, telling legislators, "This is our national priority for the entire 21st century. […] I am confident that Russia's reorientation toward the Pacific Ocean and the dynamic development in all our eastern territories will not only open up new economic opportunities and new horizons, but also provide additional instruments for an active foreign policy" (kremlin.ru, December 12, 2013).
On February 10, Russian Minister of Defense Sergei Shoigu arrived in Kamchatka to inspect Pacific Fleet facilities being built and upgraded to support the navy's new Borey-class nuclear-powered ballistic missile submarines (SSBN) and Mistral-class landing helicopter dock (LHD) vessels. Russia's second and third Borey-class SSBNs, Aleksandr Nevskii and Vladimir Monomakh, are scheduled to enter service in 2014 and 2015, respectively, to be based at the naval port of Viliuchinsk on the Kamchatka peninsula (Rossiiskaia Gazeta, February 10).
The first of two Mistral-class helicopter carriers, currently under construction in France—the Vladivostok—will be transferred to Russia in November, stay for several months in the Baltic Sea region for fitting out and sea trials, and then join the Pacific Fleet in October 2015, to be based in Vladivostok's Uliss Bay (Rossiiskaia Gazeta, February 12). The 22,600-ton Mistral-class helicopter carriers are the first significant warships to be built abroad for the Russian Navy, under a June 2011 contract between Rosoboronexport and French DCNS (Resurs Tekhnologijj Mashinostroeniya press release, February 19).
Aside from upgrading the Pacific Fleet's main Far East Vladivostok and Viliuchinsk naval bases, Russia has built a number of mooring places in Primorye Territory, on Sakhalin, and in the Kuril Islands, developing an extended logistical infrastructure for supporting operations in the Pacific theater in the event of conflict (Voice of Russia, February 17).
As important as the new major capital warships are for the Pacific Fleet, it is in fact smaller auxiliary ships that will allow the warships to operate far away from their homeports. Indeed, the Russian Navy command assumes that foreign naval bases will frequently be unavailable. Russia is accordingly building new logistics vessels, oilers and transport ships to provide logistical support for extended operations of the Pacific Fleet in distant seas (Krasnaya Zvezda, February 18). An example of this out-of-theater deployment was the September 2013 dispatch from Vladivostok of a Pacific Fleet squadron consisting of the missile cruiser Varyag, an SB-22 tugboat and the Boris Butoma tanker to the Indian Ocean. On November 2, this squadron transited the Suez Canal and joined an ad hoc ten-ship Russian Navy task force led by the Petr Velikii nuclear missile cruiser (Krasnaya Zvezda, November 5, 2011).
Nevertheless, Russia's navy is also seeking facilities beyond its territory, pursuing negotiations with Vietnam to lease the naval base in Cam Ranh Bay—Southeast Asia's finest natural harbor. Last November, the presidents of Russia and Vietnam signed an agreement on creating a joint submarine maintenance center there (Nezavisimaya Gazeta, November 13, 2013).
Later this year, the Russian Pacific Fleet will also participate in three major international joint naval exercises. According to Pacific Fleet spokesman Captain 1st Rank Roman Martov, these include joint drills with the navies of India, China and the member states of the Association of Southeast Asian Nations (ASEAN). Since 2003, India and Russia have conducted seven large "INDRA" joint ground and naval drill exercises. And this summer, Russia's Pacific Fleet will participate in INDRA 2014 naval exercises, scheduled to be held in the Sea of Japan. The drills will start with a visit by a squadron of Indian warships to Vladivostok in July. Building on the recent Russian-Chinese naval cooperation in the eastern Mediterranean securing Syrian chemical weapons, in May–June, the Pacific Fleet will also hold Maritime Cooperation 2014 joint drills with the Chinese navy in the northern part of the East China Sea (Deita, February 27).
Furthermore, Russia's Pacific Fleet will participate in ASEAN's Komodo 2014 multilateral joint exercise starting March 28, to improve international naval cooperation capabilities in disaster relief. The Komodo 2014 exercise will be held off the Natuna and Anambas Islands in the Riau archipelago and will involve 28 warships and 4,000 personnel from all ten ASEAN members as well as Russia, Australia, China, India, Japan, New Zealand, South Korea and the United States (The Jakarta Post, February 26).
What is notable about INDRA 2014, Maritime Cooperation 2014, and Komodo 2014 is that the Russian Pacific Fleet ships will be carrying out joint naval exercises with countries that have overlapping maritime disputes. India and Pakistan dispute the boundary in Sir Creek estuary at the mouth of the Rann of Kutch in the Arabian Sea and; to the east, India has maritime boundary claims against Bangladesh. Indonesia has maritime frontier issues with Timor-Leste, Australia, Malaysia, Singapore, Palau and Vietnam. ASEAN member states Malaysia, the Philippines, Vietnam, and Brunei contest Chinese claims over the Spratly Islands, while the Philippines dispute China's assertion of sovereignty over Scarborough Reef. China also occupies some of the Paracel Islands, which are claimed by Vietnam. Meanwhile, Russia and Japan contest the Kuril Islands/Northern Territories.
Accordingly, the upcoming Russian naval drills will involve the Pacific Fleet in exercises that carry some substantial and mutually exclusive diplomatic baggage—especially as China has territorial disputes not only with Japan and ASEAN members, but India as well. And this is occurring as the United States' military begins to pivot 60 percent of its forces into the Pacific. The only definite certainty then is that Russia's Pacific Fleet is receiving some long-overdue attention from Moscow at last. But how the Russian government will interact with and reconcile the competing territorial claims of its new naval exercise partners is quite another matter entirely.