Russia's Policy Toward Ukraine: Strategic Design, Operational Flexibility
Publication: Eurasia Daily Monitor Volume: 11 Issue: 180
By: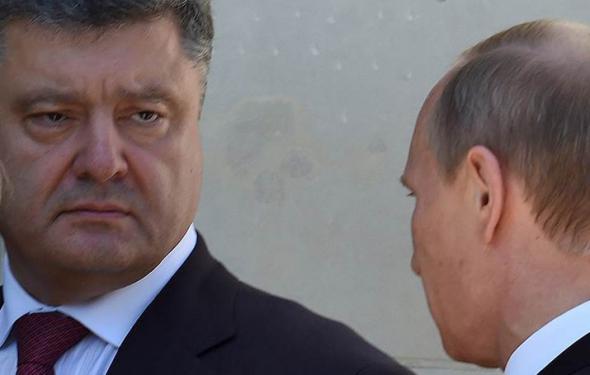 Russia's grand policy objective toward Ukraine can be defined, broadly, as doing away with Ukraine's sovereign statehood. Toward that goal, Russia is resorting to military power (in a progression from hybrid to conventional), political-psychological warfare, economic pressures, and phased-in territorial fragmentation (Donbas partition, Novorossiya project, "federalization" proposals). The Kremlin is successfully excluding the West from any crisis-management role in the Donbas (eastern Ukrainian region encompassing Donetsk and Luhansk provinces) conflict, where Russia's proxies continue hostilities despite the armistice. But the Kremlin will undoubtedly seek Western helpers to promote Ukraine's "federalization" in a likely follow-up stage.
Within those overall objectives, however, Moscow's intermediate goals are continuously evolving, adjusted to Ukraine's internal dynamics and to international constraints.
In the post-armistice phase, the Kremlin's intermediate goals are geared to destabilizing Ukraine's October 26 parliamentary elections, promoting political disorder and economic collapse in the country, discrediting its leadership and democracy as such, blocking Ukraine's Western course, fanning disillusionment with the West in the country, and regaining political levers of influence within Ukraine. The Kremlin will continue masking or eschewing its own responsibility for such actions, to an extent that might help the West to remove the more serious economic sanctions on Russia with mutual face-saving.
President Petro Poroshenko has become the key target of Moscow's political operations vis-a-vis Ukraine. The Kremlin seeks to:
1) Entangle Poroshenko into a bilateral, non-transparent relationship with President Vladimir Putin's administration. This process is an incipient one. Putin's top advisor Vladislav Surkov has visited Kyiv repeatedly and covertly for talks on the terms of the armistice, post-armistice and post-election political developments. According to some Kyiv insiders, the armistice terms were worked out in that bilateral channel between the presidential administrations, before being formalized in Minsk on September 5 and September 19–20. Ukrainian presidential administration head Borys Lozhkin maintains permanent contact by telephone with his counterpart Sergei Ivanov in the Kremlin, apparently beseeching the latter to act as a referee on ceasefire violations by Russia's proxies in Donbas.
2) Pressure Poroshenko into political concessions, not only for the intrinsic value of such concessions to Russia, but also in order to alienate Poroshenko's key political supporters from the president. The specific terms of the Minsk armistice agreements, the ill-fated "special status" for occupied territories in Donbas, and Russia's insertion as a third party to re-examine the Ukraine–European Union free trade agreement, are among the presidential decisions that have disappointed and even angered some core elements in the political coalition around the president. Those decisions have also exposed Poroshenko to strong criticism from electoral competitors, such as Yulia Tymoshenko's Fatherland party, which should become a natural component of a pro-Western parliamentary coalition after the elections, but could instead distance itself from Poroshenko if the latter is seen as indecisive or concession-prone vis-a-vis Russia (see EDM, September 10, 11, 17 19, 23).
3) Draw wedges between President Poroshenko on one hand and Ukraine's government and military on the other hand. This effort appears to be unsuccessful thus far, but it persists. Moscow's official discourse and its propaganda treat Poroshenko with a modicum of respect, or at least refrain from attacking him. Putin is deigning to meet with Poroshenko occasionally and behaves politely toward him. At the same time, Moscow attacks Prime Minister Arseniy Yatsenyuk and pours venom on Ukraine's "party of war," in which it lumps together key members of the government, politicians outside the government, and radical-right groups. Russia's investigative and prosecutorial authorities have opened cases against several Ukrainian ministers and generals over "war crimes" and "crimes against humanity" and issued international arrest warrants against them. It is not difficult to anticipate that Moscow may ask Poroshenko to drop certain ministers and governors from their posts, as a condition to improving relations with Russia, after the parliamentary elections.
Russia no longer treats the Ukrainian government as illegitimate. It actually negotiates with this government, however selectively, about the Ukraine-EU free trade agreement and natural gas supplies. But neither does Russia treat the Ukrainian government as fully legitimate. While Kremlin-controlled television channels denounce Ukraine's "war crimes" on a daily basis (Russian TV Channel One, TV 1 Rossiya, October 1–9), Russian officials from Foreign Minister Sergei Lavrov on down tend to avoid using the term "Ukrainian government" altogether. They prefer instead using circumlocutions such as "Kyiv authorities," "those in power in Kyiv" and the like (Interfax, RIA Novosti, October 1–9). Such semantic games seem to hint that Moscow could either continue to withhold full recognition of the Ukrainian government, or alternatively offer it, at least at the verbal level, in return for some Ukrainian concessions at the substantive level, after the parliamentary elections are held and a new government is formed in Ukraine.
In the meantime, however, Moscow is hinting at a fresh non-recognition bargaining card, in connection with Ukraine's parliamentary elections. Russian state propaganda hints from time to time that the voting returns might be dubious, and the overall elections' outcome questionable. This propaganda overemphasizes the agitated character of Ukraine's pre-election campaign, predicts irregularities and worse, and grossly exaggerates the influence of radical-right groups. But, while demonizing these, Russian official commentators allude with barely concealed glee to possible Maidan-type revolts against the president and government, in the event of election results being contested or the economy collapsing in Ukraine.