Russia's Strange Combination of Conscription and Mobilization
Publication: Eurasia Daily Monitor Volume: 19 Issue: 180
By: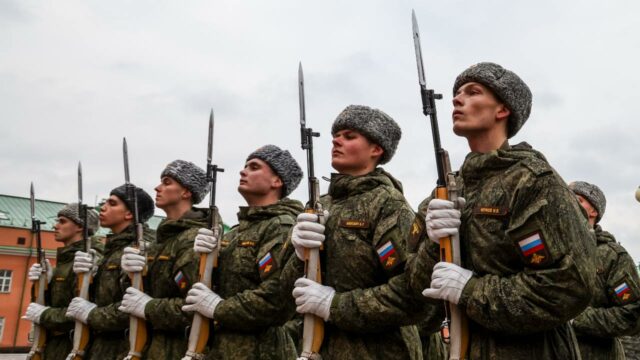 It is still three weeks before the fall conscription campaign in Russia ends. This conscription hopes to draft 120,000 new soldiers for all branches of the Russian Armed Forces, including several thousand recruits for the Russian National Guard (Rosgvardia). It has also been five weeks since President Vladimir Putin's "partial mobilization" was declared complete without any legal enactments. According to Putin's statements, 300,000 citizens were mobilized together with 18,000 volunteers, and 80,000 of the newly mobilized have already been deployed to the war zone, including 50,000 men who took part in combat operations at the beginning of November 2022 (Kremlin.ru, November 4. 7). Since then, no new official data has been provided, but large numbers of the mobilized soldiers are still in training, including at sites in Belarus.
Despite these statements, this writer's estimate of the true number of mobilized citizens at the beginning of November 2022 remains 120,000, and it has probably not increased significantly since then. Overall, most of the formally mobilized units have been active military servicemen who lost the opportunity to end or break their service contracts.
This estimation is indirectly confirmed by statistics from the Russian Central Bank. According to recently enacted Federal Law No. 377-FZ, the mobilized Russian citizens and their family members are allowed to restructure all types of loans (Publication.pravo.gov.ru, October 7). In this regard, 101,500 loans were restructured by the mobilized citizens and their immediate family members from September 21 when the mobilization started to October 31 when it was proclaimed complete (Cbr.ru, December 2).
Considering that more than 42 million individuals have taken out loans in Russia, this inevitably means that the overwhelming majority of households in Russia have at least one borrower and at least one loan (Cbr.ru, October 21). Consequently, the number of restructured loans should be closer to the real number of mobilized citizens. Nevertheless, this estimation of the true number of mobilized Russian civilians may be revised as new data appears.
Moreover, the total amount of restructured loans was 45.4 billion rubles ($725.5 million). That means the average amount of each restructured loan was 447,000 rubles, or about $7,200 (Cbr.ru, December 2). Meanwhile, the average amount for a loan in Russia is 627,000 rubles, or about $10,000 (Cbr.ru, October 21). This means that most of the mobilized civilians and families who restructured loans are those with below-average income. To this, the Russian authorities are trying to buy these mobilized soldiers' loyalty with one-time payments from the regional administrations and the federal government, thus forcing them to sign extended contracts for military service (Publication.pravo.gov.ru, November 2). The main purpose here is not only to restore the number of Russian troops in Ukraine after massive losses but also to share political responsibility for the war and for the mobilization itself with Russian society.
At the same time, the Russian Ministry of Defense is trying to demonstrate that the fall conscription is proceeding according to plan, with no lack of new recruits, which contrasts sharply with this year's spring conscription campaign. After the first month of the current campaign, several regional recruiting centers declared that execution of the conscription plan had already exceeded 50 percent (Mil.ru, November 27, 29, 30); the Orenburg regional recruiting center even declared that it had already met 80 percent of the number for the original plan, which is unusually fast (Mil.ru, December 3). However, for other regions, such as Perm, execution of the conscription plan (about 3,000 recruits) exceeded 15 percent by the end of November but has hardly reached 20 percent since (Ura.ru, November 22; Echoperm.ru, November 30). It is still unclear whether the ongoing conscription will be successful for the Russian authorities, but the evident bureaucratic competition among the regional recruiting centers means that the process is straying significantly from the routine procedures. Moreover, the increased number of criminal charges being enacted against those Russian young men who try to avoid conscription testifies that the authorities in Moscow have labeled stopping the evasion of military service as a top priority (Bumaga, November 15).
The challenge of improving the military economy is another key priority for the Kremlin's efforts. The primary issues here include lack of coordination and flexibility within the sprawling Russian military bureaucracy and problems with productivity and the overall quality of military production within the defense industry (Kremlin.ru, November 24). For instance, even the repair of engines for main battle tanks, armored vehicles and self-propelled howitzers is facing a deficit of some key spare parts, and the actual state of supply for these systems' on-board electronics and chip technology is also being actively questioned (Mil.ru, December 1). Therefore, the planned 50-percent increase for arms procurements in 2023, estimated at close to 2.8 trillion rubles ($44.7 billion) but may end up being even more, does not mean a 50-percent increase in arms manufacturing (Mil.ru, November 30).
As a result, the restoration of manpower may become even more crucial for the Kremlin as the most-affordable measure to implement regardless of education, training and equipment issues. Ultimately, restoring the nominal amount of soldiers is much easier than restoring tanks, helicopters and artillery munitions. In this way, the continuation of mobilization in Russia following the end of the current fall conscription campaign seems to be inevitable moving into 2023. However, the new wave of mobilization will probably require more coercion at a grassroots level and will almost inevitably raise questions on the utility of sending tens of thousands of conscripted soldiers to the front in Ukraine.