Russia's Syria Resupply Route Through the Turkish Straits: Vulnerable to Terrorist Attack?
Publication: Eurasia Daily Monitor Volume: 14 Issue: 73
By: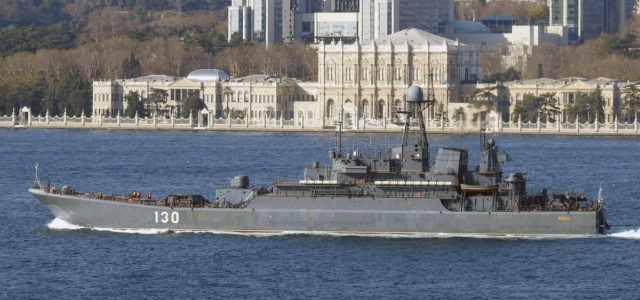 Since Moscow's military intervention in the Syrian civil war began in September 2015, a key element of Russian logistical support for its forces has been a maritime supply route deployed from southern Russian Black Sea ports via the Turkish Straits to Syria. This supply train, nicknamed the "Syrian Express" by the media, has now apparently attracted the attention of Syrian extremist groups.
On May 16, Turkey's Gazete Habertürk stated that Turkish intelligence had collected information about the Islamic State preparing a possible attack on Russian warships transiting the Bosporus. This, in turn, reportedly pushed Istanbul's security services to step up protective measures and begin monitoring 146 possible points along the shoreline from where the attacks could be carried out (Gazete Habertürk, May 16). But later the same day, Istanbul authorities denied the reports.
Nonetheless, the denials failed to take into account the Islamic State's current de facto presence in Istanbul; as the aforementioned media account was being dismissed, the paper Milliyet reported that police had arrested Khasan Gulomov (a.k.a. Abu Khaliq) in Istanbul's Başakşehir district. Gulomov is allegedly connected to the Reina nightclub attack in Istanbul on January 1, in which 39 people were killed. Police confiscated 12 Kalashnikovs, $4,378 and 3,000 Swedish krona ($345) during the raid (Milliyet, May 17).
Every Russian ship currently navigating the Bosporus is escorted by a police helicopter and two Turkish Coast Guard boats. Russian Navy vessels, primarily from the Black Sea Fleet, regularly transit the Turkish Straits in order to deliver military equipment to Russian forces in Syria or carry out combat operations in the Eastern Mediterranean (Akşam, May 16).
At the same time, Russia's use of the Turkish Straits to resupply its military operations in Syria is but one aspect of its utilization of these waterways as a transit route. Notably, Russian-flagged tankers use them on a regular basis to ship oil to European markets. Turkey is constrained in what it can do to control commercial or maritime traffic through the Straits, as ship passage via this route is regulated by the 1936 Montreux Convention. According to Article 2, merchant vessels can pass through the Bosporus and the Dardanelles without hindrance "day and night, regardless of flag and cargo," while the warships of Black Sea littoral powers enjoy similar passage rights except in times of war (Sam.baskent.edu.tr, accessed May 31). Turkey has repeatedly voiced its concerns to Russia to no avail about the rising volume of the latter's oil tanker traffic in the Bosporus, the narrowest strait in the world used for international navigation and one that bisects Istanbul—a city of 12 million inhabitants. The waterway is congested with civilian merchantmen: about 45,000 ships from around the world annually pass through the strait (RIA Novosti, May 16).
Shipping statistics illustrate the pivotal importance of the Turkish Straits for resupplying the Russian military forces in Syria. Since the beginning of the year up through May 22, 83 Russian naval vessels have transited the Bosporus: 22 in January, 13 in February, 21 in March, 13 in April, and 14 in May (Turkishnavy.net, May 22).
This resupply effort occurs against the backdrop of larger Russian-Turkish relations, which have become more problematic since Russia's absorption of Crimea in March 2014. Low points in the bilateral relationship include the downing of a Russian Syrian-based Su-24 jet by Turkey on November 24, 2015, an incident that caused Russian president Vladimir Putin to label Turkey "accomplices of terrorists" and warn of "serious consequences" (TASS, November 24, 2015). Another nadir occurred on December 19, 2016, when the Russian ambassador to Turkey, Andrei Karlov, was murdered—while speaking at an art gallery exhibition in Ankara—by Mevlüt Mert Altıntaş, an off-duty Turkish policeman. While most Russian media simply reported on the May 16 Habertürk article without comment, Lenta noted that Turkey's increased security measures in the Bosporus were being undertaken to prevent a new round of tensions in relations between Turkey and Russia (Lenta, May 16).
Russia's support of Syria has produced benefits for the Kremlin, most notably the establishment of a permanent Russian naval presence in the Eastern Mediterranean, utilizing the Syrian port of Tartus, for which Russia, on January 18, signed a 49-year lease with Damascus (Pravda, January 21). Moscow views the Syrian regime as the only realistic bulwark against the expansion of the Islamic State and other Middle Eastern militant groups, a policy strongly opposed by Turkish President Recep Tayyip Erdoğan, who still wants Bashar al-Assad replaced. Joint interests, such as combating terrorism, will likely continue to inject an element of pragmatism into Turkish-Russian relations. And this, combined with Russia's reliance on the Turkish Straits for resupplying its forces in Syria, can be expected to overshadow political differences between Moscow and Ankara for the foreseeable future.
Still, those bilateral tensions could arise again—and with little warning. Assuming that the Syrian civil war ultimately ends in a negotiated settlement, the post-war Syria that emerges will likely be a weak and precarious state, which will need military and economic support to stabilize and rebuild. While Russia has stalwartly supported al-Assad's retention of power, whether the Kremlin will be willing to assist in the expensive reconstruction of Syria is far more questionable. In such an equation, Turkey will undoubtedly be heavily influenced by Damascus's postwar policies toward its Kurds—a group Moscow is treating as an ally against Islamic State terrorism, but which Ankara considers to be linked to domestic terrorist groups (see Terrorism Monitor, June 2).
Meanwhile, it remains to be seen whether Islamic State militants will, in fact, be willing to face the consequences of attacking Russian warships in Turkish waters. After all, such an action would invoke both a Russian and a Turkish response. This terrorist group may instead conclude that it is far better to attack civilians—if only for the PR value.