Russia's War in Ukraine and Kaliningrad's Final Farewell to the Gains of the Past
Publication: Eurasia Daily Monitor Volume: 19 Issue: 90
By: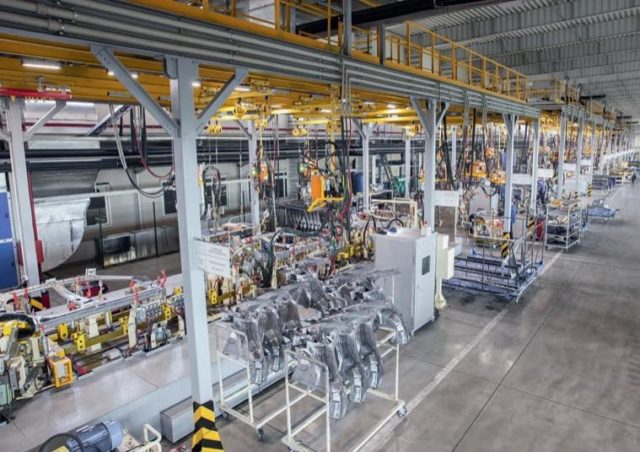 Moscow's war of aggression against Ukraine and the ensuing international sanctions have particularly harmed Kaliningrad Oblast, a coastal exclave that is physically separated from Russia and wedged between two European Union and North Atlantic Treaty Organization (NATO) members. Local sources have reported skyrocketing prices for both consumer and non-consumer goods. For instance, average inflation for construction materials has reached 70 percent (compared to the second quarter of 2021), while prices in some categories increased by 266 percent (Rugrad.online, June 9). Similarly, in terms of foodstuffs, prices increased by 12.8 percent. Such inflation rates have placed the oblast among the top five worst regional economic performers in Russia (Newkaliningrad.ru, June 6). Equally worrying trends for the oblast can be seen in manufacturing and other industries, where average productivity growth rates have decreased by 6.2 percent (compared to 2021). Some industries, such as lumber and furniture production, have even seen their productivity shrink by over 20 percent.
As a result, according to a recent survey, more than 85 percent of businesses in Kaliningrad indicate that they have been severely affected by international sanctions. By comparison, an earlier survey, conducted in April 2022, put that same figure at 70 percent (Rugrad.online, June 10). Such findings arguably portend of far greater problems for Kaliningrad, especially in the three strategic pillars of its economy: logistics, car manufacturing and critical infrastructure.
First, in terms of logistics—a matter of crucial importance, given Kaliningrad's export-oriented economy and separation from the mainland—EU sanctions are already working. Specifically, the Russian Baltic exclave, reportedly, can neither promptly export raw materials (including peat and wooden pallets) nor import strategically important materials and commodities. Instead of using the Polish railway network, as before, local businesses have to send their goods out via Belarus, which adds additional transportation costs (Newkaliningrad.ru, June 10).
Similarly, local sources note that hundreds of railway cars must wait two or more months if they plan on going through Lithuania. Furthermore, the maritime route is, at least for now, hardly a solution: local businesses are shocked at the additional costs (30 percent) and wait times (several months) involved in putting their cargo on ships (Rugrad.online, June 13). According to Kaliningrad-based furniture producers, such logistical challenges are causing their foreign partners—on which they used to heavily rely for as much as 50 percent of their imported materials and production tools—to pull out (Newkaliningrad.ru, June 6).
Second, Kaliningrad's prized automotive industry has come to the brink of collapse, with Avtotor hit particularly hard. Created in the 1990s and heavily reliant on foreign partners (Korean and German), the company was originally one of Kaliningrad's economic success stories. Despite some mistakes and post-2014 sanctions, in 2021 alone, Avtotor produced 177,000 vehicles (Hyundai, Kia, BMW) and declared an ambitious expansion program.
However, due to Russia's aggression against Ukraine in February 2022, BMW stopped operations in the Russian exclave, and Avtotor's Korean partners radically reduced the essential supplies and tools it was providing. As a result, the Kaliningrad-based auto-maker began suffering losses and has temporarily suspended operations (Forbes.ru, June 5). The situation became so dire that Avtotor's management encouraged "alternative employment paths" for its employees, who have effectively been laid off. One avenue of work suggested by the company was collecting berries and fruit some 100 kilometers from Kaliningrad City (RBC, June 6). Some employees, based on the results of a lottery, were given land portions (1,000 square meters) to grow their own crops as a means to sustain themselves during a "temporary unemployment crisis and uneasy economic conditions" (RBC, May 4).
According to Avtotor's top management, the company's prospects are extremely uncertain. BMW is unlikely to return anytime soon. And while South Korea did not introduce sanctions comparable to the severe measures adopted by the European Union, imports of South Korean advanced electronics have decreased dramatically, paralyzing the local automobile industry (Newkaliningrad.ru, May 28). The latest reports suggest Avtotor somehow managed to acquire some indispensable production components—apparently in violation of EU sanction—allowing the firm to continue manufacturing new vehicles through July and August. But this is by no means a long-term solution (Newkaliningrad.ru, June 13).
Third, there are significant problems with Kaliningrad's seaport, a landmark of the region since Soviet times. Local sources have noted a collapse in nearly all freight turnover, which has led to two consecutive personnel layoffs. Felix Lapin, who chairs the local trade-industrial chamber, stated that "the seaport is an indicator [of the health of the local economy]. After the seaport [goes bust], whole industries and large businesses will follow suit" (Newkaliningrad.ru, June 10). A representative of the Kaliningrad-based NCSP Group (Europe's third-largest port operator in terms of cargo turnover), Alexey Rastorguev, notably declared, "Starting from the beginning of the year, cargo flow has decreased by 70 percent… Foreign partners that used to work with NCPS have stopped collaborating with us; for now the only remaining partner is China COSCO Shipping… Even if they [COSCO Shipping] wanted to continue cooperating, they have to reduce operations in Kaliningrad and St. Petersburg" due to economic realities and fears of coming under secondary sanctions (Newkaliningrad.ru, June 10).
Despite Russia's official bravado, its war of aggression against Ukraine has had a significant impact on Russia's economy, the consequences of which will become more serious as time goes on. For Kaliningrad, the failure to reform in the 1990s-2000s—due to the Kremlin's fear of separatism and excessive independence developing in that detached region—has resulted in the oblast becoming increasingly secluded and re-militarized. This trend suggests a grim future in which Kaliningrad becomes an "island" in Europe, bereft of the gains of the past, including access to foreign markets and relations with the West. Now the exclave may be moving toward even greater reliance on Moscow, a dependency that will foster further isolation and inevitable economic shocks.