China Building Railroads Northward, Enriching Moscow but Threatening Russia
Publication: Eurasia Daily Monitor Volume: 19 Issue: 90
By: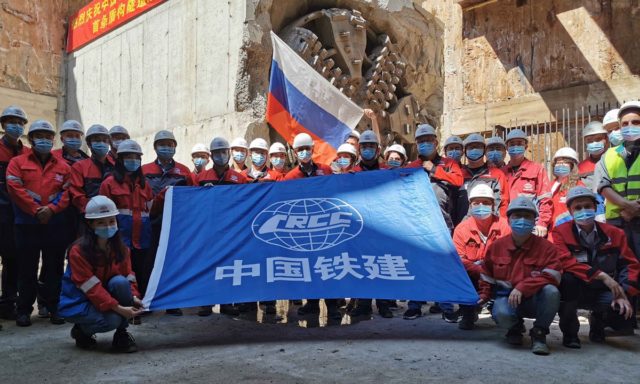 Chinese firms are building railways into the Russian north in order to secure access to the enormous reserves of natural resources there. From one point of view, these efforts are helping Moscow, which itself lacks the funds to build railways in the far-flung areas east of the Urals and is quite happy to pocket the money earned from the sale of raw materials to China. But from another and broader standpoint, Svobodnaya Pressa commentator Margarita Nikifontova contends, this trend is yet another indication of how far Russia has fallen behind the outside world over the last three decades. The latest developments, she notes, highlight the fact that Moscow cares about little besides money. In turn, China today feels entitled to enter Siberia and the Russian Far East—precisely reminiscent of the European colonial powers' attitudes toward Africa and Asia in the past (Svobodnaya Pressa, June 9). Given that history, she writes, what many think they can benefit from or ignore actually represents an ominous trend.
Last month (May 2022), President Vladimir Putin called for the reorientation of Russia's transportation network from the West, where Russia is under sanctions, to the East in order to facilitate trade with China and the Asia-Pacific region. But he has not made a similar commitment to the development of north-south routes within the Russian Federation, particularly east of the Urals (Rhythm of Eurasia, May 5, 20; URA.RU, May 24). That has given China an opening, which may help Moscow in the short term but threatens it in the future. Indeed, this pattern is increasingly obvious in China's broader relationship with Russia (see EDM, September 14, 2015, April 8, 2021, May 6, 2021). In some respects, what Moscow is doing parallels what Canada did in the past—focusing on the development of east-west routes to hold the country together rather than letting the growth of north-south connections threaten its integrity. But in the case of Russia, where the east-west routes remain extremely meager, China's development of north-south ones in Siberia and the Russian Far East constitutes a larger threat.
All this came at a conference in Yakutsk, in early June, about the possible construction of a 2,000-kilometer-long railway between that city and Magadan, Nikifontova asserts. There, Russian experts laid out their plans for this giant project; but then Russian officials made it clear that there was not enough money to build it, despite Putin's promises. Chinese representatives, led by Peng Minkuan, the head of the Chinese Railroad Construction Corporation representative office, replied that they could do the job completely on their own, in exchange for access to Russian natural resources. As they declared, everyone should live according to the lesson of the Chinese proverb "if you want to grow rich, you first build roads" (Svobodnaya Pressa, June 9).
Nikifontova writes that she was shocked by the boldness of the Chinese remarks as well as what they say about Russia today. Her own country, the Russian commentator posits, has fallen behind the rest of the advanced world—"to the level of African countries," she suggests. China, once looked down upon by Russians, has sprinted ahead. She observes bitterly that Russia now "cannot even develop some single-track rail line to the Sea of Okhotsk, even though that would significantly improve people's lives, help the Northern Sea Route, accelerate the extraction of natural resources, strengthen the country's defense capabilities, and so on." As long as the money flows into Moscow, even if it comes from China, those at the center do not appear to recognize this as a threat or show any willingness to actively counter it.
The Svobodnaya Pressa writer's observations call attention to a much larger problem Putin's Russia presently faces: the central authorities' lack of concern for the consequences of relying on natural resource exports for money. When the Kremlin's war in Ukraine began, Natalya Zubarevich and other independent Russian economists warned that there would not be any new roads or other kinds of transportation infrastructure in Russia for the duration (Sibreal.org, May 27). Their predictions are now proving true, with even the roads that had been promised for decades put on the chopping block, deemed too expensive in a time of war. Most of this suspension of construction has taken place far from Moscow, and so it has not attracted much attention in the capital. But one cancelation, that of the Vladivostok-Nakhodka-Vostochny Port, is gaining notice because the authorities had promised this mega-project for so long and the road conditions in this region are so notoriously poor.
Residents of the Russian Far East are outraged by this decision, with some recalling that the roads they have been expected to use are so dangerous that losses on them allegedly constitute "a form of genocide" against the Russian people (Ach.gov.ru, April 5, 2022; Primamedia.ru, October 4, 2017). One Vladivostok resident bitterly told a news outlet, "Yes, times are tough, and yes, certainly one has to economize. But perhaps it would be better to spend money not on bullets but on roads?" (Sibreal.org, May 27). Roads, this resident argued, "provide more benefits than those that come from bombs or tanks. Sooner or later, one way or another, the war will end and a time will come when we will have to think how to live further and how to develop the Far East. And when that time comes, it will be obvious that nothing will be possible without roads" and, one could add, railways. But as of now, this Russian Far Easterner speculated, Moscow appears to have decided to "hand us over to the Chinese" and, thus, chosen not to invest any money in this region, as the new rulers will come and build everything for themselves. If that is the case, Russia will be the big loser, however much money Muscovites put into their pockets.