Russia's War on Ukraine Exposes Western Balkan Divisions and Dangers
Publication: Eurasia Daily Monitor Volume: 19 Issue: 28
By: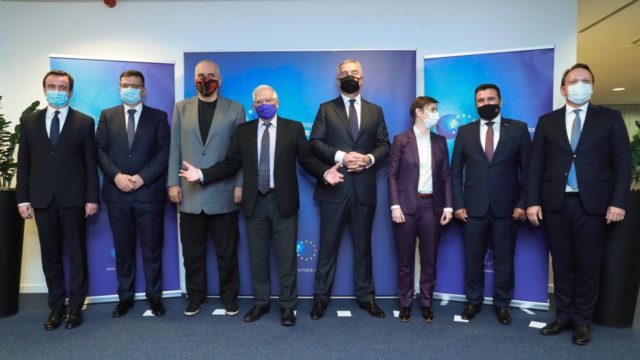 Russia's war on Ukraine reverberated throughout the Balkans, exposing regional divisions, allegiances with foreign powers, and security vulnerabilities. While North Atlantic Treaty Organization (NATO) members Croatia, Montenegro, Albania and North Macedonia offered full support to Ukraine, the reaction of Serbia appeared in stark contrast to the policy of the European Union, which it hopes to join one day. Belgrade not only refused to adopt any sanctions against Russia, but it is also becoming complicit in the Kremlin's war of aggression. As most European countries closed their airspace to Russian airplanes, Serbia's has remained open. Moreover, the state-owned Air Serbia has doubled its flights from Belgrade to Moscow, offering from one to three flights daily (Balkan Insight, March 2).
On February 25, Serbian President Aleksandar Vučić openly stated that although Serbia respects international legal norms, it will protect its own national interests and honor its traditional friendships. Russia is a strategic partner of Serbia, with Belgrade heavily dependent on Russian energy supplies and Moscow's support of Belgrade's Kosovo policy (N1, B92.net, February 25). But aiding Moscow as it bombards civilian targets in Ukraine will put Serbia in the position of an accomplice and may turn it into an international pariah, just like its larger partner.
In the weeks before the war began, Serbia had eagerly embraced Moscow's effort to prevent Balkan volunteers from joining the Ukrainian resistance. Russia's secretary of the Security Council, Nikolai Patrushev, had planned to travel to Belgrade on February 28 to discuss reports that volunteers from Kosovo, Albania and Bosnia-Herzegovina (BiH) were being recruited to fight on the side of Ukraine. But his visit was canceled in the wake of EU sanctions against Russian officials (The Geo Post, February 28).
Milorad Dodik, the Serb member of the tripartite Presidency of Bosnia-Herzegovina, had also warned that the Russian Foreign Minister Sergei Lavrov's statement on the question of foreign fighters be taken seriously (Telegraf.rs, February 21). After the war began, Dodik has been advocating for BiH to remain neutral on the war in Ukraine, a position close to that of Serbia. He left the Presidency meeting on March 2 protesting that the Bosniak and Bosnian Croat members, Šefik Džaferović and Željko Komšić, are "using their ambassadors in Brussels and in New York to present exclusively their own positions, positions that were not agreed upon in the Presidency." Dodik claims that the BiH's ambassador to the United Nations, Sven Alkalaj, joined the EU statement on Ukraine on the country's behalf without authorization of the tripartite Presidency; therefore, it must be voided (N1, March 2).
In the meantime, the rest of the Western Balkan states have imposed sanctions on Russia, closed their airspace to Russian planes, and offered military and humanitarian aid to Ukraine. In addition, volunteers from Croatia and Montenegro announced they have already joined Ukrainian fighters to resist the Russian invasion (Balkan Insight, February 28). "Ukraine helped us in 1991, and again after the earthquakes in Zagreb and Banovina. That is why we are going to help Ukrainians in the war," a volunteer told the media (Vecernji Lst, February 27).
In Montenegro, the question of local fighters joining the Ukrainian resistance is more politically divisive. Montenegro criminalized participation in foreign conflicts in March 2015, when some Serbian mercenaries from Montenegro joined the forces of Russian proxies in eastern Ukraine and others fought for the Islamic State in Syria and Iraq. But the opposition of pro-Serb actors looks more politically motivated than driven by the law. The pro-Serb Democratic Front has not surprisingly urged the authorities to stop the recruitment of volunteer fighters for the war in Ukraine. While at the same time, pro-Serb organizations held a pro-Russian rally carrying Russian and Serbian flags in the town of Nikšić, in support of Russia's "attempts to protect their people in Ukraine" (Balkan Insight, March 1).
However, the majority of political parties in Montenegro declared strong support for Ukraine and officially condemned the Russian attack in the parliament, following the government's strong position for the integrity of Ukraine on February 24 (N1, February 24; AA.com.tr, March 2).
On March 2, Serbia eventually joined 141 UN member states in condemning the Russian attack on Ukraine. Previously, Vučić had announced that Serbia would vote against such a resolution if it contained any sanctions against Russia. The Serbian president explained that "The text does not mention any sanctions, but it is certainly very important for us to condemn the collapse of the territorial integrity of any [UN] member state" (Danas, March 2).
Moscow's war on Ukraine is dramatically changing the security environment in the Balkans. Serbia is feeling the pressure when it realized that Russia may face expulsion from the United Nations and possibly war crimes charges. Belgrade now worries whether it would have as much support in the UN Security Council as it used to enjoy (Danas, March 2). And since Kosovo declared its desire to become a NATO member, seemingly supported by Turkey and other North Atlantic allies, Belgrade is now starting to express apprehension about its own regional isolation.